It is the shocking news for me that my beloved writer Khushwant Singh is no more on 20/03/2014. I loved to read Khushwant Singh for thirty years. I was introduced to his writing by the time he was working with 'Illustrated Weekly' from Bombay. Now the tabloid is closed down long back some tw
enty years. I have still some copies of the news papers persevered at my home in the country.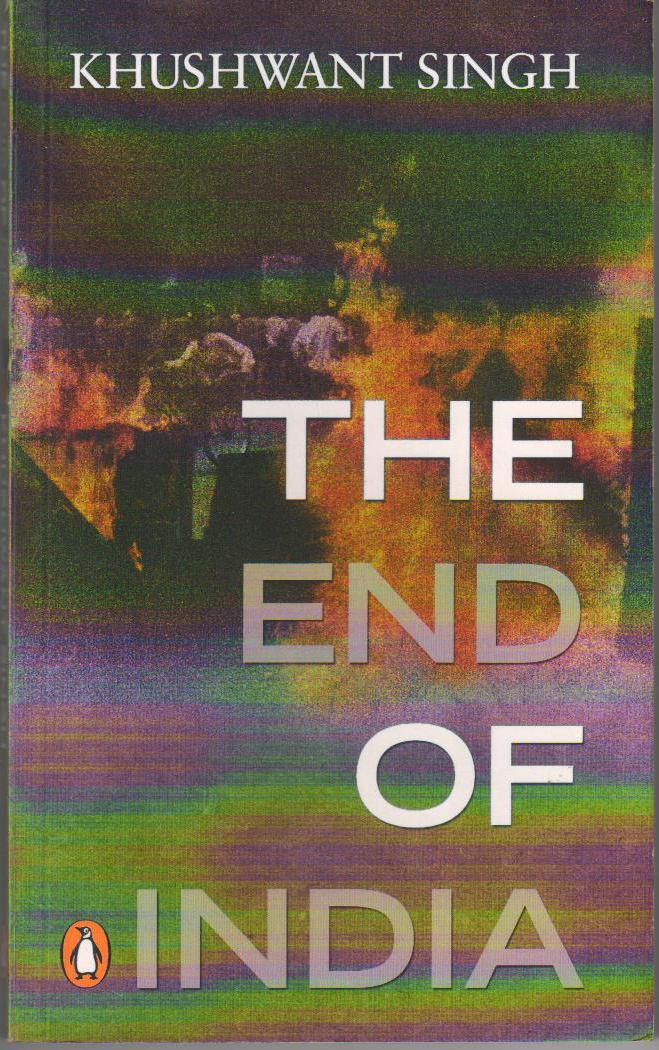 Really, I liked this writer for many reasons; a few to quote from them are: his candor, boldness, penetrative vision, lucid style, rati
onalism, secularism and continuity.I have read almost his all books except the one that is related to history of Sikh. I am having each and every book from his pen. Even the books he has edited with some publishers like Harper Collins. Only yesterday, I have taken up second reading of his small books of just fo
ur essays but the most seminal as far as its themes are concerned.I want to advise every right-minded person to go through this book at least once. To my mind, this book can guide perfectly thos
e people who are perverted by murky religi
ous atmosphere in India. The title
of that book is "The E
nd of India."

'Train to Pakistin' , a novel on the partion of India, has catapulted him into the limelight.Another novel ,'The Company of Women' was turned controversial for the description of illicit relations between the protagonist, Mohan Kumar and women from differen communities. Also his physical relation with his Maid and his death from AIDS nauseated some so-called moralists. His Autobiography: 'Truth ,Love and Little Malice' had been banned for over a decade for political disclosures.He has also unveiled many bitter facts sraightforwardly in the book. He squarely revealed the favoratism in nomination of Sahitya Acadamy Awards.

'Burial at Sea', a novel published in 2004, is a direct dig at Pt Jawaharlal Nehru and Indira Gandhi and their politics of convenience.He also wrote short fictions culling plots and characters from different walks of life.

You will laugh at me if I tell you about my addiction to his writings. Since my high school days I r
egularly read whatever was related to him. When I had been studying in B.A. in Amravati, I tried to get his books from Vi
darbha Collge which was previously known as King Edward College. I approached my librarian and asked him for a book by Khushwant Singh. The librarian looked at me from top to toe. When he saw that I was still insistent, he scolded me saying if
I knew what I was demanding. He said me that
Khushwant Singh
is
Nangat Writer. Nangat
means in Marathi dialect a person who openly discusses or writes about sex.
When the librarian denied giving me any b
ook of Khushwant Si
ngh, I had to return to my
hostel empty-handed. By then I could not procure his book, is true but what the librarian said had rek
indled curiosity in my mind. Later on, I made it a point to find at least single book of th
e writer and devour it as quick as I could.
To my great sueprise, I
got a copy, pirated one, from my Muslim friend. It was his magnum opus: 'Train to Pakistan' I borrowed it on the condition
that I would return it within two days. At first, he was unready t
o hand it over to me, but when I coaxed him, he parted with it he
sitantly. Truly, I had finished it within a day and a half. Then my vocabulary was not good enough; I had to consult dictionary for some difficult words and phrases. But I must say that reading of t
hat novel has installed me into the world of Khushwant Singh. I became his permanent fan ever since.
Come to the point now. From Vidarbha, an English Daily: the
Hitvada is published in which appeared a feature column on Sunday. The title of that column was "Malice towards none" by Khushwant Singh. I read that write-up without fail, while I was in Amravati, a metropolitan city. But when I would come home for summer vacation in my village, I was divested of that opportunity for two months. My villages lay eighteen kilomitre away from
Pusad, Teha
s
il Place. So there was no way for any newspaper to reach my village. Even today too, my village is far away from something like newspapers.

Anyway, when Sunday came I was uneasy; I felt that I had lost something important. So I gave one rupee to someone who went to Sunday Market and asked him to bring me a copy of the Hitvada. On a certain Sunday, if I did not find any
one going to Pu
sad, I myself trekked to Pusad and back afoot, only for the love of Khushwant Singh's article.Sometimes my parents told me off for my madness as I walked up and down under the scorching sun; while some villagers c
alled me nuts. You know, my love towards Khushwant Singh was above anything else, so I did not car
e for who said what. I still recall it that I did not miss even a single Sunday in summer vacation in my village on which I did not read "Malice towards none". A
fter my post graduation in English, I could immediately get job of lecture in Yavatmal, a district place. Here I had no problem of getting newspaper. I had subscribed to the
Hitvada
and read Khushwant Singh since 1990. I think it is only a few years back that Khushwant
Signh's
column is closed from the
Hitvada.
Around this time I have collected the whole corpus of his books and read them out voraciously. In the last week, I purchased his last book - The Lessons of My Life- and finished within two days.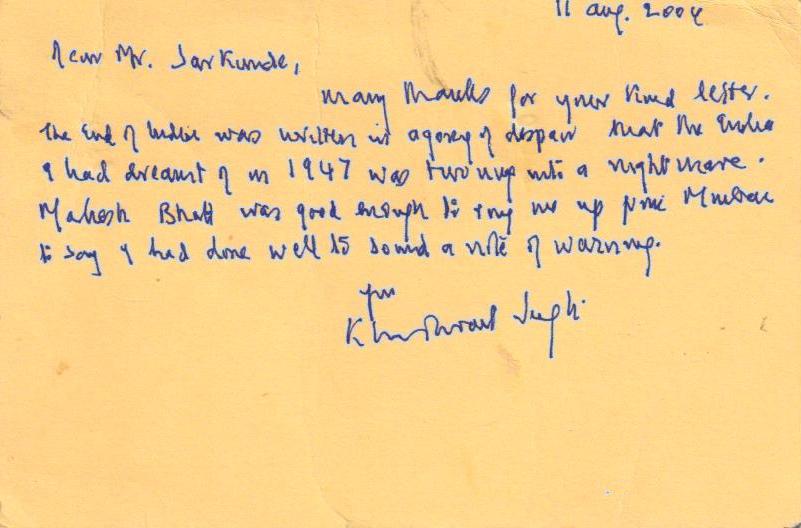 I used to send him letters too ; and he answered my letter through a post card with his own hand writing. I had got his telephone number from one my friends in Delhi and one day I dared to call him. As luck would have it, I could hear metallic voice at the other end of line at once.I talked with him for three minutes to my great delight. I had talks with him over a dozen of times. However, since last five years he had developed serious problem of hearing. Once or twice I tried to contact him but in vain. He said," I am hard of hearing" and put the receiver into the cradle. Truely, I find no words to describe this great son of India. Today I felt that some of own relatives has passed away. There shall be even great literary figures in India in the future but Khushwant Singh will be nonpareil. I wish his soul may rest in peace.