Solitude and other Poems by Rajender Krishan
ISBN 978-8182534148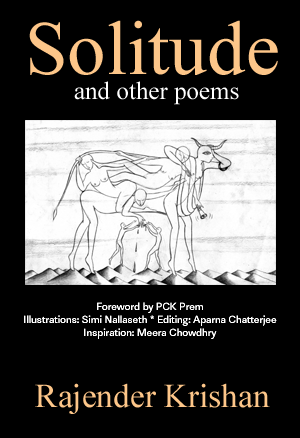 The author's style of writing sometimes feels like reading a blog with a prosaic style than historical definitions of poetry. However, the messages relayed in such verses are more evident while still subject to interpretation. Rajender doesn't shy away from bold use of words to subtly plant thoughtful seeds which wildly grow into the bean stalk enabling readers to reach heights of elation.

One of my favorite poems is "What I Am" which engages the reader in a story while culminating to the climactic moment when one is compelled to question one's existence enraged with the same anger as illustrated by the writer. "Mirror" further denotes questions of self-image / self-conscience echoed throughout the various poems. "Solitude," is another example of the writer-reader turmoil of self-existence and inner struggles ultimately articulating the nature of the accumulations that is Solitude.

Weaving the poems are the illustrations which justly give prominence to each of the writings. Bold words paint bold pictures and leave so much to the imagination that one cannot help but feel their combined force. Simi Nallaseth has captured the essence of her interpretation through euphoric graphics and worthily given life to this book.

Solitude manifests many themes as bold as "Intercourse" and as subtle as "Sigh" while also emphasizing on virtue and philosophy with "Buddha" and "Physics & Social Chemistry." Sandy Hook, Nirbhaya, and other such events bared in the book speak volumes to what we all witnessed and experience regularly. Giving voice to such social topics, Rajender accomplishes cantos for global, thoughtful, philosophical, political and personal appeal.

As a reader reviewer, I shall recommend this contemplative book to everyone.