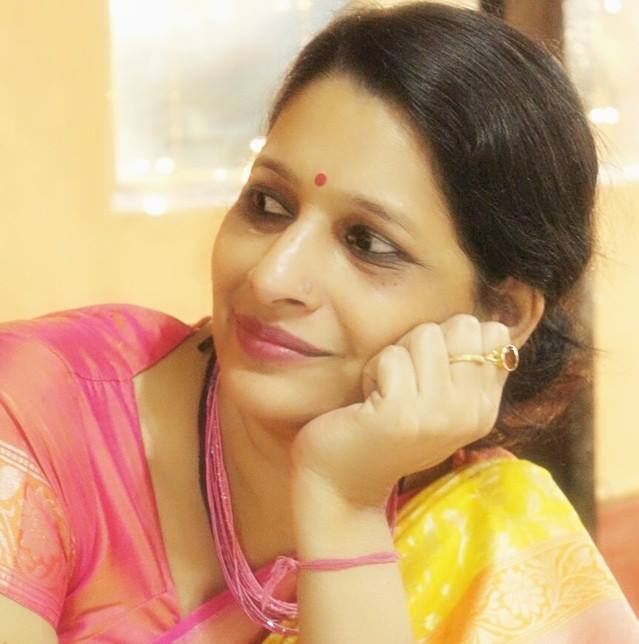 Reema Das, with Bengal origin is now settled in Assam when her father left Kolkata in the 1940's. Reema still recalls her father's love for values in life.. A Masters in English from Dibrugarh University, she writes her poems in English to record her soul's outporing. When it rains, the raindrops drench the poetess to enliven her mind. Almost with a Keatsian love for sensuousness she traverses in her poetic world. Tinsukia (Assam), is now a developed township. But in her mind she still loves the Lohit river of her childhood days. She is a remarkable Assamese poet writing in English for a long time and very popular on social media and online blogs. She is sweet personality beaming with emotional dazzle and profundity of philosophic utterance and prefers emotional interactions for her poems which is making her an interesting poetic personality among the modern generation of poets. Her romantic mind is full of nature images and love comes to her in the shape of nature which makes her an ecocritical poet with deep concern for earth and nature .She is too sensitive to see any one causing harm to the idyllic relations. She loves muse on mother-child bond, nature and mostly on human mind deeply going tumultuous and ecstasied in the throes of love.

Reema Das is one of the front liners now in modern poetic congregation. With her poems published long ago in the Assam Tribune and The Sentinel in many poetic anthologies, she already carved her niche as a poetess for the new generation of readers. But as she keeps a low profile always as a poet and never waits for promotion and publicity, many do not know her poetic oeuvre. But, she is a born poetess speaking so profoundly on the mind of men and women facing turbulent traumas of love and betrayal.

Reema's poems are of varied tones and modulations ranging from the meditative, to the reflective and emotional. She shows her concern about human negligence about the beautiful earth, shortage of drinking water or about the dehumanisation all around. Reema is a homesick woman but always a fighting one for independence and dignity. She is uncompromising and in spite of being romantic to the power of infinity, she is well aware of the need for having the line of control in friendship as she believes in values of life and wonderful essence of innocence.

All these are reflected in her poems that await publication. She being a woman of North East is always proud of her land and the idyllic relationship. She did her Masters in English from Dibrugarh University and from her university days she developed a penchant for reading and writing.

Feminisitic poems of Kamala Das, Nature poems of W.B. Yeats, Love poems of Tagore are the fountain of inspiration for her. She also enjoys reading Neruda and Gabriel Garcia Marquez. She is well connected with various groups of poets of modern times and enjoys a fantastic popularity for her intelligent and positive vibes.

Reema in spite of her profession a teacher does not look grave and sombre as she lives in ecstatic dreams and fantasies of love. She started writing poetry since 1994 in the pseudonyms of her students. She loves a leisurely life, but, her capacity for carrying tremendous responsibilities with a smiling face is simply amazing. She is an inspiration for her only son Neil Ananya who is now a rising district and national level Chess star.

A perfect mother and homemaker, Reema is also a perfect poet. She has the heart of a vibrant child and a humorous heart, which sometimes go satirical in a poem like 'Missing'. Nowadays, this word is a cliche for young lovers. She has a wonderful technique of writing. She imagines alone in her room herself as a crazy beloved waiting for sweet words of the lover.

Basically a woman with great moral values, which she inherited from her noble parents, Reema adds to the wisdom vessel for modern readers to drink the nectar of her poetry. She so poignantly writes about her life's journey:

'In the confluence of three rivers;/
I lost my identity here/, now no one knows me'.

It is the responsibility of the readers to make her known to the present generation which can find its mirror in her poetry.

She has a concrete conception of a poet: "A Poet's /Poetry /is one/ which /makes him/ smile/ love /her words/ feel/ her heart/ and understand /the modulation /of her art /and turns/ into a /classic one."

Sometimes she imagines arguing with lover on her being suspicious and writes in a poem of the same title: "You doubted my love in existence/And called me suspicious.../When my love for you is true blue/I never felt nor judged in black and white/ Even our soil, /Earth, is not suspicious/Or dubious in nature/ Just think, how could I be !!!"

Nature and life are mingled in Reema's imagination as she writes in 'Thunderclap'

"I longed, I pined, and waited to drench
I scratched the glass window pane
As if awakening my lover, who is in trance
Now rain seemed to be like my lost lover,
Whom I wanted it to create a thunderstorm
As the earth is waiting to sip rain, so am I'

Reema is emotional, but, rarely sensuous and never vulgar or pornographic, but, she knows the artless art of focusing on the senses in a poem called 'Divine Muse of Colours' where she is frank and honest in recording the senses:

"Nobody can stop
The divine power to make
Two passionate lovers' meet
She allures him, whose bosom
Fills with purity and innocence
There is amazing power between them
Their glances, flicking their eyes
Expressed it through their love
And plays with hues of passions!"

But even this poem too ends with a deep profundity of utterance which is the essence of Reema's poetry: "In the journey of life and love, passion for colours and music/She glues her heart with his, an unnamed reality/Deep emotion sprinkled with love/Turns their souls into magical/'The Unending Love'!"

She thinks of some surrealistic acting of love and tries to record the imagination in her poems. Probably this is the secret of her teenager vibrancy in her poems. She says she prefers 'Lively Poems' which are basically enriched with what she calls 'rasas' or aesthetic pleasure. She still never loses her punch and irony when she wittily asks an imaginary lover in one of her poems:

"You say, you miss me!
Why do you miss me?/miss the rain, that makes
you cool/miss the breeze, that makes you lull'

In 'Who am I' she beautifully soliloquises and tells: "I am the confluence of three rives, /flowing in each state started from there as the Lohit river..." She described her life's journey through the symbol of river reminding us of Hermann Hesse's Siddarth where river is seen as a source of wisdom. From Lohit to Brahmaputra and then to Ganga .. it is a wonderful journey - the journey of life. Reema is a poet of life and love. But there are lots of questionings in her as she records poetically in a poem called 'Moner Manush':

The other day one of my friends/asked me: How many lovers dwell in your heart as a poet?/ This question made me think, re-think/ And found to be quite intriguing.../ I have no answer at all.'

Sometimes Reema speaks very brief and precise. Her words go sonorously silent:

"dry pine needles---
prone to summer heat
forest fire!"

She makes a little satirical comment on topical events such as the Election:

"fair or unfair
election cast and out cast
suitable or unsuitable candidates
electorate's pressure on
polling booth officials!"

So casual yet so thought provoking. Only Reema can utter so casually so deep words in Celestial Love:

"celestial love---
lies and deception can't
win a pure heart!

Romantically intelligent Reema writes on contemporary consumerism in her poem 'Right Investment':

"My Law College friend, sent me a note
On how to invest money in correct perspective"
I asked for suggestions
And unwittingly said:
Be my financial advisor,
And tell me where to invest
my life savings, as there are so many swindlers, I may be duped,
my heart is my asset.
This is my goal to bond with a good soul,
who would love and revive
the lustre of my beautiful Earth,
At present, this is ravaged of its ravishing beauty
If it is waited for right time, it would be too late."

This love for the Mother Earth comes from Reema in a short haiku again

"Mother Earth ---
need respite from the corrupted
self-centered humans!"

Her keen sense of wit comes supreme in a poem where she says:

"Teach me how to become rich
as I'm a spendthrift,
let's talk about business
one day, and make me rich
so that I can propose you
after the resurrection."

Only a big laughter remains after reading this poem. But what a sad poetic voice goes benumbed after the tragic incident of Flyover Collapse in Kolkata :

"the flyover ---
caved in to carved out
skulls and bones!"

Few words but so poignantly uttered. Probably this is what Coleridge called: "Poetry is the best word in best order'. As a girl of a locality near to Lohit river, Reema knows very clearly the pains and sorrows of people living far from the madding crowd in the small hamlets of Assam. In the scorching heat of summer the people in the village work and suffer. Just see the graphic picture of these humble rustics in the poem:

"What heat wave is, do you know?
My village never felt its fiery,
Nor did I!
What this spoilt spirit is all about...
Until I visited Thane a few years ago
Lo, I could not breathe,
The hot air hitting my nostrils and face
I randomly splashed water at a short pace
And reached my cousin's cool stair case
Oh, what a relief I felt, the after
hot phase"

Finally, Reema is a poet of love and she dwells on the negative aspects of love and betrayal too. In one poem she says:

Now I got those answers
Among those unanswered
He hutches up love with
Her, at a time making me
an Angel...
His love was infatuated,
Filled with true devotion.
Again my turn to search...
For true love, that would keep
Me close in someone's heart"

This search for true love and a heart that is true is very much there prevailing in the poetry of Reema. Life is sometimes April Fool for her and what a brevity she displays in writing on it:

"opened gift---
a picture popped out
April fool!".

She imagines human face even in the monsoon. It is irresistible not to give the whole poem here for the readers: "Where are you, my dear?

I asked the wind to bring me
A whiff of your fragrance
But it couldn't trail you!
I asked the rain for heavy shower
So that you come under my shelter
But it already had downpoured!
Who can tell me, where am I to look for?
Bring home my lover back.

Reema's poetry will soon burst into a huge blossom and the bud is about to bloom to win many endearing hearts who admire her and and her poetry.

Reema reaches a philosophical height in the poem 'Confession :

"Time wheels by,
the seasons change
and the first rays bring with it
the mist, dews and flowers:
the melodious notes from faraway landride the waves to reach our shores."
In a poem like ' Had to Come Back' Reema is an affectionate daughter who writes about her father whom she misses since her demise.: Baba, Do I miss you/Since you left me//all alone in my world/A friend like you is hard to find/Remember,how we would travel to/no man' s land, navigating maps," The nostalgic tone is excellently portrayed in this poem :"When 'Digaru' used to get flooded/how you would arrange for/the stranded passengers' stay, /in our wooden bungalow!/Maa would cook dinner for /every guest/And they were treated like God" This is how values were inculcated in her by her parents. Reema knows as a poet and as a human being how to make relationship turn into a bond.