During my recent visit to Lucknow I had a strange request from my uncle, who is the CEO of a multinational firm in Oman, for a deposit on his behalf. It was not a deposit of currency that he wanted. It was a deposit of the Ram naams written by him over the years.
In the by lanes of Lucknow, the capital of Uttar Pradesh, lies a bank with a difference. Here, no money is involved, no interest recovered and no cheques are deposited. Yet, the number of account holders is rising steadily. All one has to do to open an accoun there is to write Ram Naams. The bank has its own Ram naam note books, which could be collected free of cost from 25 centres across the city. After writing ram naams in the booklets, one can deposit them with this Ram Ram bank. The depositor is issued a certificate from the bank's creator and in-charge, Pandit Lovelesh Tewari. Pass books are also issued to regular depositors with their deposit entries duly recorded. Every five years the entire collection is sent to the ultimate destination, that is, Ayodhya, the birth place of Lord Ram.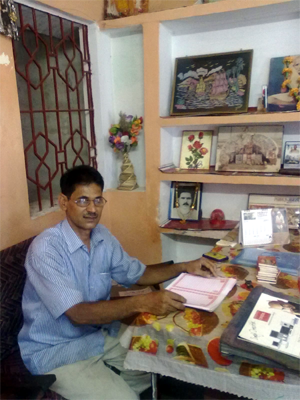 For this unique one-of-a-kind bank the banker is also exceptional. Shri Tewari, a rather soft-spoken, quiet man does not fit in the picture of a professional banker. There is no aggressive instinct in him regarding his bank, or the compulsion to join it. No incentives are offered by him to his account holders and there is no propaganda done to make his bank popular. Yet, news regarding the existence of the bank has spread through word of mouth. The crossing where he lives and runs his bank has been renamed as Ram Ram Bank chauraha. Shri Tewari operates his bank from his small home in one of the obscure lanes of theAliganj area of Lucknow. He has devoted his life to Ram Naam. A man of humble origin, Tewari wanted to make his contribution to the society. He had no money and was not well-educated to earn well, so he had no means to contribute materially for the welfare of the society. It was then that his guru, Paramhans Ram Mangal Das advised him to devote his life to Lord Ram. Thus, the concept of opening such a bank crossed his mind. The bank has been running successfully for over 25 years now. And each year the number of depositors keeps rising.
Taking Lord Rama's name is considered a divine mantra by the Hindus. The spiritual power in chanting Lord Rama's name is felt by all his followers. It is believed that one can liberate oneself from the cycle of births and rebirths by writing or chanting Lord Ram's name. Scribbling of Ram naams has always been a popular way of remembering the Lord. One need not go to the temple regularly for doing this. Writing of Rams can be done sitting at home or at work, by all age groups. A housewife can write Rams in-between her daily chores. A businessman and even a CEO of a company can write Rams while commuting to their offices or when taking a break. There is no compulsion on the number of Rams written. However, ideally one should write at least one page of the Ram booklet every day.
The present day world works only on incentive and motivation. So, what is the incentive for writing Ram naams? This thought would cross any modern man concentrating on gaining money and power in his life. According to Tewari, one can overcome all hurdles in life by simply writing or taking Lord Ram's name. All desires are fulfilled, all wishes come true and all problems are solved by this simple act. For Tewari, a man who would have not caught the attention of the world, Ram naam is very powerful. He cites the example of sage Valmiki who was a dacoit and he was reformed after reciting Ram naam. Tewari is convinced that when we write Ram we invoke his blessings and whatever we do the Lord is there with us in all our actions.
For school-going kids the habit of writing Rams is excellent for building concentration skills and motor skills. The Ram booklet has small squares and writing Ram in the squares given, firms the grip of fingers and helps in building steady and neat hand writing in children. For the youth, this activity helps them in increasing their concentration and channelising their minds into doing good actions. As adults our world is full of stress and frustrations. Writing of Ram naams reduces the stress level in our life as we meditate on the Lord's name. Tewari gave the example of a famous cricketer's father, who was very tense regarding his son getting hurt in the game. So, to ease his tension and to distract himself from the painful thoughts, this father would write Rams and send them to the Ram Ram bank.
From politicians to policemen, businessmen to rickshaw pullers, all have accounts in the Ram Ram bank. Interestingly, Tewari accepts members of all communities to write in their language of choice, whether English, Hindi, Urdu or Gurumukhi. He accepts Ram Ram written on any piece of paper. He has contributors writing Rams on the reverse side of lottery tickets and on election campaign leaflets. Tewari has given a new lease of life to an age-old process. He has encouraged youngsters to write Ram naam, a practice usually associated with the older people. He attributes the bank's earnings, already to the tune of a few crores, to the grace of Lord Ram. Today, the Ram Ram bank celebrates the existence of faith and spirituality in the modern life.
Comments on this Blog
---
| | | |
| --- | --- | --- |
| | Dear Sir,Since long I was thinking to buy this book fromthe market but I was much impressed with process archived by Respected Tiwari ji.I can't write more as I am much impressed by heart. Please send me few books so that my full family should write Ram Naam.I will try to compell many more people of Hyderabad.Since long I am searching some press from where I can make hanuman chalisa with many photoes in Hindi & Telgu.Later I will distribute this book to devotees of Hanuman at Hanuman temple. Arvind Srivastsv 07659826058 | |
---
| | | |
| --- | --- | --- |
| | sir/mam, I need note books of writting shri Ram nam, Iin Ludhiana or in Trichy | |
---
| | | |
| --- | --- | --- |
| | can u please send me address | |
---
| | | |
| --- | --- | --- |
| | I want to deposit Ram Naam books written by me. Can you please share me the address. | |
---
| | | |
| --- | --- | --- |
| | RAM RAM Bol...RAM RAM Sun....RAM RAM Likh.... very encouraging article for Ram Bhaktas....May Shri Hanumanji fulfill all your wishes..... | |
---

There is a Mandir for Ram nam exclusively in Chennai. A 59 year old women who was highly devoted to her guru Yogi Ramsuratkumar has renounced everything and undertook the mission of serving her Guru in a form of a statue installed at her place "Sri Raghavashram". Her mission is to please her Guru and nothing else in life. She leads a life of real simplicity. The two mission she has taken up are: GOSAMRAKSHANA (recuing and protecting cattles from slaughter ) and RAM NAM PRACHAR. For Ram Nam Prachar, she prints and gives people (free of cost) and motivates them to write by giving them gifts etc. She also collects wriiten notebooks for installing them at Sri Raghavashram . Sooner, there is going to be an installation of 1008 crores of Ram nam in that place . Those who wish can send their wriiten nt.books to this place. for further details visit www.sriraghavashram.org Support for this divine cause.

JAI SRI RAM
---
Jai Shri Ram !
Tiwariji is the true disciple of his gurudev who is doing a selfless service for whole mankind and world peace. Thanks for this article.
---
| | | |
| --- | --- | --- |
| | very nice. | |
---
| | | |
| --- | --- | --- |
| | nice one - thanks for sharing | |
---
Your beautifully written article is awsome. What a great revelation for many who had never heard about Tewari ji, the whole World knows about the head of the World Bank.. Tewari ji is the greatest Banker -- EVER, banker for the Universe and beyond.

Those who write about shree Ram , like you have done are trully blessed by Him and you have brought to light the powerful method of living this life -- fearelessly yet humbly and doing the right thing -- always; write Shree Ram Naam , recite Shree Ram Naam and meditate on Shree Ram Naam.

People always ask me what is success and how to achieve it , every one is hungry to be successful, not knowing what success is. Success is what you wrote about --always being focuused on Shree Ram Naam.. I really enjoyed your article and very much. Qudos to Tiwari ji and your Vivek uncle and thanks to you.

May Shree Ram always bless you -- and specially for writing this beautiful yet very , yes very, powerful article.
---
| | | |
| --- | --- | --- |
| | Well done Radha. Keep it up. | |
---