The term 'princely states' applies to those regions of India not under direct control of the British, but which continued to be ruled by their traditional rulers.In that sense the term 'princely' is misleading, since these rulers were kings in their own right. However for the British there was only one King, and he was in London, and so the term 'princely states' came into being.

In the early 19th century, the East India Company had established treaties with many Maharajas who, in return for nominal independence, accepted British rule and Pax Britannica – friendship with their neighbors. However, the Company's policy of war and annexation led to a band of rulers forming a loose confederation against the British, what would be called the Mutiny of 1857.

Though the rebellion was crushed, the British Crown became wary of continuing the policy of annexation, and entered into treaties with almost all these states.After the 1858 transference of power, the British Crown became the guarantor of peace and commerce treaties. From the middle of the 19th century until 1947 the princes ostensibly controlled 40 percent of India. They were, however, watched over by British agents and their powers, though real, were limited to internal matters. The ambiguity of their status led to a substantial concern for the symbols of identity. Many of these symbols were manifested in elaborate patterns of behavior – parades, durbars, entertainment – but their physical manifestation was in their architecture.

When the British replaced the Mughals as the controlling group, the inspiration for much of Indian architecture became English in origin, closely tied with what was happening in Britain. As for the princes, they were educated along British lines, taken on tours of Europe and introduced to Western manners and norms. This change in lifestyle began to be reflected in their architecture as well. In their palaces, old reception rooms gave way to durbar halls, rooms for European guests were built and ways to entertain guests were provided. Dining and drawing rooms were introduced; fireplaces, marble fountains and statues, oil paintings and stuffed animals began to be displayed in the halls and drawing rooms. New education, new social functions and new engineering techniques led to a new architecture created by British architects, British army engineers and often the princes themselves. The princes were expected to be both traditional and modern – to retain traditional feudal powers but to create a new India. Some, of course, were more successful than others.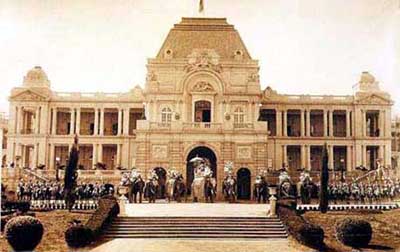 The new princely towns of Jaipur, Bikaner and Mysore showed themselves amongst the most successful in negotiating this divide. Their towns were modeled along British examples – clock towers, railway stations, public offices, assembly halls, water systems and public hospitals were built. Buildings were European classical, or if constructed later, Indo-Saracenic, or again an eclectic mix.

In evidence are Mughal antecedents at Bikaner, Beaux-Arts Classicism at Kapurthala (Jagatjit Palace), Italian Renaissance at Cooch Bihar, Porbandar, Gwalior and Tripura, and British Classicism at Kashmir. Many palaces mixed styles and out of this mixture emerged two newer sub-styles in addition to the Indo-Saracenic – what Miki Desai has called Renaissance-Oriental and Indian-Eclectic.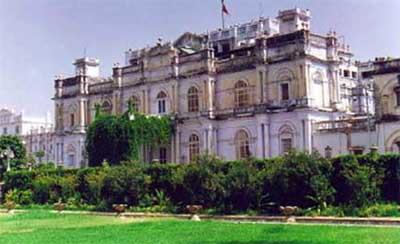 Some examples of the former are the Falaknuma Palace, Hyderabad built in 1872, the Gwalior Jai Vilas Palace (1872-74) designed by Sir Michael Filose for Maharaja Jayaji Rao Scindia, Lal Bagh, Indore designed as a Palladian Villa by the Calcutta firm of Triggs and Co., Tripura's Vijayanta Palace, and Jagatjit Palace Kapurthala for the Maharaja of Kapurthala, patterned along French Beaux-Arts Classicism.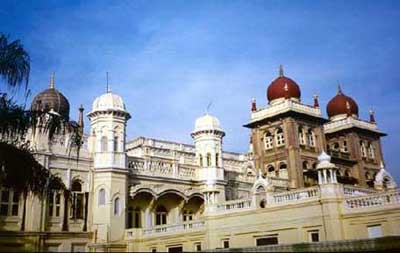 The Indian-Eclectic was modelled on royal luxury but its referents were also to Indian myths and folk tales as well as earlier architectural patterns and motifs.Much of it borders on the Indo-Saracenic but it tends to be more eclectic in its selection of ancient referents. The Amba Vilas Palace (1900-1910) in Mysore by Henry Irwin is a mixture of influences: fluted pillars from the Red Fort in Delhi, onion domes from the Taj Mahal, Mughal tracery and European halls.

The use of Indo-Saracenic in the princely states can be seen in a number of places: the Kohlapur Palace at Mant, the Laxmi Vilas Palace at Baroda, and the Durbargadh Waghaji Palace (1882) in Morvi, an Indo-Venetian Gothic building with Saracenic domes and Rajput arches. This last is a magnificent example, but much of it has been damaged by the Bhuj earthquake of January 2001. As the Gothic replaced the Classical in Bombay, it was picked up for use by the princely states – Bangalore Palace has a similarity to the one at Windsor Castle in England.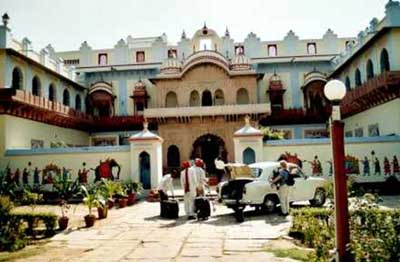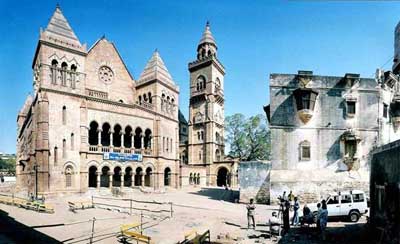 Laxmi Villas Palace, Baroda Durbargarh Palace, Bhuj
Such palaces were a sophisticated political symbol of the imperial presence.Outwardly Indian and built by Indian hands, the overall control stayed with the British. They reflect the appearance of the power of the princes and the real power behind their thrones.
In the real world, the princes had very little power, and so they turned inward on their own little territories and lives, living as if there was no tomorrow in a unreal world of pomp and splendor which had no substance.