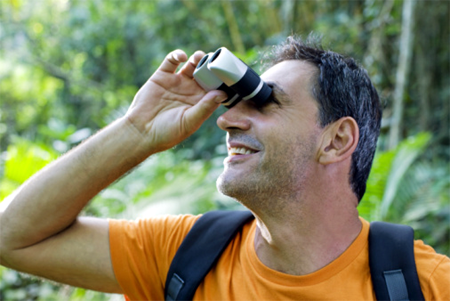 There are very few who know that as many as 1,200 species of birds make their home in India. First time travelers are often surprised how prized this element of an experience can be. Tourists coming here have ample opportunity to notice birds, as even if they don't remember their names, for sheer dynamics and diversity they are impressive - from singing cuckoos to dancing peacocks. This vast number is surely enough to make India one of the best bird watching destinations in the world. The study of birds can open a whole new line of adventure. Birds are full of life, color and song that make bird watching an exciting and interesting hobby. No matter where you live, you probably have birds of some kind, where you can go bird watching.
In many ways, bird watching is similar to hunting; only in this instance you do your shooting with a pair of binoculars, perhaps even a camera, a bird identification book, a notebook and a pencil. You can do your bird watching from the comfort of your own home by using a bird feeder to lure the birds closer or you can go out into the woods, fields or aquatic locations and look for them. Perhaps a combination of all three works the best. This is a hobby and should be the done the way you want to do it.
In India there are various bird watching destinations which are very often visited by bird lovers from all across the country. These destinations are not only a hot-pick for Indians but even people from all across the globe come here to witness these lovely creatures. Mr. Nair from Bangalore makes it a point to visit the Keoladeo Ghana National Park, located 175 km away from Delhi every year. He says that he loves visiting this place because the prominent bird species here are migratory birds like Siberian Crane, Geese, Ducks, Raptors, Warblers and Waders. Seeing these birds in India is a rare sight and for a bird lover like him, nothing could be better than this.
Then there is the Corbett National Park which not only is home to a number of wild animals but also home to more than 600 species of birds. For all those people who fancy the wildlife, this is one place where one can find everything. The most prominent bird species that can be found here are bareheaded goose, snipe, gull, grepe, graylag, wagtail and sandpiper. Not falling behind in the league is Kaziranga National Park. Spread across 430 sq km and situated on the bank of river Brahmaputra in Assam this park is made up of thick forest and lakes, the perfect conditions for the birds to thrive. Most prominent bird species are Pallas's fish eagle, black necked stork, lesser adjutant stork, grey pelican, grey peacock-pheasant and green imperial pigeon.
Bird watching is the very best kind of fun. It is easy, inexpensive, healthful and satisfying. Bird watching is about wild birds and the sport of birding. It's for everyone who's interested in birds and enjoys nature. You always don't need to go to the reserved bird habitats to watch birds. Whether it's watching birds in your own back yard or whether it's a trip to the bird habitats to watch some very rare species of birds, bird watching is your lifetime ticket to the amphitheater of nature.

Image (c) Gettyimages.com