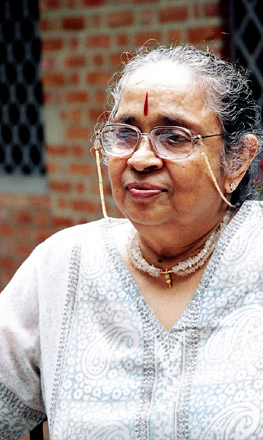 Mary Roy is a rebel, an activist, an educator. She can never take injustice lying down. Her life is proof enough of her never-say-die attitude. It was she who fought against an archaic inheritance law and ensured the famous and historic Supreme Court verdict that changed the lives of Syrian Christian women in India, giving them equal rights to their parents' property. That was 24 years ago.
But even after campaigning for women's rights for close to three decades, Roy's zeal to bring in change has not ebbed. She is going to the Supreme Court again. This time around she is getting ready to file the 'Justice and Human Rights for Citizens living in the Periphery of Garbage Dumps' petition, which has taken precedence over everything else in her life for the last few years.
Meanwhile, on October 20, 2010, the Kottayam sub-court over-ruled all the legal objections raised by her brothers since 2000, and finally granted her possession of the nine cents of family property on TB Road in the city. Within hours, two AMINs (court-appointed officers), six policemen and more than a couple of public officers walked into the TB Road property, razed the dilapidated shed lying on her nine cents of land and cordoned off her piece of land forever (done as per her wish).
"I am sitting on 10 acres now," she says, speaking at her home in the Pallikoodam school campus. "So, for me, it was never about the land. It was only about the humiliation."
Roy recounts her tough journey to getting what was rightfully hers. As a single mother of two school-going children, Roy was asked to "get out" of her deceased father's cottage in Ooty. Back in 1965, when she sought legal advice although she didn't even have the money to travel to New Delhi, the law according to the Travancore Christian Succession Act stated that "a daughter shall receive 1/4th the share of a son or Rs 5,000 (US$1=Rs 44.3) whichever is less".
"The police in Ooty told me that I do not have to vacate at all and that my brothers could not physically throw me out," she recalls. So she continued to stay there. "My mother, my sister and even my brothers gave me money now and then. But the hurt was still there," she says.
In 1984, she filed a Public Interest Litigation (PIL) in the Supreme Court and two years later, the apex court struck down the Travancore Christian Succession Act and upheld the Indian Succession Act by which equal inheritance rights are granted to sons and daughters in the event of the father dying intestate (without writing a will).
But the battle was far from over. "My mother was alive and she had the Life Estate which gave her right over all her husband's property until her death," says Roy. But once she died in 2000, her brother "resorted to innumerable adjournments and appeals to Kerala High Court to prevent partition".
Not anymore. This sub-court decree was victory all over again. The land is finally hers. But she says matter of fact, "I have no use for that land, nor do my children."
Women's right to inheritance has been a contentious issue and Roy knows that it is not easy to change mindsets. In fact, she admits to the fact that even today she meets many women who actually prefer to take their dowries at the time of marriage instead of their inheritance in property. "They don't want to wait for their share of the inherited property after their parents' deaths because they feel it comes too late in life." They favour an early, one-time payment of their share at the time of marriage. "It may be significantly less than what they would have received much later but even that's okay," she quips.
Roy recalls the cases of two women who had joined her legal battle at the SC against the Travancore Christian Succession Act. One was a singleton who died before the verdict was pronounced and the other was a nurse, Aleykutty, who won the case for herself and for her daughters against her son. "I have a copy of the letter Aleykutty wrote to her son. It's heart-wrenching," she reveals.
But other than that, Roy cannot recall anyone else who may have followed suit. "There may have been others but this judgment has not created any ripple effect on the Syrian Christian families in Kerala," she observes. What it may have done at the most, she believes, is to make the male parent realise the absolute necessity of writing a valid will. And through the will, the lion's share of his property will still be bequeathed to his sons. "That's the tradition," states Roy.
But Roy has not really given up hope for a more gender-equal future. In education she sees a way forward. "I walk into a shop in town and I see only women - as entrepreneurs and sales-girls. From the lower middle-class NRI nurse who single-handedly creates wealth for her parents and her in-laws to the B-school educated HR professional, I see that the empowerment of the Malayali woman is through education."
And she is definitely doing her bit by imparting quality education to girls in her Pallikoodam school. "My girl students will not take their families to court. They won't have to. Nor will they need their dowries. Because they have been made to realise that education will set them free," she says with confidence.
Roy's vision doesn't exclude the boys enrolled in her school. As she says with a smile, "They will not be the alcoholic, wife-beating, dowry-expecting men that we hear of. But they have to gear up and find their footing fast. The girls are already beating them hollow in every championship race right here in my school."
Sure enough, her school is gender-equal. From art teachers and athletic coaches to playwrights and special educators, Pallikoodam is a microcosm of the world that Roy envisions for women everywhere. "Men are welcome and I do have wonderful male teachers. I only wish I had more of them," she says.
Roy is now gearing up for another long-drawn legal battle against the local bodies over the issue of garbage dumps. She hasn't filed her case yet. Having turned 77 recently, age is not on her side and she may find it tough to take this issue to its logical conclusion like she did her battle for equal inheritance rights. But one thing is for sure, Roy will certainly try hard to succeed in her latest cause. As they say, you can't keep a good woman down.

By arrangement with WFS