When Venkatamma, 17, was abandoned by her husband, she had no option but to work to support herself and her newborn daughter. Being poor, young and single, she was an easy target for pimps. However, despite being forced to have sexual relations with several men at the construction site in Hyderabad where she worked, Venkatamma did not raise her voice for fear of losing her job.

However, when she started keeping unwell, Venkatamma went to the doctor, who told her that she was HIV+. Although stunned and confused, Venkatamma hoped her family would support her. But there, too, she was in for a huge disappointment. Instead of helping her to come to terms with the news, her brother threw her out of the house and even stopped her from meeting her daughter.

If this story sounds familiar, it is because there are many women like Venkatamma who, due to their low status and inability to negotiate safe sex, are vulnerable to contracting HIV. According to the National AIDS Control Organisation (NACO), 39 per cent of the total number of people living with HIV are women and the numbers are only rising. But what is really worrisome is that a majority of them, particularly, rural married women, lack access to appropriate communication material on HIV and AIDS and that has greatly impeded prevention and treatment efforts.

With the intention of equipping low-literate and neo-literate rural women with the right information, the Population Council has developed a training manual on women's vulnerabilities to the infection. 'Our Stories: Women Speak Out Against HIV', an interactive and visually attractive training manual, which was introduced in April this year, has already reached out to over 4,000 women. It has been designed by Vikalpdesign, a development communications design agency.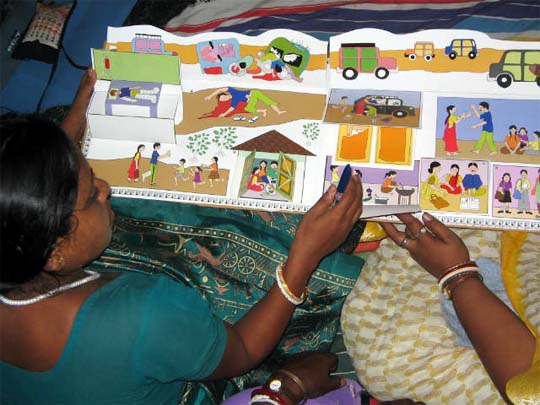 According to Vijaya Nidadavolu, who headed the communications project for the Population Council, the existing literature tends to overlook women who have no reading skills. "This manual is aimed at rural married women in the age group of 15 to 35 years. We did not want to focus specifically on their economic background. Our main concern was that some material be made for rural pockets where other media on HIV seem to have penetrated very minimally," said Nidadavolu.

This is perhaps the first time a manual on a sensitive subject like HIV and AIDS has been based entirely on inputs and drawings by rural women in Andhra Pradesh and West Bengal, the states chosen for the project. They were chosen because of their differences in HIV prevalence rate. In Andhra Pradesh, where prevalence rates are high, the Council collaborated with the Andhra Pradesh Mahila Samantha Society (APMSS) in Mahaboobnagar and Karimnagar. In West Bengal, where the prevalence rate is on the rise, it partnered Child In Need Institute (CINI) in Murshidabad and South 24 Parganas.

Simple to understand, the manual has colour-coded specific aspects, like vulnerability of women, routes of transmission, HIV testing, prevention methods and need for support to HIV+ people, of the four stories published. It also has some pullouts that provide a three-dimensional effect, which keep the readers engaged.

Interestingly, the manual was developed after several rounds of discussions with the target audience. All the stories are based on real-life incidents of women who had never even heard of the virus until it entered their homes. In fact, according to Vijaya Usha Rani of APMSS, women have been able to relate to the stories because they have either seen or heard of similar incidents.

For example, Mangamma's story touched many a women belonging to areas populated by truckers. Happily married with three children, Mangamma, 27, found that she and her trucker husband were HIV+ when they fell ill, a few months after her husband was given blood following an accident. Ignorance about the infection and its modes of transmission led Mangamma's husband to suspect her of being unfaithful. When he resorted to violence, other villagers supported him. It was only when the local ANM came visiting that she was able to give him the correct information.

However, says Moumita Saha of CINI, the stories were chosen not only because they were women's own stories but because they addressed the low risk perception women in the two states had about themselves vis-�-vis domestic violence, migration and ability to negotiate safe sex. Discussions also revealed that although women living in districts closer to urban areas had higher exposure to HIV messages, in general, knowledge regarding the virus was low and misconceptions high.

While the stories emphasise how lack of information exacerbates women's vulnerability leading to abandonment and domestic violence, it also narrates how women have faced the challenges head-on.

Abridged versions have also been published in small booklets, keeping in mind the need expressed by the women to have visually colourful material in a small book format, which they could refer to at ease. Importantly, each booklet has addresses of the local Voluntary Counselling and Testing Centres.

Currently, a total of 100,000 booklets, published in Bengali and Telegu, are being distributed directly to the women, while about 1,000 are being used by different NGOs in the states. In addition, training workshops cum dissemination meetings are being held to educate trainers on how to use the manual. According to APMSS, the manual has been endorsed and integrated by the Andhra Pradesh State AIDS Control Society into its ongoing outreach activities. In West Bengal, over 200 trainers and 2,000 women have already been introduced to the manual.

While the response has been overwhelming, it is still early days to gauge its impact on women's abilities to deal with the infection. CINI and APMSS expect to get a clearer picture in another couple of months, once their evaluation and impact assessment is over.

Hoping women opt for voluntary testing after being shown the manual is, perhaps, expecting too much too soon. So, even if it is able to raise awareness about the infection, its prevention and treatment and, most importantly, create the hope that there is life after HIV and AIDS, it would make a huge difference.