The unprecedented refugee influx from West Pakistan (it is estimated that 15 million people crossed both ways!) post-1947 meant that north India's population underwent a sudden, substantial increase, as displaced persons from what was now Pakistan poured in across the border. Most of them settled in and around the state of Punjab, with a smaller number fanning out to other parts of India – notably the Terai region in Uttar Pradesh. These people – for the most part belonging to prosperous communities in West Punjab – found themselves without jobs, homes and food. With nothing to lose, the refugees rebuilt their lives from scratch – and their dynamism and work ethic became legend in the time to come.

But first there was work to be done.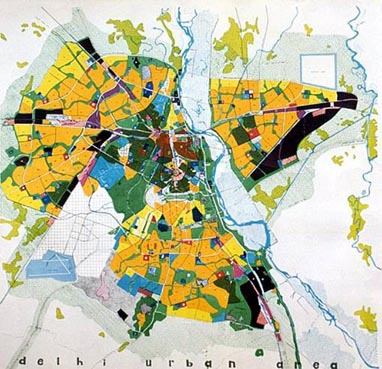 The city of Delhi at this time consisted of the following parts: the old walled city of Shahjahanabad, already bursting to the seams; the Civil Lines where British civilians and their Indian staff had lived; and the administrative capital of the British empire in India – New Delhi. To this list must be added the outlying areas, the Delhi ridge and the localities around the Yamuna, which were home to numerous villages and small towns that served as the agricultural hinterland for Delhi.
The city's infrastructure - in some places already taxed to its limit - was simply not prepared for a massive population increase – Delhi's population went from 700,000 in 1941 to nearly 2.5 million people in 1961. In the absence of sufficient housing, refugee camps sprang up all over the city. As an emergency measure, the government set up the Ministry for Relief and Rehabilitation, which had as its primary task housing the immigrants, and then absorbing them in viable occupations.
Among the many new colonies were planned and built for this purpose are the modern localities of Lajpat Nagar, South Extension, Karol Bagh, New Friends Colony, Malviya Nagar, Kaka Nagar and Bapa Nagar. Some of these settlements came up at the site of refugee camps, and others clustered around existing villages and gradually absorbed them into their midst (Hauz Khas being among the better-known examples).

It is not surprising that much work at the time was ad hoc, with the primary directive being speed and efficiency rather than good design. At the same time, it is incorrect to say that design principles played no role at all. The architecture of the time is marked by a fundamental unity that gives it, and the city of Delhi, a distinct character.
Defining an Architectural Culture
Government PWDs (Public Works Department) were responsible for much building work, in their capacity as ex-British institutions responsible for government buildings. While the PWDs had sufficient experience in building maintenance and upkeep, the same cannot be said for their expertise in conceptualizing an architectural vocabulary representative of the nation. It was a generation later that questions of what constitutes an 'Indian' architecture began to be answered with any degree of success.

The scarcity of trained architects outside the PWDs (the independent profession at the time was a few firms operating out of the main metropolitan centers) meant that many overseas architects were advisors to architectural and reconstruction committees formed by the Government of India and local bodies. Albert Mayer, an American who worked extensively in India after the war, and Otto Koenigsberger, who prepared the plan for Bhubhaneswar, are two such examples. However for the most part foreign architects would underline that truly national architecture should be of indigenous origin.
What commands attention from the time are institutional buildings (schools, colleges, public offices) and large quantities of housing for the refugees. It is a mix of both of these that gave Delhi its unique character, and continue to define the image of the city today. Colonies like Kaka Nagar, Bapa Nagar and Sarojini Nagar were among the first large-scale experiments in mass urban housing, and the experience of these generated many valuable lessons for the future.

New Delhi required several buildings to complete its main esplanade, and also to provide for new institutional buildings that were needed. The challenge here was a vocabulary that would be sufficiently indigenous, and yet also dovetail with the built form of New Delhi's British buildings. Thus the Supreme Court (1952), the Vigyan Bhawan (1962), Krishi Bhawan and Udyog Bhawan (both 1957) and the Rail Bhawan (1962), while serving very different purposes, are marked by a certain strong similarities.

This may be defined as: a plan form derived from British precedents; finishes that were not extravagant but were rather chosen for their durability, cost and ease of maintenance (for example rough-hewn stone, brick and plaster); an attempt to introduce 'Indian' motifs and elements as ornamentation (jaalis, chajjas, and other more substantial elements); and finally an attempt to integrate this architecture with current modernist theories of form and function – ideas that were certainly helped by the presence of professionals from abroad and the accompanying discourse on art and architecture in newspapers, the radio and magazines.
The Good and the Popular – Culture and Architecture
The quest to define what is popular and what will sell has never been easy for an architect/builder. At the same time for a professional, this is not the only issue – there is also the search for personal and professional satisfaction. When to these factors are added the turbulent conditions in north India after partition and during the rebuilding phase, it can safely be said that there were, at the time, no easy answers. There were many challenges – to rebuild, to provide housing, to create an architectural culture that would not be a replica of what had gone before, but instead helped to define new nation. The lack of trained architects and planners made this task difficult.

In retrospective, many design decisions and the resulting urban form of Delhi is held up as prime examples of what not to do in Urban Design.

This cannot be argued with, however, it should be said also that professionals at the time worked in conditions that are unimaginable today. The agenda was nothing less than national reconstruction, and this lends a heroism to the story that cannot be negated.