Charles Correa - The Traditional in the Modern


Introduction
The post-independence generation saw an increasing number of architects from South Asia migrate to Europe and the United States for advanced studies. Some of these would later return, setting up practice and often evolving highly original styles of work, combining Western rationalism and architectural theory with vernacular tradition and an appreciation of the need to preserve and reinvent South Asia's built heritage for a postcolonial age.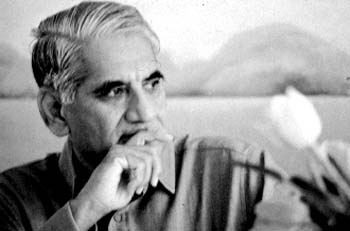 In the ranks of those who have contributed substantially to architectural practice and discourse in South Asia is Charles Correa. Born in 1930 of Goan origin, Correa studied at the University of Michigan, and then the Massachusetts Institute of Technology, before establishing a practice in Bombay. Over the span of a career starting in the early 1950s to the present day, Correa has evolved a distinctive style of his own and has been a chief actor or major participant in various influential projects that shape and give definition to postcolonial South Asian architecture.

A representative catalogue of his work displays an impressive vocabulary and technical virtuosity that he brings to his work, and is also a fair representation of the evolution of South Asian urban centers and the debate around them - from celebrating and valorizing tradition and heritage, to the need for increasing housing, creating markets for the arts and leisure, and finally responses to the challenges that explosive urban growth creates.
Correa's responses to these questions have been outstandingly innovative, displaying an impressive knowledge of tradition from various sources, an understanding of technique and, perhaps most importantly the power of symbol and myth as a factor in good architecture. Indeed, Correa's buildings, in their clever semiotic appeal, seem often to be as much gestures to prevailing political ideology as intelligent responses to an architectural problem.
Representative Work
At the Gandhi Smarak Sangrahalaya, Ahmedabad (1958 – 63), Correa uses a network of interconnected open-to-sky spaces landscaped in different themes, to recreate the Gandhian ideal of a self-sufficient village community. The result is an elegant solution that is climatically sound and energy-efficient, uses low-cost material and finishes, and above all conveys some sense of the solemnity and dignity appropriate for an institution dedicated to Gandhi's life and work.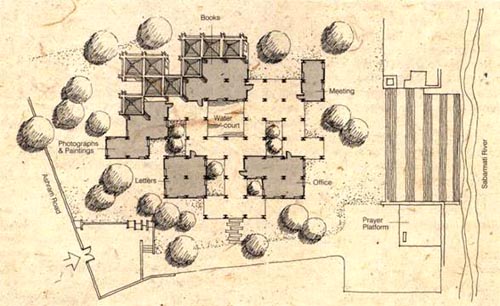 Gandhi Smarak Sangrahalaya, Ahmedabad. Plan. Notice massing of units.
Especially remarkable here is Correa's use of natural light in conjunction with semi-open spaces to create tonal gradations in illumination and shadows. Correa acknowledges a strong debt to Le Corbusier, and this effect of the Frenchman's influence is clearly visible here. The museum is solemn without being overbearing, is austere without appearing to make an effort to be so.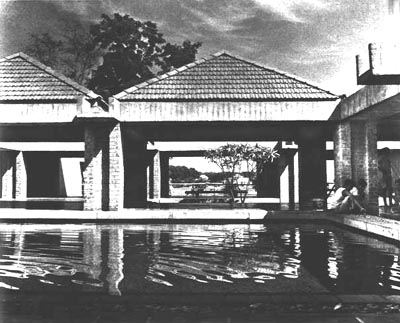 Gandhi Smarak Sangrahalaya, Ahmedabad.
View of courts.. Note use and blend of material and texture.
Continuing the same effort to interpret India's vernacular architecture in a modern typology, the National Crafts Museum (1975-90) at Pragati Maidan, New Delhi, provides a forum to craftspeople nationwide to showcase their art – and the process of its creation! – to visitors, both resident and alien.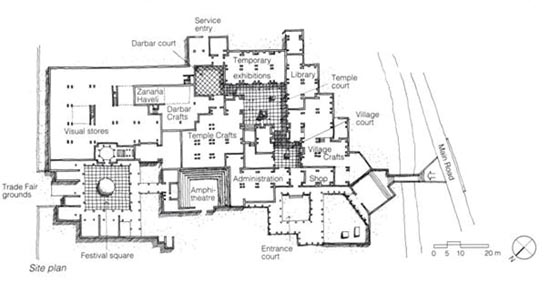 National Crafts Museum, New Delhi. Plan. Note linkage of spaces.
Its spaces massed together to recreate an Indian village, the Museum incorporates extensive use of vernacular material – stone, bamboo, brick, mud, thatch – and uses craftwork as both interior and exterior ornamentation. The result is once again a very impressive series of spaces that hold together as a unit, and display a high degree of functional efficiency. Correa demonstrates here a successful transition of the vernacular to the modern, as also how traditional architectural vocabulary need not be synonymous with 'backward'.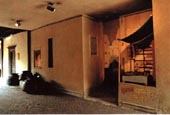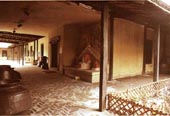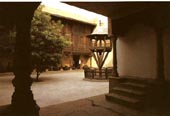 National Crafts Museum, New Delhi. Views with details of ornament and landscape elements.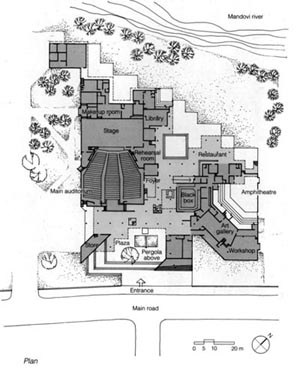 It is in his native Goa that Correa demonstrates a flair for an elegant use of colour and contrast, combined with intelligent space planning. In the Kala Akademi, Panaji, (1973-83) a centre for the performing arts, and the Cidade de Goa (1978-82), a luxury hotel, he plays with a hierarchy of spaces and terraces to create a spectacle of sorts in itself – and at both these sites an illusion of space and spectators is created by paintings complementing the architecture. At the Kala Akademi especially, Mario Miranda creates a skilful impression of people already present in the theatre. The Cidade de Goa – 'City of Goa' in Portuguese – is planned as a microcosm of a traditional city – complete with pedestrian streets, open space and marketplaces.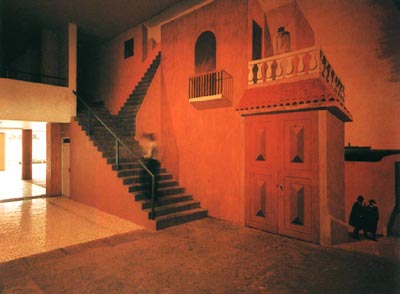 Kala Akademi, Panaji. Interior View.
The right side of this interior,
including the human figures at bottom right,
is actually a painting.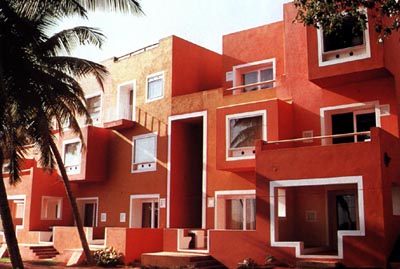 Cidade de Goa, Goa. External terraces and balconies.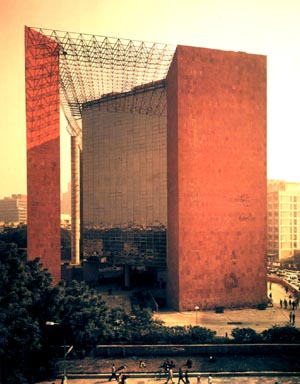 When it comes to monumental architecture, however, Correa has less success in blending the vernacular and the modern. The Jeevan Bharti (Life Insurance Corporation) (1975 – 86) headquarters at New Delhi towers over Connaught Place, its glass curtain walls reflecting the colonial-era buildings. Challenging and cocky, almost, in its aggressive use of sandstone cladding and the massive metal truss uniting its components, the Jeevan Bharti building disappoints in its details – the workmanship can be shoddy in parts, the fine elegance that characterises Correa's smaller, earlier work is missing. This may be an inevitable consequence of success – lacking the time to devote to each project the attention it needs. For all this, the Jeevan Bharti building continues to be the object of debate and polemic, as much for its bold use of material as for the radical way in which it affects its urban surroundings.

In his project for Navi Mumbai (New Bombay) (1964 - ), Correa argues for decongesting Bombay's historic city centre, breaking the vicious cycle of inflated land-prices and accompanying high-rise growth, and limiting urban sprawl north of the city. His solution is to develop the land across from Bombay Harbour and increase road and rail links from the mainland to the new settlements, thus reducing old Bombay's primacy as the sole business center.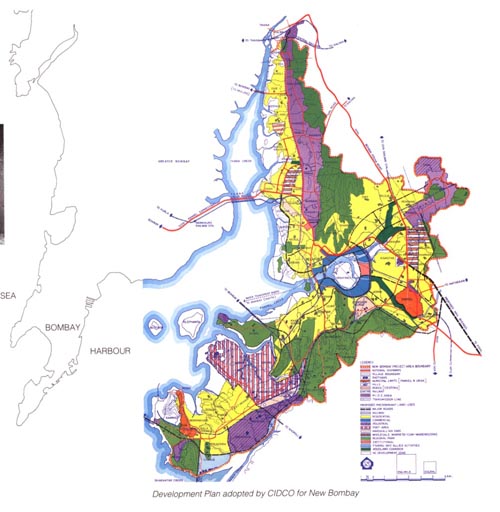 Navi Mumbai. New Bombay Redevelopment Plan.
Historic Bombay is to the left, new development to the right across the harbor.
Stressed also is the need to provide land for all, especially the urban poor. Inherent in Correa's scheme is an appeal to provide the invisible squatter population of Bombay with a degree of human dignity and opportunity for growth that the current system denies.

Conclusion
This summary of Correa's work, while including some seminal examples from his career, leaves out far more than it includes. A few words, however, may be added here about the larger significance of his career.

It is fairly representative for a typical architect to handle projects that increase in complexity and volume over time. This fact is a reflection of a professional's personal development as well as public recognition and confidence in his work, a reputation that is built up over decades and after a body of significant work has been completed.

What stands out in Correa's work, beyond this evolution, is his original fusion of modern typology and South Asian elements, infusing at times almost mythical references in his buildings. It is his skill for translating into built form an acceptable political discourse that has contributed to his success, as much as his obvious ability and aptitude as a professional.