Medicating the Young Mind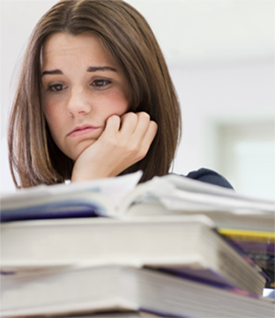 In today's fiercely competitive world man right from infancy and childhood makes a headstart in the fast lane. With over-ambitious parents and demanding teachers the child has to cope with multiple subjects, information explosion, peer pressure, environmental pollutants, and heavy school bags.

The child's "stress score" soon rises above optimal limits. Long back the Canadian biochemist Hans Selye propounded his hypothesis consisting of three fairly well defined stages: the alarm recation; the stage of resistance; and the stage of exhaustion. The 'alarm reaction' has a shock phase, and a counter-shock phase reversing the changes. The following 'resistance phase' is a non-specifc defensive mechanism.

In life man oscillates between the stages of alarm and resistance. But if stress persists the 'exhaustion stage' sets in which leads to the 'diseases of adaptation'. In this gamut the hormones adrenaline, adrenocorticotrophic hormone (ACTH), and the corticosteroids are complexly involved. They first offer protection, but in the long run damage vital body tissues. It is this chronic stress in the child which leads to anxiety, obsessive-compulsive disorder (OCD), and attention-deficit/hyperactivity disorder (ADHD).

The medications for these psychiatric disorders include antianxiety drugs, psychostimulants, antidepressants, and antimanics. At times these "psychotropic drugs" produce serious unavoidable side effects, compromising the 'quality of life' of the child.

The human brain does not reach full cognitive and emotional maturity until a person reaches at least 30 years of age. Inside the human brain the prefrontal cortex, the frontal lobe, basal ganglia, putamen, hippocampus, amygdala, thalamus and the cingulate gyrus interact in a complex way and regulate behaviour. Their disorderly function leads to anxiety, ADHD, OCD, depression, panic, and traumatic stress. The child may suffer from any of these disorders, and in severe cases may become a 'problem child'. Recently, in our country the National Commission for Protection of Child Rights (NCPCR) has recommended that children below 16 years of age should be barred from participating in reality TV shows. It is strongly felt that participation in such shows has an edverse effect on the child's physical and mental health.

In addition, polypharmacy (use of multiple drugs) is the rule of the day in therapeutics (treatment of disease). Such 'cocktails' include a basic drug, and others to minimise the side effects of the basic drug. In fact the taker suffers the side effects of all of them, and at times the side effects are more annoying than the disease. Perhaps, a better remedy is that "stress" on the child's young mind should be well within his/her "coping" capacity depending on the capability and aptitude of the child. It is easier said than done, but a well-organised trial is warranted.

12-Jan-2010
More by : Dr. Frank S. K. Barar
---