An Architecture for a Socialist State

The Architecture of Socialism

With a few brief exceptions, post-independence Indian politics till the 1990s was dominated largely by the Congress party, each time with a representative of the Nehru-Gandhi family at the helm, who alone seemed to be able to guarantee a certain unity.

Principally backed by Nehru and his coterie of advisers, India with its five-year plans embarked on a socialist model of development that featured a top-heavy State with minimal delegation of power to the regions or to district-level representative bodies. This socialist-industrial model called for massive State-controlled investment in heavy industry and associated activities.

While this model of governance may possibly have been the only viable solution in a time when India was struggling to become a cohesive political unit, it was also subsequently criticized for encouraging and entrenching endemic corruption and propagating a multi-layered bureaucracy that continues to this day. The State, as the biggest actor in the country, controlled almost everything – including information flow, social development, and most importantly for our purposes, became also the biggest client for architectural and urban development projects. It is not surprising then that most significant large-scale construction from this era has been either directly sponsored by the government or by public corporations.

The Search for an Aesthetic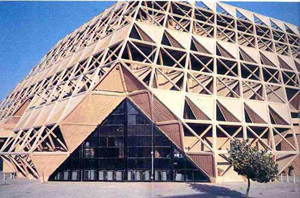 The Asian Games in 1982 provided a massive fillip to construction, especially in Delhi. The Pragati Maidan complex, built on the eve of the Games, provided a space for many innovative architectural experiments and cemented the careers of a whole generation of professionals. Built as an exhibition and entertainment space, Pragati Maidan continues to be one of the stellar attractions in Delhi. Within it, the Hall of Nations by Raj Rewal is a large column-free space that is characterized by its use of reinforced concrete in a structure that would normally be constructed of steel trusses, a decision influenced by the lack of expertise in steel construction as well as the prohibitive cost of steel at the time. While the use of concrete results in a massive structure that does have some brutal appeal, the quality of construction leaves something to be desired. For all that the building is one of the most imposing in Pragati Maidan and continues to host many high-quality exhibitions, both domestic and international.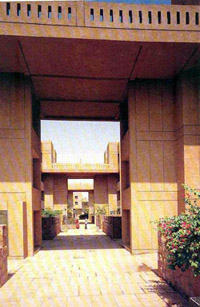 Also constructed for the Games are a series of stadia, the most prominent being the Indraprastha Indoor Stadium by Sharat Das and the Talkatora stadium by Satish Grover. The Indraprastha Stadium is an imposing structure with bearing walls of concrete and roofing of steel trusses, marked by its rapid construction with movable shuttering on the bearing columns ensuring continuous activity on the site. It unfortunately suffers from a lack of maintenance, and the use of plastic covering on its roof on rainy days is sometimes visible.

For athletes visiting the capital, large-scale temporary housing was required. Raj Rewal designed for this purpose the Asiad Games Village, a cluster of interlocking housing units that takes its formal inspiration from the streetscape and scale of towns in Rajasthan, particularly Jaisalmer. Rewal claims to have used these spatial references to create a series of courts and 'streets' through the complex and even to use finishes and material that correspond to their original inspiration.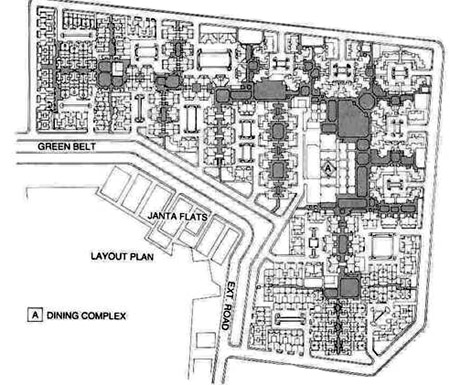 Asiad Village, New Delhi, Cluster Plan
Today the Games Village, or Khelgaon as it also called, houses commercial and office space, exhibition areas, as well as nightspots that are known as much for their fine cuisine as for their easygoing urban setting.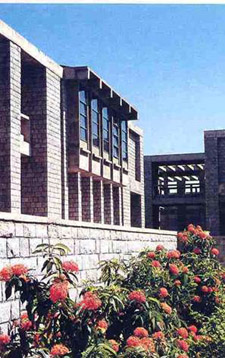 This experiment with 'vernacular' material and scales is continued elsewhere, in the Indian Institute of Management, Bangalore by Stein, Doshi and Bhalla, several buildings in Rajasthan (including the University of Jodhpur - Image below) by Uttam C. Jain, as well as a neo-Corbusian aesthetic in the Shriram Center and Akbar Hotel, both at Delhi, by Shivnath Prasad.

Conclusion

To sum up, most of the architectural production of any significance till the 1990s is marked by a certain commonality of factors: firstly sponsored or commissioned by the State and its organs, and secondly the search for an appropriate aesthetic fluctuates between two extremes – that of a completely 'international' vocabulary of Modernism (such as Prasad's Akbar Hotel) and an attempt to reinterpret the vernacular on the other (exemplified by Correa's Crafts Village).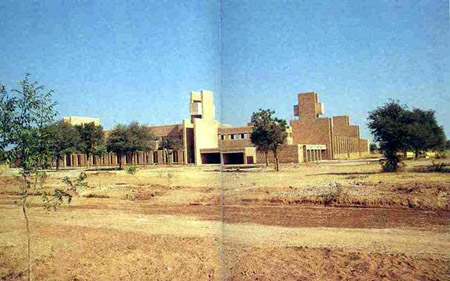 Jodhpur University. Notice use of local material for finishes.
However, most architectural production is a balancing act between these two poles – a form dictated by the exigencies of universal standards of space (stadia, exhibition spaces, and convention centers) and construction and aesthetics influenced by what is actually possible on the site.


These mixes, when juggled elegantly and with flair, has resulted in elegant or in horribly clunky structures that have only got worse with time. It is perhaps best here not to point out examples – suffice it to say that many of the larger cities in India are littered with architectural horrors from this period that are a blot on the cityscape and serve to efface the many fine and sensitive examples time that co-exist side by side.


It is ironic that the same State that professed a social agenda has been responsible, in many cases, for an urban landscape that has done little to help minimize the inequality that vowed to eradicate. Fortunately this is an issue that is increasingly being debated in the work of younger professionals today.


Images from Bhatt, Vikram and Peter Scriver. Contemporary Indian Architecture: After the Masters. Ahmedabad: Mapin Publishing: 1990.