Olive Oil: The Amazing Oil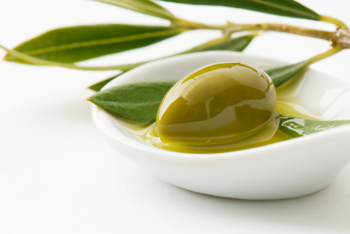 Olive is a Mediterranean evergreen tree (Olea europeae) having fragrant white flowers, usually lence-sahped leathery leaves, and edible drupes. The small ovoid fruit (olive) is an important food and a source of oil, which is yellow green, of low medium lightness, and moderate saturation. Oilve oil is oil pressed out of olives, and among other many uses is used in salad dressings, for cooking, as an ingredient in soaps, and as an emolient. Moreover, an olive branch is regarded as an emblem of peace.

Homer, the Greek epic poet, called olive oil as "liquid gold". In ancient Greece, athletes ritually rubbed it all over their body. Drops of olive oil were seeped into the bones of dead saints and martyrs through holes in their tombs. This oil has been more than a food to the Mediterranean people, and the world at large.

The olive tree has been a symbol of abundance glory and peace. Olive oil has anointed the heads of nobles, and dieties throughout history. Olive crowns and branches, as emblems of purification were offered to powerful figures, and some were even found in Tutankhamen's tomb. In the land of the Hebrews, King Solomon and King David placed great importance on the cultivation of olive trees, and King David even placed guards to ensure the safety of olive tree plantations. In addition, today it has been found to have fascinating medicinal properties.

Starting from 5000 B.C. to 1400 A.D., olive tree cultivation spread from Crete to Syria, Palestine, Israel and later to Turkey, Cyprus and Egypt. Olive trees were planted in the entire Medeterranian basin under Roman rule. In Italian folk tradition, "Sun, stone, drought, silence and solitude" are the 5 ingredients for an ideat habitat for olive trees. The time of the harvest accounts for the different organoleptic properties of the oil. The 'extra-virgin' oils produced in all regions of Italy and Tuscany have higher organoleptics scores.

Extra-vergin olive oil from the hilly areas of Tuscany is supposed to be the best, and is the most digestible of the edible fats; it helps to assimilate vitamins A,D,E, and K (the four fat-soluble vitamins}. It contains essential amino-acids that cannot be produced in our bodies; it slows down the aging process; helps the bile, liver, and intestinal function, and has culiniary virtues. It has an overall re-invigorating effect on the human body.

13-Dec-2010
More by : Dr. Frank S. K. Barar
---