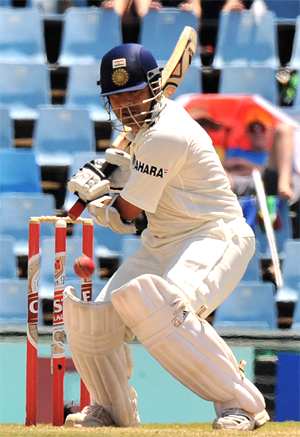 India, a major cricketing nation, has announced its 30-member preliminary squad for the forthcoming World Cricket to be played in the subcontinent - India, Bangladesh and Sri Lanka. There are no surprises in the squard except two prominent ommissions - Rahul Dravid and Irfan Pathan.

The selection Committee Chairman Srikant says, 'As you know there are no big surprises. This is a probable team and every one selects himself...'.

There are two words that need clarification, and these are 'You' and 'Every one'. Whom is the chairman addressing by 'You', the countrymen. And who is every one? Except perhaps Rahul Dravid, who was made to stand behind the wickets during 2003 World Cup and spearhead the batting just after that. In 2003 WC final after Sachin ballooned the ball on his personal score of 4 and Saurabh left scoring 24, it was Rahul who held the forte to sweat at the crease for his 47. Today he is third highest test scorer. It does not come that easily. Besides, he does not score slow at all. Further at time need he can stand behind the wickets as well. How can he not qualify to be one among 30 in Indian cricket. That is the big surprie, Mr Chairman.

Irfan Pathan is the blue boy of Indian cricket - a true all rounder, good both at bowling and batting. In the very first over in the third test in Karachi against a strong Pak team he achieved a hat-trick, a rare achievement. In ODIs he has done wonders too. He has scored 1368 runs 78 matches, his highest being 123 (7 fours and 7 sixes) against New Zealand to give India a big win after India was 5 wickets down. Once again in February 2009 both Pathan brothers gave victory to Indi a against Sri Lanka. Here Irfan, besides some quickfires, had takem two wickets for 23 runs.

In IPL 2010 he played a stellar role by taking 15 wickets in 14 matches and scoring 276 runs. In Ranji matches for Baroda he had a good season.

In spite of this performance, poor Irfan could not select himself into the team. That is the big surprize, Mr Chairman. When Indian team is in search of a good all rounder, you and your selection panel have pushed a upcoming and promising player into oblivion. That is squarely unfair and unsportive.

I shall not repeat Mohinder Amarnath to term the selectors to be a pack of jockers, but shall certainly say that BCCI and the Selection Committee are the guardians of our players, and not their destroyers! Non-inclusion of Rahul Dravid, the gentleman cricketer of India and Irfan Pathan, a player with great promises, should feature in the preliminary squard and be in the final team, if we wish to win the Worls Cup 2011.


Image (c) Gettyimages.com

Comments on this Article
---
I do not think so, Ramesh. Dravid is a quick player, too and adjusts as the situation demands. He was misused by selectors to accommodate some of their undeserving favourites. Selection Commitee chairman is doing the same by dropping players on fitness grounds!
Srisantha was overlooked for a year and half, and see what is doing on the comeback. Dhoni and Srikant have on purpose dropped Irfan Pathan, though he has been performing well. In the dying moments he has scored very useful 30 or 40 runs to boost Indian innings. You would recall many times he has bowled the last over to ensure a victory! Thank you.
---
Sir, the biggest question is, where can we fit Dravid in the playing 11? No 3 Spot is now owned by Gambhir. Dravid's inclusion will disturb many things and it is much better for him to be out of the team than sitting at the bench as a part of the 15 members squad. Dravid's exclusion didn't happen yesterday. He was not in the BCCI's scheme of ODI plans since early 2008 though he played couple of series here and there during 2008. I am afraid he may slow things drastically on these flat tracks and may pass the advantage to the opposite team.This situation has already started to happen in Test matches.

Irfan Pathan, I believe is sidelined because of injury reasons otherwise he should be part of this squad.

Betimes Happy Christmas Wishes!




---