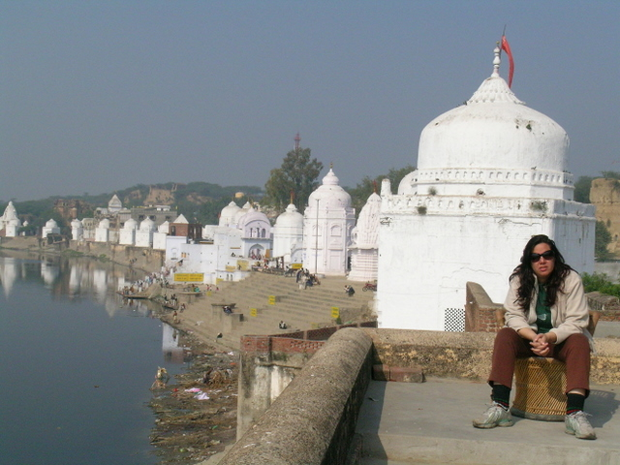 Kerala or Kokrajhar in India, Thimphu, Paris or Vienna... name any exotic destination and chances are that Chandigarh-based travel enthusiast and writer, Punnetinder Kaur Sidhu, has been there. She is not your average holidayer looking to pamper herself at luxury hotels or special retreats. Sidhu is partial to the off the beaten track. She is quite happy to throw herself at the mercy of relatives and friends, live in small, basic inns or even check out the couch surfing options available just as she did in Thimpu during her visit to Bhutan last year - couch surfing promises users a free-of-cost stay at the home of a local contacted through couch surfing network.
Struck by an irrepressible wanderlust, the single and 40 Sidhu never misses an opportunity to explore a new world, assimilate its culture, interact with its people, and sample its cuisine. Not only has she travelled across the length and breadth of India, she has jetted off to different parts of the world. It's only the Arctic, Antarctic and places in South America that have not debuted on her well worn out passport. "My family has got used to me planning junkets at the drop of a hat. I live with my mother and in many ways, my family has encouraged me to be the way I am," smiles Sidhu.
The youngest of four sisters, Sidhu was bitten by the travel bug early - she has fond memories of driving to farms across Punjab and making holiday plans with her parents. And then during her spell as a student in a Patiala public school, she was introduced to the delights of camping and trekking in the mountains.
But Sidhu doesn't just keep her travel adventures to herself. Being a writer, she uses her writing skills to share her varied experiences through humorous observations. 'Adrift: A Junket Junkie in Europe', her first travelogue, is about tracing her journey through Europe. There's also her blog 'Cutting Loose', where fellow travel junkies read up on anything from the gastronomic delights of 'dhabas' (roadside eateries) on the GT Road or the sumptuous Burmese food on offer at the Presidential Palace in Mashobra near Shimla, to graphic descriptions of the Himalayan mountain passes in Bhutan, including the Dochu la near Thimpu that she traversed as part of the Indo Bhutan Friendship Car Rally. Later she made it to Nathu la in Sikkim, an important trading post on the ancient Silk Route. And, yes, Sidhu also makes it a point to answer all the queries that comes her way, besides sharing valuable travel tips and information.
"My blog is called Cutting Loose because one has to cut loose from a lot of things to rejuvenate. I want to encourage everybody to travel in the true sense of the word. My site has been designed as a referral for quality travel, good food and hospitality. Going to Shimla (the state capital of Himachal Pradesh) and taking a stroll on the Mall or playing video games is not my idea of a getaway. I feel one should see less concrete, less people and enjoy more of nature. There would be a sea of difference in the experiences of a traveller who checks into a fancy concrete structure overlooking a 'drain' in a mountain area and another who opts for a home stay that promises a more authentic experience," she says.
Giving further insight into her travel philosophy is her book, 'Adrift: A Junket Junkie in Europe', where Sidhu writes, "Travel remains the one and the only escape route when I want to get away from it all. It is no wonder then that changing direction comes as easily as changing clothes." She follows some cardinal rules while travelling. The first one: Avoid all extreme touristy hangouts. In her book she spells out, "I am convinced that there is a lot more charm in following the local tread... far from the madding crowd." Of course, her love for nature and the yearning take the road less travelled developed during her years at school in Shimla where she would often venture out into the countryside nearby to collect ferns, fallen leaves and pine cones.
The second Sidhu travel rule, especially while globetrotting is: Make a very conscious decision to "see one of everything" a place has to offer. "In a sense, I will see one museum; I will see one tourist attraction, one cathedral, one art gallery. But, having said that, I would not go into a science museum. I'm quite the history buff," she says.
Ask this gutsy and vivacious traveller about her favourite destination in Europe and her vote goes to Austria's historic and beautiful capital city, Vienna. "It's one of the most graceful cities I have ever seen in Europe. It's very elegant. I always had a fascination for Austria from the time I was a child. After watching 'The Sound of Music', I always wanted to meet a Captain von Trapp... but that did not last very long. I think I would call it the Romantic Capital of the world. I visited Paris after that and Paris came a very poor second. It's my opinion of Vienna v/s Paris. It does not take away from Paris but because one romanticised so much about the French capital, that in a manner it was disappointing. For me, it did not match the expectation," she says.
So where does Sidhu feel like going now: It's most definitely to South America, the Middle East and Central Asia. Her dream voyage is Spain, Portugal and Morocco or Greece, Turkey and Egypt. "These are pockets I really want to travel to now. I also want to go to Japan as I'm very fascinated by Oriental culture, which is not to say that I don't like the Western way of life but the Western culture has no mystery to it. There is a lot of mystique attached to the Japanese culture."
An hour spent with Sidhu can make one an expert on anything travel related - from different world cultures to a unique car pooling service like Mitfahrzentrale (share ride). The Mitfahrz started out as a German government initiative to conserve fuel. And this experiment of sorts to get people to save fuel whenever they travelled cross country or cross continent is a huge success today. Thanks to the Mitfahrz, Sidhu got to see most of Germany, Sweden, Hungary and Netherland, at a fraction of the cost she would have incurred on rail or cab.
It's the easy on the pocket travel options like Mitfahrz or couch surfing that Sidhu wants to acquaint the average Indian traveller with. She believes that most of the time, Indians don't stir out to explore new places as they think the cost may well be out of their budget. "This is not the case as luxury has now been redefined - it has more to do with the quality of the experience and not the cost," she says.
But even as she urges people to pack their bags, don the travel shoes and venture out into the unknown, much like herself, Sidhu is now focused on working on her second book that documents the colonial heritage of the old Hindustan Tibet road in Kinnaur, Himachal Pradesh. And, of course, all her fans are eagerly waiting for Sidhu's take on this well-trodden path.

By arrangement with WFS