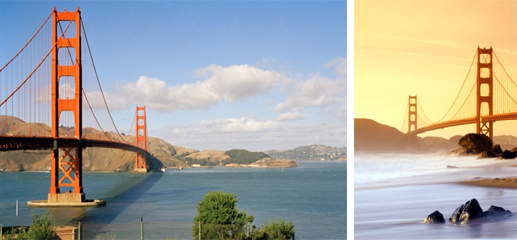 San Francisco is a city where everyone leaves a part of one's heart. Not only it is beautiful but also vibrant and artsy. It is the city of the Golden Gate. There are many exquisite restaurants and shops in San Fran. It is a picturesque city-- a paradise-- for tourists from far and wide. One look at the Golden Gate Bridge and WOW comes out. So it is natural for us to drive there and have fun. I have seen the Golden gate bridge many a times – in the fog, at night during the full moon, in the Morning at Sunrise, at noon, during the half moon, during rain and wind and every time I said WOW!! A WOW that is full of wonder.
I WOW at almost at all the wonders some of them good and some not so good. I WOW when I find no potholes on the freeway from Sacramento to San Francisco. These are disastrous time in our beautiful California—the State is bankrupt and 20 percent people of the state are unemployed or underemployed – one would expect potholes and bad roads – but no-- and that is a big WOW! A WOW that is full of surprise.
Another time I remember I also said WOW when I saw the Russian Army shooting with cannons at their own Parliament in 1993 under the orders of Boris Yeltsin. The Communists went out the same way as they came in, in 1917 –shooting their way in and out at the Parliament –the only difference this time it was on TV and that too in color. All I could say is WOW! A WOW that was full of disbelief.
Thinking about history and various systems of government can be taxing for some but for me it is fun and rather comical. Only a few years ago at the height of Communism's glory days , who could have 'thunk' that one day the commies of China, where the rich are getting filthier and richer, will be lending money to the Capitalists of America – where disparity of income is vanishing. And now this – the new Bay Bridge is being built with all steel beams stamped –'Made in China'—it will be complete in 2013.
Who could have thought that the erstwhile addicts of Shanghai would do a cold turkey and give up Marijuana, and in a very short time after that, in America, resolution after resolutions are being passed to make smoking marijuana legal—at least Medically? WOW! A WOW that is full of irony.
And pot holes remind me of the English I learned as a child—'Pot' was simply a vessel used for cooking and 'High' was something up there. Not any more, now Pot and High have very different meanings. There are many in the fast financially sinking California who want to legalize Pot –Marijuana that is—to raise revenue. It is I guess akin to someone jumping from the Golden gate bridge asking for a push.

It is not uncommon for one to watch lethargic kids begging for a dollar to smoke Pot-- Marijuana that is—while one strolls on the beautiful Wharf in San Francisco, another WOW--- a pathetic one! I can only imagine that the scene in Shanghai, during the time of Napoleon in Europe, would have looked very similar to what one sees in San Fran today. It was the era of Europe's World domination. He had said "China is a sleeping giant – let her sleep." I guess it is not farfetched to imagine a day coming when a Chinese ruler will say, "America is a sleeping giant—let her sleep". Another pathetic WOW!
And then the beauty of San Francisco is to be seen, it just cannot be easily described. Although, I wonder why there always is a big line to see the serpentine curvy Lombard street that has several hairpin bend like curves and is always bedecked with beautiful San Fran flowers, yet, every time I go to the city – I too must go there. There has to be something magical in that little drive that makes one happy. And who can forget the ride on the clit clank—clit clank Cable Cars going up and down the hills of the city – specially the California street. I like to drive on the California Street, both up and down, and while driving I always keep my fingers crossed that the brakes, of the Car I drive, work. And I look at all the tourists in the passing cable cars clicking their cameras and I say WOW! A WOW that is full of simple joy.
But wait there is the China Town the most beautiful China Town in the United States. Chinese have been settled there from the time of the Rush for Gold in California and then during building the Rail Road that connects New York to San Fran. Forty years ago when I first saw that China Town – US and China had no diplomatic relations , there was no trade or communication between the two countries and Mao's ugly red revolution made China an enigma. At that time coming to Chinatown gave one a feeling of being there – in China. But now it , the China Town, has lost that emotional touch, one feels at home in China town. It is a beautiful ten block or so very vibrant place , full of shops that sell everything authentically Chinese—curios, jewelry, restaurant foods , clothes – and all very expensive and gorgeous. A WOW that is full of wonder. Just beyond that there is the Italian section, the Japan town and the Russian hill and so on.
But beyond all these WOWS the following one is for those who are emotionally involved with their languages, cultures, countries and think theirs is the best. I urge them to remember the best always remains as –'yet to come'. So forget about everything and like me look at any flower that is blooming although it is in the harshest of the environment – springing up from a crack on the concrete highway , wherever one drives, in the muck and gunk and smog and all the noise and pollution and hot and cold – yet making a statement , I still bloom because I am a flower.
And that applies to America and China and Russia and the lethargic kids on the Wharf asking for a dollar to smoke their next joint and remain high – they too will bloom – and that WOW is yet to come. The best WOW!

Images (c) Gettyimages.com