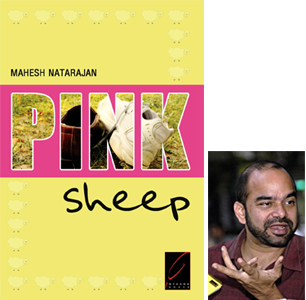 Those who have been mostly familiar with gay fiction and literature of Indian writing in English found them associated with western characters or at the most north Indian provinces (especially Mumbai); they will be surprised if they happened to read the interesting, racy and realistic short stories collection 'Pink Sheep' by Mahesh Natarajan.
Those who try to speak on gay topic with obscure language or contemptuous attitude should necessarily read this book. The topic is dealt with in the contemporary milieu and almost a tribute to the present generation of elite youth. Written by Mahesh Natarajan a Tamil Brahmin well educated and hailing form a typical middle class family, the native intelligence shines here through his stories even the topic happens to be alien, sniggered and considered outlandish and banal in South India especially.
As the author has referred in his tête-à-tête to press, most of the stories are his own life experiences with an embellishment here or a twist there. The language is easy and free flowing with common terms.
The basic objective of the book is certainly to prove that gays are also normal human beings without any weird behavior, mental disorders or appearances. All the eighteen stories are highly readable covering host emotions like love, affection, sex, frustration, jealousy, deceit, confusion, hurt, happiness, bitterness, loss and what not. There are no places that borders on vulgar narrative. The general term of love making used in 'normal' love stories is used here also for gay couple without indulging in lurid details.
Surprisingly and pleasantly almost in all the stories there are women characters who are aware of the sexuality of the protagonist and show camaraderie also. Some stories take a trip to the typical south Indian Brahmin household life, speech and activities. The genesis of the stories undoubtedly marks the changes that have been brought in through the massive invasion of IT industry and their influence and ultimately the financial independence achieved by the youngsters which make them come out on their own. One can see new gen women drink and smoke in these stories at the same time old timers wear madisar and perform kolu, valaikappu, seemantham and upanayanam (the sacred thread ceremony).
Though most of the stories offer light reading some are quite touchy like 'Small Town Parents', 'Pink Sheep', 'Cross Roads', 'Something Stupid' and 'Dream' while 'The Unforgettable Dinner alone' is quite sexy.
The success of Mahesh's writing is that it is simple, straight (oxymoron), witty and honest. Those who still hold certain misconceptions about gays should definitely read this book to understand that they also love and prefer to lead a life like anyone else. The reader should understand that God has created only gender not specified gender preferences and bias.
Kudos Mahesh Natarajan! Write some more books of this genre because nothing can make people understand except through story telling! After all, you proved yourself as a good raconteur!
Pink Sheep: Mahesh Natarajan; Gyaana Books. Pp168, Prize Rs. 165