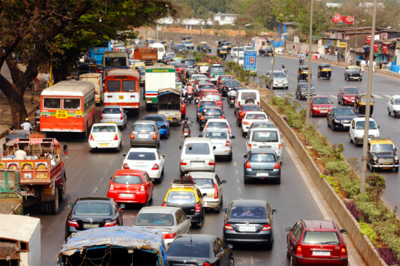 The news has just come in that Beijing municipal administration has decided to restrict the quota of passenger vehicles for 2011 to 20000 a month. The monthly quota will be distributed among fleet buyers and first-time private buyers of passenger vehicles. Only permanent residents of Beijing as well as those in police and military services would be eligible to buy new cars in 2011. Government agencies will not be allowed to buy new vehicles during the next five years. With immediate effect buyers of automobiles that are replacing old vehicles will be allowed to continue to use the previous license plates and won't be subject to the quota system for new plates. Under the regulations, the issue of new license plates will be otherwise subject to a quota published annually by the municipal government with 88 per cent allocated to first-time individual buyers and 12 per cent to business buyers on a monthly basis via a lottery system.
The city has imposed the quota in an effort to tackle its traffic gridlock and rising air pollution. By 2012 Beijing will have 7 million vehicles on its roads against its current 4.8 million. This is unimaginable from what Beijing was like in 1982 when I happened to spend a week there. Roads were devoid of private vehicles. One would occasionally see government vehicles, the lumbering clones of Russian sedans, in ones and twos. Buses and electric trolley-buses were aplenty. More plentiful were people on bicycles. As the offices would wind up for the day at 6.00 PM they would unleash thousands of cyclists on the roads.
In less than thirty years not only the number of cars in the city has become unmanageable with persistent traffic jams – sometime even well after midnight – they have also caused untold misery to the locals by way of rising air pollution. Around 2005 the city was declared as the "air-pollution capital" of the world with 400,000 thousand premature deaths due to it. Having paid a heavy price for the break-neck pace of economic growth, the measure that has now been taken has come, perhaps, a trifle too late.
A leaf has to be taken out by India from the experience of Beijing and its efforts to set things right in this regard. It is now time such measures are taken in India too. With multiplying cars in metros, cities and towns, big or small, and our failure to correspondingly enhance the number of traffic managers, the traffic has gone haywire and jams on the roads have become the order of the day, causing avoidable air-pollution, wastage of precious renewable fuel and inconvenience to people.
Time was when in the early 1970s the country had only three manufacturers of cars and, all taken together, used to produce around 20000 cars per annum. But in 2007 this number shot up to around 1.8 million. The number should be much more for 2010 as Suzuki, the biggest player in the market, is now planning to cross the one million mark. There are a number of manufacturers inducing a fierce competition. All are pumping more and more vehicles into the roads that are already chockfull of cars. The range on offer is mindboggling – from Tata's Nano, costing around one hundred and fifty thousand rupees, to a Rolls Royce that costs several millions.
With the rapid economic growth and the rise of the Indian middle classes cars have become the favourite means of locomotion. Multiple cars – and, of course, multiple two-wheelers – in middle class families have become common. Public transport having been mostly non-existent and unsuitable for most of the middle and higher classes, they have been driven to personalised transport. Parking at home and office or places of business and commerce have become a severe problem forcing authorities to provide the necessary facilities at great public cost. With hardly any effective mechanism for pollution control, old, polluting cars jostle for road-space with the newer ones neutralising the beneficent effects of the latter. No wonder, pollution levels are high in practically all urban centres, meting out a double whammy to the government by way of sick, unhealthy, listless personnel on whom it has to spend large sums for their healthcare.
A check on further proliferation of motorised vehicles in urban India is urgently needed. Almost every urban centre, big or small, is witnessing a rise in the number automobiles. Delhi, for example, was adding in 2007-2008 a thousand vehicles every day to the already congested roads. With greater prosperity the number should be more now. Even the 2007-2008 figure was more than what Beijing has mandated now towards addition of new vehicles, though it has created far more road space than what Delhi has done so far despite the recent hectic road and fly-over building activity for the Commonwealth Games. A clamp down on new vehicles in Delhi is, therefore, indicated, more so now that the BRTS (though still incomplete)has largely proved a success.
The problem with Mumbai, Chennai, Kolkata, Bangalore, Hyderabad, etc should be, more or less, similar to that of Delhi. All these must be adding nearly as many vehicles as Delhi every day. Likewise, the smaller urban centres are also experiencing this kind of an overabundance of motor vehicles on their respective utterly inadequate roads causing problems for everyone, including the commuters, traffic managers and other connected authorities.
The time surely has now come for municipalities of each such centre to determine on a scientific basis the number of vehicles they can conveniently manage on their respective roads without causing environmental, health and other related socio-economic problems and then issue necessary fiats. Besides introduction of measures to dis-incentivise commutes by personalised transport have also become necessary. Such measures have been taken in various parts of the world. Several options are available. I recall for instance, thirty years ago we could not get into Singapore's High Street unless we were four in a taxi. That also applied to personal vehicles. Then, of course, there is the Congestion charge levied in Central London and its other busy areas.
One, however, fears that the country's municipal administrations, apart from being lethargic, are also hugely susceptible to pressures exerted by vested interests. It might, therefore, be a good idea to enact a national law that binds the civic administrations to take suitable measures depending on the needs of the individual situation of each. While doing so it might also be necessary to mandate by law phasing out of old, decrepit, repaired and reconditioned vehicles.
Simultaneously, however, there is a need for expediting the introduction of decent, dependable and adequate public transport in all the urban centres where facilitating mass transit has become a dire need. It must be remembered that India is urbanising at a much faster clip than any other country. Greater urbanisation means more people in urban centres who have a need to commute. Provision has to be made for their mobility – not by way of personalised transport but by public transport. Although the government at the Centre is conscious of this fact yet the progress made so far is not quite reassuring. Despite its existence for five years the Urban Renewal Mission has made very little progress.

One fears unless a massive effort is made to move people within our ever-expanding towns things are likely to get out of hand. As prominent environmentlist Sunita Narain's "Down to Earth" periodical says, it is now time urban India boarded the bus.

Image (c) Gettyimages.com