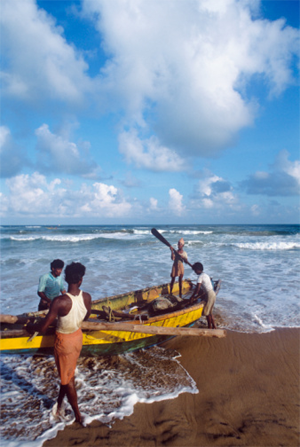 Situated on the east coast of India, Orissa, also known as Utkal and Kalinga, has a lovely coast line with Chilka lake and beaches at Gopalpur, Puri, Konark and a small one at Ramachandi between Puri and Konark, presently under development. The north Orissa beaches have more clay than sand. However, Bhitar Kanika (meaning interior of Kanika) enjoys the status of National Park. Western Orissa with lovely forests, numerous small streams and rolling hills is a treasure-trove of natural resources. Rich with iron ores, Orissa has plenty of bauxite, manganese, graphite, casseterite (tin mineral), traces of gold in river sands, high grade coal and gas reservoir in off-shore regions. To top all, there are diamond beaing kimberlites in Sambalpur regions. Western Orissa has several gem stones like sapphire, ruby and semi-precious stones
It is unthinkable that a state with such enormous natural resources reels under poverty, thanks to the poor governance right from the days of attaining independence. Preferring to stick to the coastal parts, the bureaucrats have neglected the other parts resulting in inadequate development.
Besides natural resources and scenic beauty, Orissa is famous for excellent architecture. Starting from the ancient caves for Jain monks in Khandagiri and Udayagiri in the vicinity of Bhubaneswar, orissa was a great centre of Buddhism. There are many Buddhist monuments in and around Bhubaneswar, Lalitgirir and many other places. The great war between Orissa King and Emperor Ashoka was fought near Dhauligiri about 20 km south of Bhubaneswar that changed the course of history in India and South East Asia.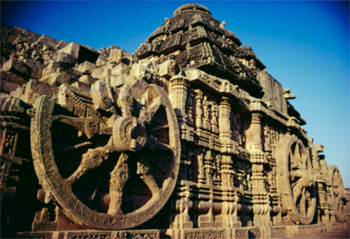 Orissa was a formidable state, and in 12th century AD huge temple was constructed at Puri by Anant Barman Chodaganga Dev. Next, the Konark temple, designed in the pattern of a chariot with 24 wheels and driven by seven horses, was constructed in 13th century by Narasimha Dev. It was dedicated to Sun god. It is a heritage site of UNO. It is said that the Portugese invaders destroyed the main temples and took away magnets from the legs of the horses and the elephants. Bhubaneswar, the other city and the present capital of Orissa, is called the temple city of India. It has 1,00,000 temples, the biggest and the well known is the Lingaraj temple.
Puri-Konarka–Bhubaneswar is called the golden triangle and is a tourist paradise. This triangle is very significant from cultural, economic and religious point of view. It is unfortunate that the golden triangle in under threat to lose its sanctity and importance, if a large part of it goes to a private party.
There is a raging controversy that Vedant, a private company of London-based businessman Anil Agarwal, has been trying to acquire 10,000 acres of land along Puri-Konark stretch to set up a university. Suggested by a friend Anil Agarwal wants go for this project. It is also alleged that some senior officials after retirement from Orissa Government joined Vedant Foundation with high salaries!
Anil Agarwal, starting from a scrap dealer in Bihar, is the head of Sterlite Company, controls Bharat Aluminium Company, is a director of Hindustan Zinc Company among other metal industries. Some time back Sterlite Company was under scanner. Anil Agarwal has no track record of promoting education.
Perhaps no university in India has such large piece of land. IIT Kharagpur has 2,000 acres, IIT Madras has 1,000 acres, BHU, Osmania and University of Hyderabad have large campuses but much less than 10,000 acres.
Secondly, Anil Agarwal Foundation has acquired land piece-wise from farmers, basically poor, who grow paddy, vegetables, pulses and betel leaves. Once the foundation takes away these lands, the farmers will be landless and for sure go hungry. Perhaps taking these facts into account the Hon'ble Orissa High Court on November 16, 2010 has 'set aside the acquisition of nearly 8,000 acres of land on the beautiful marine drive joining Puri with Konark and directed restoration of the land to its original owners.' (TOI, Jan 06, 2011).
Subsequently, Orissa Govt and Anil Agarwal Foundation have appealed to the Hon'ble Supreme Court.
As an earth scientist and a native of Orissa, I appeal to the Hon'ble Supreme Court that coastal zones are very important for any nation. The mangroves release huge amount of oxygen to keep the air clean. The coast is prone to erosion and in case of any Tsunami like the one we all experienced in 2004 there will be no alternative for the government to provide safe habitation. The activities of the university with modern facilities of gym, SPA, sauna, health club etc will degrade the environment, and the lovely coast will be lost for ever.
Besides these environmental hazards, the golden triangle will lose its sanctity that has been preserved over centuries even under the Afghans of Bengal, Moghuls and British rules. It will be a pity if the national government driven by short-term gains and greed for money sell the coast to a party who does not enjoy any reputation in academics.

Images (c) Gettyimages.com