Arise and Awake...
(Swami Vivekanand was born on January 12, 1861. Today is his 150th birth anniversary.)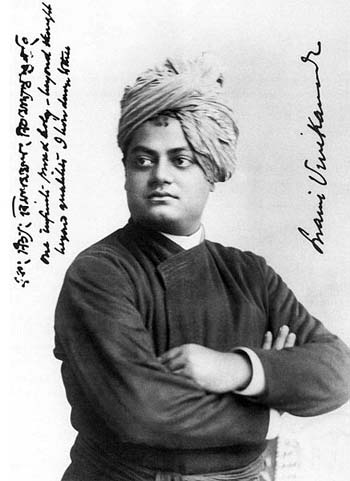 ... and stop not till the goal is achieved...' was the clarion call of a saint whose legacy has never dimmed even after 150 years. In fact, it burns brighter and brighter. A sailor in the high sea does not stop his voyage; he looks up to see the pole star to know the direction and looks at the light-house on the coast to know his position. Like-wise in our journey - a journey to gain knowledge, both the pole star and the light-house do not lie outside. The modern monk ascertained, 'The goal of mankind is knowledge... Now this knowledge is inherent in man. No knowledge comes from outside: it is all inside.'

He was of the view, 'You cannot believe in God until you believe in yourself.' This is simply to say that man has the key to the gates of the paradise. It is upto him to open the gates to get in, or lose the key and wander in disappointment.

To this monk, 'He is an atheist who does not believe in himself. The old religions said that he was an atheist who did not believe in God. The new religion say that he is an atheist who does not believe in himself.'

His deep philosophy is love. He says, 'It is love and love alone that I preach.' One needs to serve the society, and his view is, 'This life is short, the vanities of the world are transient, but they alone live who live for others, the rest are more dead than alive.' On religion says this most religious monk, 'I do not believe in a religion or God which cannot wipe the widow's tear or bring a piece of bread to the orphans's mouth.'

A single man could paint a new smile on the face of India, and planted milestones on the path of spirituality for the world. Why not we remember Swami Vivekanand this day, follow his sublime path and serve the society!

Boloji.com takes great pride to salute the worthy son of mankind on this auspicious day!

12-Jan-2011
More by : Dr. Kumarendra Mallick
---