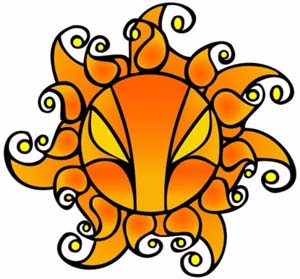 The most common past time, globally enjoyed by man kind is - astrology! The world over, people look to the stars to help them predict the future. People use astrology / Jyotish to peer into the mist beyond and every time they see a dark shadow, they imagine landfall.

Yet, if one really believes in GOD, any GOD, astrology has no meaning to them. God is more than capable of looking after the welfare of His devotees. If a common king can provide immunity from prosecution for his special servants (diplomats are one modern example), what can the universal King achieve? If our fate revolves around the planets in our solar system, than lets remember,
the Sun revolves around the North Star,
and the North Star revolves around God.
So, who is the final arbitrator of our fate?
Let God, who is the centre of the universe,
look after you!
If you believe in GOD, any GOD, give up worrying. Worry is for those who have no one to look after themselves. An orphan needs to worry. Prince, living under the watchful gaze of a loving father / King need not worry.

If you believe in GOD, any GOD, think yourself lucky that your doting parent is immortal!

If you believe in God, any God, consider the universe to be engaged in God's eternal lila, divine play. Astrology than has no meaning for you ! If the Universal Play has been written by GOD, who are we to rewrite His script !?! To assume that we have that sort of power is foolish ! Surely, God, the omnipresent, omnipotent Lord of the Universe, can not be dissuaded by a few outpours of verses, or indeed, how can we hide our karmas from Him behind some polished stones (gems)?

Using gems, yagnas, japas, meditation and blessings we try to avert the future. If used correctly, it can work, but only if used correctly. Not many people know how to do it correctly. To use Jyotish correctly, we must be intellectual enough to know exactly how the planets interact, how karmas link different people, and indeed, how the universe works ! It is an exact science. To assume we know how it all works because we can calculate the "movement" of stars (from our limited perspective!) is ignorance at best!
If you believe in God, any God,
Let life be life.
You be you
and
God be God.
Comments by Rohini Ranjan on the above article:
Interesting article! Several questions emerge: Assuming that there is a caring, protective and benevolent God (father/mother/beyond gender) who will take care of us all, why does one need to ask for such caring? Why is this 'giving up' required? A human baby does not have to ask for his human parents to protect and care? Why must the divine, Omnipotent Parent be so demanding of our attention and subservience?

Also, regarding astrology: If your view is correct then astrology and astrologers were created outside the divine plan (Why would God create or allow to be created a system and its followers if it was not necessary?).

On the other hand, if astrology/astrologers were created outside God's plan then surely there is a zone of freedom which God does not want to control or interfere with? After all, we are all children of God and expected to grow up to be like our Parent!