(Padmasri Dr Hari Narain, former director of NGRI passed away on January 27, 2011 at Hyderabad.)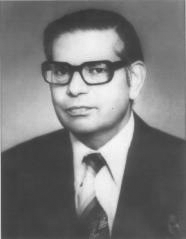 Dr Hari Narain, former director of National Geophysical Research Institute (NGRI), Hyderabad, a premier organization under the umbrella of Council of Scientific and Industrial Research (CSIR) breathed his last on January 27, 2011 at the age of 88 years. Just a week back on Jan 17, 2011 NGRI celebrated the beginning of its Golden Jubilee year, and as the guest of honour he had received a standing ovation from a 400 strong audience for his brief but emotional address.

It is therefore hard to believe that he is no more amongst us. It is a double blow to us, for on Jan 24, 2011 we lost a giant in Bharatratna Bhimsen Joshi.

He was the director for 19 years from 1964 to 1983 during which he could build starting from a one-room institute in a cellar garage in Osmania University to an institute of global importance in a 145-acre sprawling campus much before he laid down his office in March 1983. During this long period simultaneously he was the Surveyor General of India for four years, and served with great success the trouble-ridden BHU as its Vice Chancellor.

Dr Narain took the reins when the funds in India were meager for research. Coupled with it, geophysics too was at its infancy, just a few students coming out of IIT, Kharagpur, BHU, ISM, Dhanbad, Andhra and Osmania university. However, Dr Narain soon proved that it is not the paucity of funds that mars the progress of a nation; it is the lack of will power to forge ahead that creates road-blocks, for in just five years by 1970 India was a major geophysics country in the world, solving problems in mineral and groundwater exploration, building geophysical instruments, setting up seismological and geomagnetic observatories, flying aircrafts for airborne geophysical surveys with indigenous instruments, carrying out geological and geochemical mapping, solving mathematical problems, writing computer codes to solve different problems, preparing gravity map of India, making heat flow and paleomagnetic measurements and contributing as an equal partner in International Projects in the study of the earth.

NGRI Hyderabad soon became a pilgrimage for earth scientists in India and from abroad. True, this is not a one-man effort, but it resulted from the far sight of Dr. Narain and the careful execution of the innovative scientific projects by a team of dedicated scientists of NGRI under his able and caring guidance. NGRI collaborated with all the academic and research institutes like Geological Survey of India, Oil and Natural Gas Commission, Oil India, Gas Authority of India, Directorate of Hydrocarbon, Atomic Minerals Divison, Central Groundwater Board, Mineral Exploration Corporation, Coal India Ltd. etc., besides International institutes of repute. All this could happen because Dr Narain kept an open mind and invited all good ideas coming from all directions. He treated his peers with dignity and junior colleagues with love and care. He created so to say a romantic atmosphere for research. A layman, it is said, sees a slab of stone, but a sculptor sees a figurine inside it. Dr Narain was like a sculptor who could visualize a scientist in a young university graduate and nurtured him/her to grow into a scientist of great fame. He had a magic wand in his hand to turn a stone into gold, perhaps.

He was decorated with numerous honours and awards, including Padmasri in 1974. He was President of Indian Science Congress. An academician, an institute builder and a man of great vision, Dr Narain will ever be remembered for his unique contribution to Indian science in general and earth sciences in particular.

NGRI, a host of national institutes and 'Boloji' pay rich tributes to this worthy son of India, and pray for his soul to rest in peace.