Nestled between the forested grasslands of the south and the sandy deserts of the Sahara in north, lies the semi-arid land of Sahel. Deriving its name from Arabic to mean "shore," the Sahel stretches from the African continent to the Red Sea covering nations such as Senegal, Chad and Eritrea. For centuries, different civilizations have left its imprints on this predominantly French-speaking and Islamic region to create a synthesis of multifaceted cultures that add an air of distinctiveness. However, embroiled in a cycle of poverty and environmental deterioration, Sahel today is on the brink of a major crisis.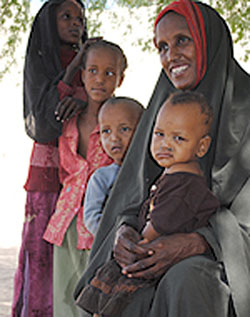 As 70 years old Hedeta Maina looks across the Sahel from her village Nokou in the Central African nation of Chad, her eyes are evidently gloomy with uneasiness. It has not rained here for weeks and there are no crops and animals left. Hedeta reminisces a time when the barren landscape was abundantly green as goats, camels and even wild animals roamed with ease. But now there is only fear of famine and death as the looming nutrition crisis worsens with every passing day.
The scourge of drought and famine is not new to the Sahel region. In the 1970s as many as 200,000 people died from starvation and nutrition related diseases although the situation has improved since then. But there remains a sense of uncertainty with the rainfall index getting smaller over the years and barely enough food production to sustain the existing population. In 2010, for instance, the district of Kanem in northern Chad was able to produce somewhere around 8000 tonnes of food grains that lasted just about four months. It is a problem that has deepened as over population burdens an already fragile region plagued by dwindling resources and internal conflict.
According to World Health Organization (WHO), the emergency threshold for acute malnutrition is at rate of 15 per cent. However, a recent nutrition survey from the UNICEF/ WHO reported that this percentage is frequently exceeded in the Sahel. For example, in the Kanem district alone, UNICEF reported that one in three children were malnourished. The accessibility to adequate healthcare is difficult as Nutrition Specialist John Ntambi of the UNICEF points out: "The distances are immense and there are no roads, only sandy dirt tracks that those who know the desert can navigate." Moreover, a weak healthcare system adds to the pressure with just five doctors for a population of 350,000 people. Whereby, simple illness that can be cured with timely and effective medical attention turn into life-threatening ailments.
However, amidst the dismal conditions there is a ray of hope for the treatment of malnourished children in Chad. The Ministry of Health along with UNICEF and other non-governmental partners are working together towards increasing the system of community clinics. In 2009, there were approximately 145 such clinics or feeding centres with the numbers increasing to 204 at present.
The clinic identifies cases of malnourishment by initially weighing a child to diagnose if it is underweight. The treatment is then to provide the mother with a ration of nutritious Plumpy'nut. The 500 calorie sweet-tasting paste contains essential vitamins and minerals and is made from powdered milk, sugar, peanuts and peanut oil. Acute malnutrition is most prevalent in children between the ages of six months and two years. Therefore, front-line clinics last year adopted an innovative pilot programme to distribute Plumpy'nut to mothers unable to breastfeed their children during this critical stage. The initiative has reached out to almost 23,000 children and met with moderate success.
The story of Halima is just one of the many from the deserts of Sahel where survival and hope are intertwined. In a hospital in Mao, Halima Owye patiently feeds her 5 year old daughter Fatime therapeutic milk. The calmness in her face does occasionally betray the anxieties of a mother struggling to save the life of her Child. Earlier, the drought had forced Halima's husband to abandon his camel trade for a job in Libya with his family not having seen him for the last seven months. Halima soon lost her two children to nutrition-related diseases when Fatime began to have fever and diarrhea. Scared to lose another child, she decided to journey miles across the sandy Sahelian desert with her surviving two children to seek proper medical care in the City. Fatime weighing less than 7kg lay lifeless in her mother's arm as she arrived at the hospital. Four weeks later, Fatime remains frail while making a steady recovery.
As the growing nutritional crisis deepens, the sky remains clear with no signs of rain to quench the parched lands. But with the help of the Government, UNICEF and other non-governmental partners and a little prayer, the people Sahel are determined to make it through these difficult times.

Image © UNICEF Chad/2010/Bloemen
By arrangement with Global Times Magazine