Shaleen Kumar Singh's The Proprietary Pains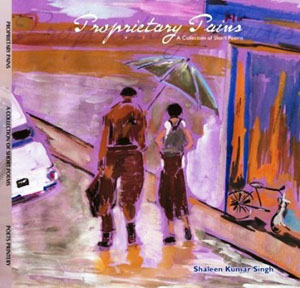 Proprietary Pains (PP) is haunting!The way the old Spanish or the soaring Gothic castles are still haunting for the contemporary tourists!Or, the mystical vast Russian steppes in Turgenev or Chekov - running down to the very rims of the infinity in a rugged series against a clear and somber blue sky and seen fresh from new eyes on a sun-lit and silent morning from a moving wagon - are for the post-modern readers. Or, the majestic Brahamputra of Assam, flowing down across the heart of an ancient land, is for the tired travellers. Or, the fleeting ruins of a Rajasthani haveli are for the newly-arrived foreginers as seen in the quivering haze of the afternoon sun of hot May. Things that refuse to fade from your mind already exposed to info-overload of media-society.

After reading the PP, you get the same feeling of calmness. It is like hearing the rustling wind in an empty room of an abandoned colonial-era bungalow set on a steep brown hill: It is the sad but redeeming MUSIC of the inner space vacated recently by somebody very dear. As we all remember songs from our childhood and cannot erase them from our remembering adult heart, in the same manner, some precious persons/ special moments can never be forgotten by a caring grieving heart. They get enshrined in sympathetic memory.

The PP by Shaleen does that for him and his readers.

The young bearded poet mourns his father - an unsung college teacher, in the hinterland of North India - in this bouquet of 104 short poems, published from South Africa, in a stunning book, designed by the world-known surgeon-poet-painter Amitabh Mitra, now settled in East of London, SA. The poems come straight from a grieving son and the tender poet within transforms that personal loss - a great family tragedy but a routine thing for others outside the immediate circle - into haunting music and marvelous verbal cadence.

It is about remembering an ordinary father, in a celeb-driven age, where the very act of remembrance is Herculean resistance against trivializing mass culture that reduces everything, including art, to mere dross and fizzy nothingness; where family and values are all dying fast, and, where the human beings and early robust humanism have been all made redundant by the emerging consumerist society.

Amnesia is promoted here. Man is superfluous. Only ads, objects, sensations, ephemeral things are made sacred and desirable, crowded out by others competing for your eyeballs. In this universal age of instant gratification and instant replacement, memories of the dead, of the past, personal histories - of a person and nation, are all heroic attempts to retrieve a slice of the slipping past and capturing it in verbal structures of pure harmony and beauty and thereby, resisting the general forgetfulness endemic to nations and groups.

Shaleen pays glowing tributes to a father in a minimal, sparse poetic style and transmutes the felt pains into flowing, arching Niagra fall of loss and recovery, in the face of extreme pain, hardships and emotional black-outs.

All poems are three-liners and stunning in imagery and sudden impact:

A agony/Bleeding/ In the heart.
A search/ Of mine/ To know you. (Ibid.P.2)

Or:

Melting/ Freezing and/ Melting…
Frozen eyelids/Long wept after/ Lacerated heart. (Ibid. P.4)

These are simple lines, yet very profound in import, almost Miltonic in grandeur. And very difficult to compose by young trembling hands, at the altar of a departed semi-god, in the gathering gloom in and outside a gentle heart…

In the cathartic process, a son feels orphaned by the parental death but a promising poet is born…cleansed by mourning and finding strength in that personal tragedy, emerging as a true person, down but not out by the slings of misfortune…the stuff of serious art anywhere and occasion for deep meditations on Life. It is also an elegy on patriarchy, now in the throes of crisis everywhere. Broadly, it is about the loss of father figure, an angst felt by us, while growing up. It is about finite that is man and an infinity that is art!

02-Dec-2011
More by : Dr. Sunil Sharma
---