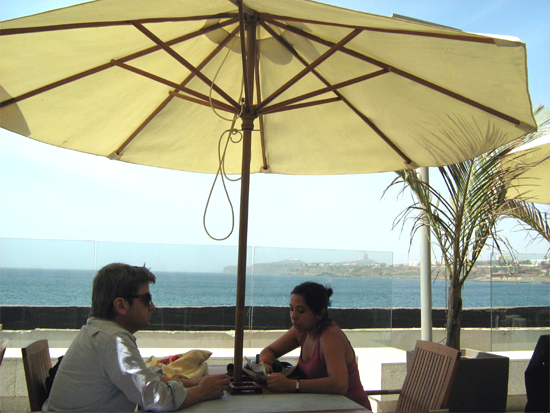 From legendary actors Raj Kapoor and Dilip Kumar to contemporary film icons Shah Rukh Khan and Hrithik Roshan, Bollywood is now and forever in Senegal, the coastal French-speaking West African country that's madly in love with Indian films, music and cuisine.
Sitting in Sea Plaza restaurant, one can hear the dulcet notes of "Kajra re", a popular Hindi film number, float into the salty breeze wafting in from the sun-kissed Atlantic Ocean. Or go driving into the not-so-lonely balmy night, only to catch the latest Bollywood numbers, "Sheila ki jawani" and "Munni badnam hui", floating in from bars and discos scattered all over in this bustling city of over a million people.
Dancing in Dakar, says Sheikh, a 30-something restaurant manager who is equally fond of reading Sartre and Camus, is never really dancing without "hip-hopping Hindi music". What do the French-speaking Senegalese like about Indian films?
"The music is great. The dancing is first-rate and actresses are beautiful," Gorgui Sy, who heads Les Amis de'Inde, one of the 40-odd Indo-Senegalese friendship clubs dedicated to Indian music and dance that have mushroomed in the country whose population of nearly 13 million people is less than that of Delhi.
"We like Indian culture, traditions and family values. It puts us into a dream world and also keeps us rooted in reality," Sy said.
"We love Indian films and stars. Shah Rukh Khan and Hrithink Roshan are my favourites," said Antra Mbaye, who is associated with Kumar Sanu Kelo, a forum that promotes the music of Indian singer Kumar Sanu. "I loved 'Devdas'," she said in her lilting French.
In fact, such is the popularity of Indian films and music that dozens of Indo-Senegalese friendship associations have been set up, points out N. Parthasarathi, India's ambassador to Senegal, the Francophone nation whose historical sites and beach resorts attract nearly a million tourists every year.
"They are dedicated to Indian music and dance. And they are mostly run by Senegalese," the envoy tells this visiting IANS correspondent, adding there are just 300 Indians living in Senegal.
Parthasarathi recalled with much relish how Pallavi Kulkarni, an Indian TV star, was mobbed at the airport when she visited Dakar in April last year. Kulkarni starred in "Vaidehi", a popular Indian TV soap portraying a poor girl-rich boy love affair, which was a big hit with Senegalese women who form a majority of TV viewers in Senegal.
It was pure madness, recalled Sheikh. Thousands of men, women and children lined up the roads to have a glimpse of the actress, and her arrival was shown live by 2STV, the private TV network that aired the TV soap with French sub-titles.
The royal reception she got clearly outstripped that of Senegal's President Abdoulaye Wade, who had returned from a weekend visit to the religious town of Touba on the same day.
Hindi film DVDs are much in demand here, said the Indian envoy. There is nothing like a Bollywood DVD to present to the Senegalese. They cherish it, said the envoy.
But it's not just food, the spicy Indian food too has converted many Senegalese palates. Zaika (taste in Hindi), situated close to the sea front, is doing brisk business.
It's not just Indians who patronise the Indian restaurant. Lots of Senegalese and foreigners come here, says Jaspreet Diwan, a 20-something manager of the restaurant in Punjabi Hindi who arrived here from Ludhiana, Punjab, five months ago.
And what do they like most? Dal tadka, butter chicken and chicken tikka, he says, amused at being asked an obvious question.

IANS