February is Cupid's time, but Hollywood isn't showing much love for women this month. It's slim pickings when it comes to feature films of particular interest to women. Though Hollywood isn't delivering our heart's delights at the multiplex, there are three engaging documentaries up for show on different aspects of female sexuality.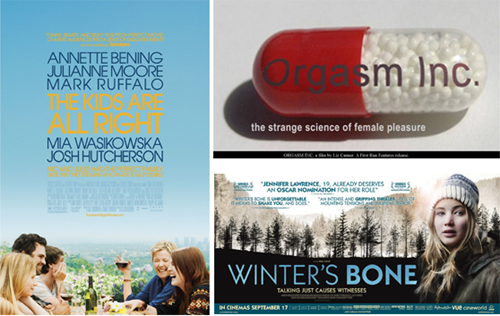 'Orgasm, Inc.', Liz Canner's entertaining and infuriating exposé about the profit-driven pharmaceutical industry's medicalisation and commercialisation of female sexuality, opens in limited release. It's a must-see, so look for it on DVD, soon to be available from First Run Features.
Canner became aware of the issue when she was hired to create erotic tapes for use in the testing of a "female Viagra". Through that assignment she discovered that Vivus and other drug companies were pressuring authorities to define women's fluctuations in desire and responsiveness or degrees of pleasure as a new disease called Female Sexual Dysfunction, and seeking FDA approval for drugs to treat it.
With millions in profits at stake, pharmaceutical companies were (and are) racing to get the first orgasm cream FDA-approved and to market.
But the highly credible physicians, researchers, psychologists and sex toy purveyors - female sexuality experts, all - in this movie say there is no such thing as Female Sexual Dysfunction and treatments being promoted by drug makers are not only ineffective, but can also be harmful.
A second searing documentary about women's sexuality premieres on public television in the US. 'Mrs. Goundo's Daughter', directed by Barbara Attie and Janet Goldwater, is the heart wrenching story of a Malian woman, who is fighting to protect her young daughter from undergoing female genital mutilation, which family members threaten to impose against her will.
The third offering is 'A Good Man', another feature that opens to a limited release in the US later this month. In it, Safina Uberoi follows the Rohrlachs - Chris and Rachel, their teenage son and infant daughter and their respective parents. The rural Australian family turns from farming to running a brothel in order to support Rachel who, many years earlier, had suffered a stroke and became a quadriplegic. Infant daughter? Yes, the couple still has sex. 'A Good Man' has no political agenda, no polemic. It's just a really good real story that lets you reflect deeply on relationships and women's sexuality.
Now on to this year's Oscars. There are no celluloid ceiling stats set for breakage this year. No woman is nominated for Best Director, even though Lisa Cholodenko, Debra Granik, Sofia Coppola ('Somewhere', starring Elle Fanning, Stephen Dorff and Chris Pontius) and Nicole Holofcener ('Please Give', starring Rebecca Hall, Elizabeth Keener and Elise Ivy) all did worthy work this year.
Still, Granik's 'Winter's Bone' (an adaptation of Daniel Woodrell's 2006 novel of the same name, telling the story of an Ozark Mountain girl who hacks through dangerous social terrain as she hunts down her drug-dealing father while trying to keep her family intact) and Cholodenko's 'The Kids Are All Right' (where two children conceived by artificial insemination bring their birth father into their family life) are nominated for Best Picture. That's two out of 10. Not equal. Not perfect. Progress, but not a Valentine.
As for the new feature films that are out this month, the only femme-helmed feature is 'I Am You', previously entitled 'In Her Skin'. Simone North's truth-based thriller about a missing Australian teenager who was found to have been murdered by her babysitter stars Guy Pearce, Sam Neill and Miranda Otto. Other than that, little information is available about this film and there's no trailer for it. So wait and see.
Of the month's few films about women, 'The Roommate' is a college campus screamer in which one teen who's obsessed with her new best friend - her roommate - turns into a terrorising monster. Thrilling? Not.
'Just Go For It', has Jennifer Aniston assisting best friend Adam Sandler to win the heart of a younger woman who suspects that he's secretly married when he's not. A few chuckles, but mainly lame.
Then there's 'Big Mommas: Like Father, Like Son', an urban comedy in which a cross-dressing FBI agent (Martin Lawrence) and his son go into hiding at a girls' art school. And, yes, the two guys are hefty. But the hilarity isn't.
In 'Shelter', Julianne Moore plays a forensic psychiatrist trying to figure out why her patient's alternate personalities all belong to deceased persons. The film was released overseas last year. Perhaps it should have stayed there. But it's here, well timed to capture pre-Oscars box office from fans loyal to Moore, overlooked by the Academy this year.

By arrangement with WFS