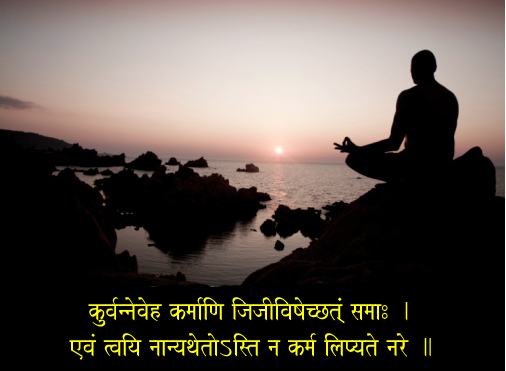 Kurvan-neveha Karmani jijivisec-chatagrn samah,
evam tvayi nanya-theto"sti na karma lipyate nare. (2)
Cherish a life-span of a hundred year spring
of rightful actions on earth.
There exists no other right option
save actions unremitted
without attachment to any fruits of action.
Such actions do not bind.
Commentary
The whole universe goes on moving and working, from the atom to the highest being, working for the one end –liberty for the mind, for the body for the spirit. No one can remain without work, even for an instant. Lord Krishna in Gita says, There is nothing in all three worlds for me to do, nor is there anything worth attaining unattained yet I continue to work and engage in action "(iii-22) so action is inevitable. The activities of the mundane world have to run continuously without interruption. Everyone has to be engaged in action, either good or bad; both the good and bad actions fructify and serve as bondage in the path of God's. Realization; exception being those that are performed with full surrender to Him.
All actions are performed by the work of Prakriti (Primordial matter), the three Gunas-Rajas, Tamas and Satva; having 23 categories including 5 cognitive senses, 5 evolutes, 5 cognitive senses, 5 subtle elements, mind, intellect and ego, all these make the body. The individual identifies himself with the body and thinks that he is the doer. These three gunas combine in the human body in different proportion and impel him to act accordingly.
The seer says that we should cherish the desire to live a life of a hundred years while performing all our duties and karmas. The question may arise, why should we wish a hundred year life –span, when we strive for liberation here and now in this very life? During Vedic period, the main purpose of work simply was the performance of spiritual ritual, yajna. Later in Mahabharata era, it covered all good and virtuous actions. The Upanishad age stressed upon liberation from the world-cycle in this life-time and it was to be had through self –realization and self-enquiry. Self enquiry demands wisdom which can dawn upon us through time and persistent action to thoughtlessness. Hence a hundred year of active days are cherished as ideal. The seer knows well that a happy life span of a hundred spring years can easily be achieved provided one gives up attachment to worldly attractions and allurements and surrender to the supreme. It is nothing but a liberated soul in action while not in action at all. It has been said that performance of action appropriate to you, even if it is despicable and unrighteous is the best So we have to engage ourselves in action, established in the spirit of Yoga, and unattached to action; then we are not bound..
The Karmas are not binding if they are performed with the sense disconnected with the idea of diversity. Generally at the fag-end of life sometimes we think of leading a life full of renunciation .but we have to understand that renunciation is not the physical withdrawal from the world but mental attitude towards the world. Hence actions and activities should go on but self-centred activities be totally abandoned as they bring fruits of action and bind one. . It depends upon our attitude towards work; it has to be, neither hate nor desire; neither joy nor sorrow but work for work sake; free from pair of opposites. The difficulty is that we prefer action as doer and thus reap the fruits of action and while forgetting God, we entertain concepts, feelings and emotions and develop egoism, "I"ness and sense of duality. All these are short-lived and the result from them is also temporary. This makes us lose patience and tranquillity; equipoise and get into stress to land in chaos and restlessness. It is important that we should not think of ourselves as the doer and expect any fruit of reward. The giver of the result is not the one who acts for it but God and His laws. Therefore the desired results are seldom achieved. We have to act to the best of our abilities for fulfilment of our aim but have to be free from false hopes and insistences. This is called action without desire.
Know well that we are not the doer, independent and self-sufficient. So dedicate all actions to the Lord. He alone is the wielder of threefold power - Jnana, Ichcha and Karma or Knowledge, Desire and Action. We have our own identity no doubt but it is only individual and not the total identity. God lives in the total and acts through us. We should remember Him all through our actions and leave the result to Him according to His laws and accept it as prasadam. (Gift)
All actions done with a feeling of a doer are binding, whatever be the results. Actions performed with meek surrender to God are liberating as they are without any expectation of the fruits of reward. The fact stands that we perform the act not without a motive. Every Karma has some motive behind its action. Some act for power, some for pelf and position, while only a few for liberation. Then we have to guard against path of inaction and vikarma or wrong action. The seer warns us against wrong actions and says that for this we have to understand the pravriti and nivrati of the individual. Personal inclination matters much. Discriminating faculty is very important. We have to distinguish between right and wrong; between what to do and what not to do; between Tamas and Rajas. We have to detach ourselves from wrong deeds, born of Kama, desire and lust.

Saint T. S. Vasvani in Bhagavad-Gita page 66 quotes the examples of the great widower, the English King, Henry the 8th. He was called "The Great Widower" as he married 6 times, one woman after another. The fire of love ruled over him. It conceals the highest of knowledge into its black smoke called Dhoom.
The senses, mind and intellect are declared to be its seat. Screening the light of Truth through these, the desire eludes the soul. Then there is the example of Goethe who under evil influence of Kama ran after girls in restlessness. The mental giant Nelson swayed by Karma, began living with the wife of another one while leaving his wife for another, to let her commit suicide. We need not forget that the senses are greater than the body, greater to it is the mind and still greater than the mind is the intellect; greatest of all is He, the Self.

Previous: Shloka 1
Next: Shloka 3