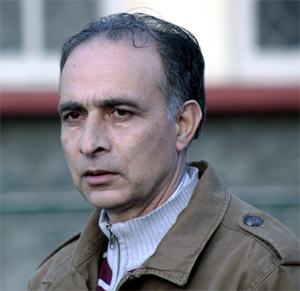 For the residents of Srinagar, who live in fear of the city's increasing stray dog population, and the authorities who keep wondering what to do to check this menace, a ray of hope comes in the form of Khurshid Ahmad Mir, who claims he can get the dogs out of the Jammu and Kashmir summer capital - and that too without killing them.
Mir, 54, whom many call the "Pied Piper of Srinagar" after his offer to completely remove the stray dogs from the city, has a series of claims for successfully getting rid of pests of all kinds. He has now approached the city administration with his offer. The question now is whether the authorities would give him a chance to do it.
The stray dog population here city has been rising at an alarming rate, reaching over 100,000 in the last four years. The canine scare is haunting the people in the city, who are forced to be constantly on guard while on the streets, going to the mosque or shopping or for an evening stroll. The fear now is whether the dog population would overtake Srinagar's 1.4 million human beings!
Mir recently walked into the office of the divisional commissioner in Srinagar after learning about the stray dog menace. "I did not demand any money in advance. I have promised the divisional administration that I would rid the city of its stray dog population," Mir told IANS in an interview here, but would not disclose how he would go about it.
"Officials there said they would get back to me and I am still waiting for their response."
What strengthens Mir's confidence is his past successes in his battle against pests.
"I have a bachelor's degree in agriculture and have been actively involved in pest control administration for over 30 years now," Mir said. He said he had successfully rid the National Archives in Delhi and Khuda Baksh Library in Bhopal in Madhya Pradesh of rodents and termites through his treatment. "I have also successfully rid all the hospitals in Srinagar city and those associated with the Government Medical College (GMC) of the rodent menace," Mir claimed.
He recalled: "I was shocked some years back when I learnt that a rodent had bitten off the eye-brow of an infant in the local children's hospital. I went there and volunteered to rid the hospital of its rats. I did it."
The pest buster also claimed that he had saved the Srinagar land records department a few years back from its resident termites and rodents. Mir's success was again on record at the office complex of a prominent local English daily newspaper, Greater Kashmir. "I guaranteed them there would be no rats in the newspaper office for three years and you can ask the management there," he said.
Those working there confirmed Mir's claim. "Yes, he did that. He uses some chemicals that repel the rodents," said a journalist working for the newspaper. Mir says he is now ready to take on the stray dogs of Srinagar. "I have four scientists, all of them with doctorates in pest control administration, working with me for the project. We have already made our surveys about the dog population in the city and once we get a nod from the administration, we will undertake the job".
What would be the remedy if the dogs from the city were relocated to some other area in the Kashmir Valley where the menace would continue? Mir has an answer.
"Allow me to reshuffle the dog population of the entire state out of its geographical limits and I will complete the assignment," he claimed.
Although Mir did not disclose the details of his treatment, he said it was fully scientific without any magic or supernatural overtones to it. "My methods of pest control administration are completely scientific. This time, I am working for 4-H Club (India), which is an ISO certified company. We are right now getting pest control offers from many places in the country," said Mir.
Mir also claimed he has a remedy to save the Valley's majestic Chinars and fruit trees, which are getting slowly destroyed by wood borers. "Where is the Char Chinar Island - the four Chinar trees that stood on an island in the Dal Lake - we so proudly talked about a few years back? "Those Chinars have been destroyed by wood borers. I have an instant treatment, but I am pained to say that the authorities are not seriously interested in the preservation of heritage. I had offered to save the Chinars, but the authorities are either callous or they do not take me seriously," Mir lamented.
"All they have to do is to let me use my methods and then condemn me if it is a failure or a fraud," he insisted, adding: "It would be a big mistake if I am simply laughed at without testing my methods." However, the residents of Srinagar are now eagerly waiting to see if Mir can save the city from stray dogs. "He must be given an opportunity to prove himself. There is no harm. If he is bluffing let the authorities allow him try his methods and then call his bluff," said Bashir Ahmad War, 58, a veterinarian who recently retired from government service.