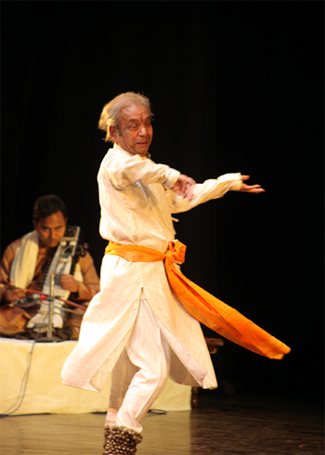 Legendary kathak dancer Birju Maharaj, who is also a musician, choreographer and lyricist, says kathak as a genre is finally receiving the encouragement it should from the government. He also says he never retired and is dancing away even at 74.
"It is slow, but support is finally coming. Young dancers are feeling brave enough to take up kathak as a vocation. Dancing kathak'is a realisation - it is not a job. Dancers should not treat kathak as a profession to earn a commercial livelihood, but as an invocation. One must learn to love the dance, not just sweat over it," the 75-year-old exponent told in an interview.
The dancer, who is agile as ever at 75, held a packed theatre under its spell earlier this week with a 45-minute performance that included a selection of 'Radha-Krishna leela' involving intricate footwork, chants and 'abhinaya' (emoting), a peacock dance, and 'prem leela' (love between a man and a woman).
He said "he was busier than before since his retirement in 1998" as head of faculty at the Kathak Kendra.
"The media was full of reports about my retirement, but I have not retired. I perform across the country, choreograph kathak dance dramas and teach children. Sometimes, on board flights to performances, I ask the crew where I am heading," he said, offering a peep into his "frenzied schedule at 74".
He has just been honoured with the Sumitra Charit Ram Award for lifetime achievement by the Shriram Bharatiya Kala Kendra, presented by Delhi Chief Minister Sheila Dikshit.
The dancer, who is an exponent of the Lucknow 'gharana' (school), is the scion of an illustrious family of kathak dancers, which included his famous uncles Sambhu Maharaj and Lacchu Maharaj and father Acchan Maharaj. The maestro has been honoured with Padma Vibhushan, Sangeet Natak Akademi award and the Kalidas Sammam.
The kathak exponent believes that "classical dance should be taught at school to groom young talent".
"It should be made 100 percent compulsory in schools," he said, citing Pandit Chitresh Das, another kathak exponent, who has devised a university level course in the US at the San Francisco State University.
"We want school and university level programmes in India. We have even met the prime minister to stress upon the importance of dance education in schools. Kathak is not merely entertainment - it is not about chanting a few rhythms. It is an art."
Birju Maharaj advised young kathak dancers "not to lose sight of the real picture or the 'aakriti' of the dance". "They should learn from a real guru who will not teach them to cash in on the dance commercially to mint money."
The kathak exponent teaches more than 250 children in Delhi, Mumbai, Pune and Kolkata. The kathak legend is known for "innovating rhythms and enacting dramas based on lores on stage". Some of them are impromptu improvisations.
"It is abhinaya. The essence of my kathak is to capture the cosmic rhythm, relate to the audience in such a way that you become one with them and speak to them through your art. I translate the cosmic rhythms into shapes in my head. Every rhythm has a corresponding shape in my mind," the master said.
Kathak on the eight major forms of classical dance forms originates from 'kathaa' or the traditional Hindu bhakti art of storytelling.
Strolling down memory lane, he said he had performed for the first time at the age of seven at the Delhi Jubilee Talkies."
"I danced solo and my father sat in the theatre. I don't think I was nervous. Later I was a part of the court of the nawab of Rampur. I played the tabla," he recalled.
"When I moved out of home in Lucknow to strike my fortune as a dancer, my mother told me, 'Birju beta (son), do not forget your daily 'riyaz' (practise). Whether you eat less or do not, have enough clothes to wear, you must remember your father's words: practise everyday. I practised for nearly four-and-a-half hours daily in my early years," the dancer said.
The dancer rued the "lack of space accorded to exponents of arts and culture". "I hope culture gets more space like cricket."