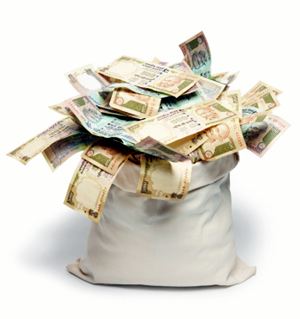 Mr. Pranab Mukherjee undoubtedly is endowed with the requisite skill and experience to function as Prime Minister. Through a considerable part of his career he has attempted to become one. But destiny always cheated him. Now in the twilight phase of his career he is attempting to defeat destiny. No harm in that. But tragically his desperation to occupy the post which he deserved has led him to a performance that is pathetic. It will matter little to posterity if he does not become PM. It will matter a lot to his hard earned reputation if his career ends with a lasting impression wherein stress gets the better of sense. Mr. Mukherjee should not end up as a joke. His performance in the House last week ensured that if he persists with his present line of argument that is precisely what might happen.
Last Friday Left MPs raised a ruckus in the House regarding black money stashed abroad. Mr. Mukherjee lost his cool and retorted: "Are you not ashamed that one of your comrades was raided by the Income-Tax department? And you are talking of black money… Law of the land is there. You should be ashamed of your conduct." In fact it was the Finance Minister who should have been ashamed of his cheap jibe. Indeed he was ashamed. Later he had to apologize. But the incident revealed the intense stress under which he has to function. The glaring vulnerability of the government is exposed of course by the indefensible Hassan Ali case.
Mr. Mukherjee's attempt to justify his ministry's role in dealing with that case is what perhaps creates the maximum stress. Regarding the freedom enjoyed by the Pune-based horse stud farm owner who had US dollars 8 billion in just one of the several illegal Swiss bank accounts held by him, Mr. Mukherjee said: "He will not be allowed to go (abroad)." He insisted that the Supreme Court directions would be observed. He added: "The department is prosecuting but there is a law in the land."
Of course there is a law in the land! But does the honourable Finance Minister dare follow it for fear of toppling his government? The Swiss authorities cannot protect bank accounts of owners being criminally prosecuted. Mr. Mukherjee has kept alive the fiction for the last three years that Hassan Ali is a mere tax evader. Thereby the Swiss authorities cannot assist in recovering his money. In 2007 the Swiss sought relevant documents related to the Hassan Ali case. The Indian government complied by submitting forged documents that naturally were not accepted. During the last three years the government has failed to prosecute Hassan Ali either for money laundering, for which sufficient circumstantial evidence exists, or for disproportionate assets. Selling horses or betting on them cannot explain the astronomical amounts held by Hassan Ali in foreign bank accounts. For three years Mr. Mukherjee refused to act against Hassan Ali. In the interregnum the latter has withdrawn his 8 billion from the Swiss bank account and diverted it to some destination unknown to the government. And this shameful inaction by his ministry is sought to be justified by Mr. Mukherjee. He invokes "the process of law". It is hard to recall conduct more brazen.
What is the constraint under which Mukherjee is impelled to act thus? Obviously, there are important people in his party who are being served by Hassan Ali's money laundering. If Hassan Ali is exposed he could squeal. If he squeals the UPA government could collapse. Mr. Mukherjee's boss, Mr.s Sonia Gandhi, has still not clarified why her political secretary Mr. Ahmed Patel conferred with Hassan Ali. Was Mr. Patel meeting the money launderer in his individual capacity or was he representing his boss and his party? The public does not know. And Mr. Mukherjee does not want the public to know. If the UPA itself collapses, what chance remains for Mr. Mukherjee to become Prime Minister?
Mr. Mukherjee is a victim of the prevalent political culture in which TV sound bytes, money power and Mrs. Sonia Gandhi's blessing are all that matter to Congressmen. Mr. Mukherjee is advised that there is a countervailing force that can neutralize all three. That force rests with the public. The public is a forgotten factor in today's politics. If Mr. Mukherjee would do the right thing even if it cost him his job he could gain a national constituency that might well help him realize his dream of becoming Prime Minister.