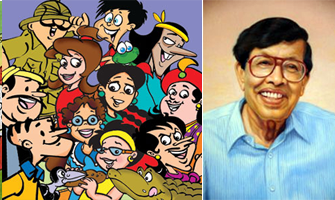 'Supandi' said master, 'Here is the money, go get some provisions.' 'Yes, Master.' After 30 minutes Supandi is back from market. 'How much did all these cost?' 'Rupees ten and 80 paise, Master.' 'Supandi, why don't you round it to rupees eleven?' 'Yes, Master.'
A few days later Supandi goes to buy the rail ticket, and when Master asked, 'What is the time of departure of the train?' '4 O'clock, Master.' 'Very good.'
On the appointed day, Master and Supandi rush to the station and reach 10 min to 4 O'clock. It struck 4, but no train. Master asked the station supt. about the train. 'It has already left at 3.45,' was the answer. Turning to Supandi his Master asked, 'What is it, Supandi?'
'Master, you told me to round up, so instead of 3.45 I told you 4.'
That was a subtle joke from Tinkle that left the kids in peals of laughter. Tinkle with characters like Supandi, Shikari Sambhu, Tantri the Mantri, Nasrudeen, Kalia the crow delighted generations of children and their parents, too.
Stunned by a Doordarshan quiz telecast in February 1967 when children could not answer who was Lord Rama's mother whereas they were eloquent to answer Greek characters, Anant Pai, who was born on Sep17, 1929 in Karkala, Karnataka, took it a challenge and published Amar Chitrakatha covering important characters from not only Indian epics and mythology but also famous characters from different regions across the globe in order to create a wide awareness.
In this Herculean task he admirably succeeded by publishing 86 million copies of about 440 titles starting from 1967 till this day thereby educating the children and the adults alike in India. In 1980 he started Tinkle, an extremely popular comic among the children of all ages.
Anant Pai, who lost his parents at a very young age, soon became 'Uncle Pai' among young children. He visited the schools in different cities in India to have a one-to-one interaction with the younger generation. He inspired two generations, and his books will for sure inspire the coming generations. Every parent staying abroad takes a full set of Amar Chitrakatha to educate the children about the heritage and tradition of ancient India. No body has so much contribution as 'Uncle Pai' had during the past four and half decades.
Following a leg fracture when Uncle Pai was being taken to operation theatre in Mumbai he suffered a massive heart attack and suddenly passed away on Feb 24, 2011. Very shocking, indeed. He is survived by his wife.
'Boloji' is crestfallen, shares sorrow with the bereaved family and condoles the death of a very dear friend to millions of children in this country. May his soul rest in peace.