This article is an attempt to decipher the ancient script found in the seal, sealing, copper or other tablets, pottery graphiti etc. collected from the sites of Indus civilization. Here it is tried to read the writing by an Indian way, which was mentioned as 'mleccha-vaca' by Manusmriti and as 'apasabda-s' by Patanjali.

Introduction:
In the year 1874-75, A. Cunninghum got some unknown seals from Harappa of Beluchistan region. The signs and symbols inscribed on those seals were totally unfamiliar at that time. Though he had published his theory on them in the journals, he had but a little idea that it would lead to the gates of a treasure trove in the world of ancient history. The treasure-hunt was actually started in 1921 by R. D. Banerjee and D. Sahani under the guidance of John Marshall, the then Director of the Archaeological survey of India. Thereafter new excavations are still going on and the total geographical area of the Indus civilization has gradually exceeded one million sq. km. Lot of theories and calculations have been laid down during the last 90 years by scholars and amateur researchers regarding the type of this civilization. Mehrgarh excavation has given the hint of the primary habitations of the pre-Harappan people and different Kot Dizi-an sites have produced several evidences of the existence of Vedic documents in the time of this civilization. New sites are being found on the banks of the possible course of the extinct River Saraswati (Gaggar-Hakra). Researchers like B. B. Lal, Dales, Danino, Kenoyer are stating new points in favour of identifying this civilization as Indus-Saraswati civilization. Though there remain differences in opinions, but one thing is for sure that, the script of the inscriptions could not have been deciphered yet.
Earlier Attempts for Decipherment of Indus Script:
In 1931 J. Marshall published his magnum work where Gadd and Langdom had important contributions on decipherment. According to them, the language group was Indo-Aryan and they might have been the ancestors of Brahmi. From 1950 researchers started to read them in the Dravidian way. Hunter, Knorozov, Parpola and Mahadevan are the main architects of that theory. At that time nobody was ready to believe that the civilization might have had any links with the Vedic civilization. On and from 1990 situation started to change. Various attempts were made to decipher the script taking it as a member of Indo-Aryan family. But no theory has yet been accepted unanimously.
Till date around 4000 inscribed texts have been discovered. These texts have been found on seals, sealings, miniatures and copper tablets, etc. Two grandfathers on this subject, A.Parpola and I.Mahadevan, published few concordances on this matter in 1970's. According to Mahadevan, 420 signs are detected. Mahadevan has given serial numbers to these texts, which I have used in a latter table.
Numerous processes have been adopted by numerous researchers (alphabet, syllable, logo-syllable, constant-variable, root morpheme-suffix, semi-variable, etc) to decipher Indus script. Some scholars are trying (Dr. Kalyanraman) to read them through 'Rebus' method. Dravidian hypothesis is not producing results. In an interview in January, 1998, Mahadevan has admitted that Dravidian link was only a theory and no final proof was there. Meanwhile Witzel, Sporat and Farmer have mentioned Indus people as 'illiterate'. To counter them, Mahadevan, Rao, Vahia, Yadav, Joglekar and Adhikari took the help of Markov chain model. Their essay was published in the 29th May, 2009 issue of Science, where they have given Entropic evidence for linguistic structure in the Indus script.
My View:
Today the 'Aryan Invasion Theory' is almost obsolete. Later excavations in Pakistan and India are opening new horizons of ancient Indian history. Miniature terracotta horses of Lothal, Rana-ghundai and altars of Lothal and Kalibangan have made modern historians to think about the Aryan links with the Indus people, beyond the 'Invasion Theory'. S. Kak and others have mentioned the similarities of Indus signs with Brahmi script. S. R. Rao has segregated Indus signs of the early, middle and later stages. Rangpur, Korat, Bet-dwaraka are a few missing links with the end of Harappan era and the Buddhist-Brahmi period.
In accordance with the popular Hindu mythologies I would like to say that both civilized and uncivilized people were already living side by side in India about 6000 years ago, if not more. Though the uncivilized people who mostly lived in jungles, hills and outskirts of towns/villages were larger in number, the civilized people had practically started ruling over the whole society by that time. Civilized people were separated into two major groups, the Deva (Sura) and the Asura. These two groups may also be named as the urbanised (Asura) and the non-urbanised (Deva). Series of Mehrgarh excavations prove that urbanization had already started by that time. These two groups had been developing separately and simultaneously — the Asuras on the western side of River Indus and the Devas, on the eastern bank of River Saraswati. While the Sura / Deva groups were the astute followers of Vedic culture, the Asuras, though were acquainted with the Vedic culture, were not always its followers. These two groups had developed different dialects within the same language. The Vedic people used to label their counterparts as 'mlechcha', and their languages, 'apabhasa', as by Patanjaji or 'mlechcha vaacha', as by Manusmriti. These two cultural peoples lived, fought and continued to have marital and other cultural intercourses in between them for hundreds of years.
King Paandu had his second wife Maadri from Madra which is at present near Harappa. Duhshalaa, the sister of Duryodhana was married to Jayadratha, king of Sindhu, with whom Paandavas had a series of conflicts. Shalya, brother of Maadri, became the charioteer of Karna in the great war of Mahaabharata. In an altercation Karna told Shalya that, Madra people were uncultured and anti-Vedic. Pradyumna, son of Krishna was kidnapped by the neighbouring Asuras. Duryodhana, too, was once captured by Chitrasena, a Gandharva, and later freed by the Paandavas. Distressed, Duryodhana tried to commit suicide and was rescued by some Asuras, who had performed a yagna in his favour by reciting hymns from the Atharva-veda (ch-250; Vana Parva, Mahaabharata). Krishna, Arjuna and Bhima had at least one wife each from non-Vedic societies.

Our Vedic texts show hundreds of examples wherefrom it can be found that, different cultural people used to live together at that time, even some of the Asura people used to practice Vedic rituals. While the Vedic kings and Brahmins performed yagnik rituals regularly, the Asuras developed a mercantile society, with the emphasis on international trade.

The Vedas are also called 'Sruti' as the Vedic people, for different reasons, decided not to write down the Vedic hymns and the Brahmins had no other option but to memorise and pass on to their disciples orally. On the other hand, the Indus people had to invent different signs and symbols for the sake of international trade. They started with the punch marks and gradually through pictography, they at last developed their own script. Their initial script was of a primitive form. But with time, they developed the shape for syllables. It took more than 1000 years to reach the initial form of Brahmi. By that time, the Vedic people had also started writing and Brahmi got into a mixed shape.

By the influence of the Vedic people, Brahmi was started to be written from the left to right (although however, Kharosti remained in the 'right to left' form, but their signs were not similar to those of Indus). Brahmi being accepted as the origin of all Indo-Aryan languages, we can say Indus is the forefather of them.
My Attempt Of Decipherment:
In this paper I have discussed a few steps towards the decipherment of the Indus script, in my way.
Step 1 : Valuation of Basic Signs
Two methods are followed here to have the valuations of the signs.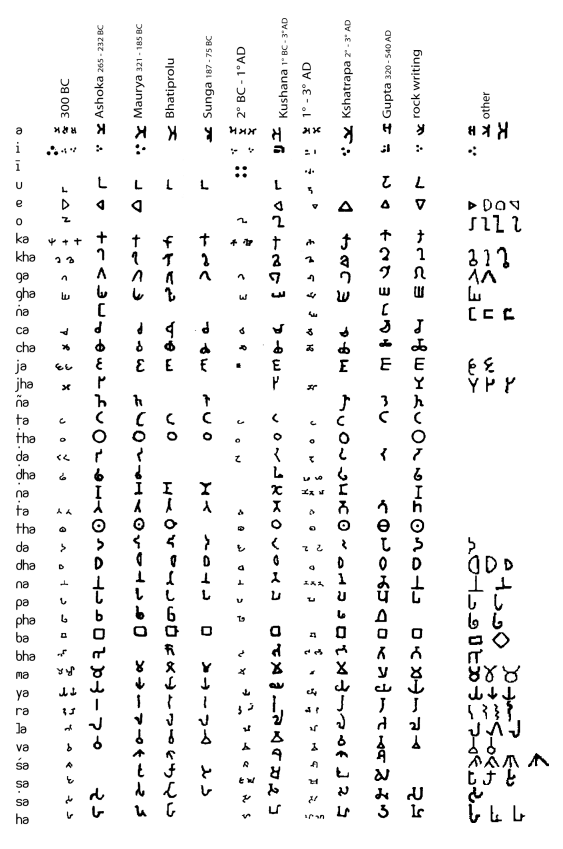 Table 1
Method 1 - Comparative Studies of Indus Signs with Other Indian Scripts.
Here I have tried to compare the Indus signs with all the other Indian signs in vogue, starting from the Brahmi signs. Through the ages, signs were changed and modified and to some extent, simplified. But still we can identify the similarities. I have also given a comparison between the Indus, the Bet-Dwaraka, the Sanur, the Semitic and the Asokan Brahmi scripts in the followings.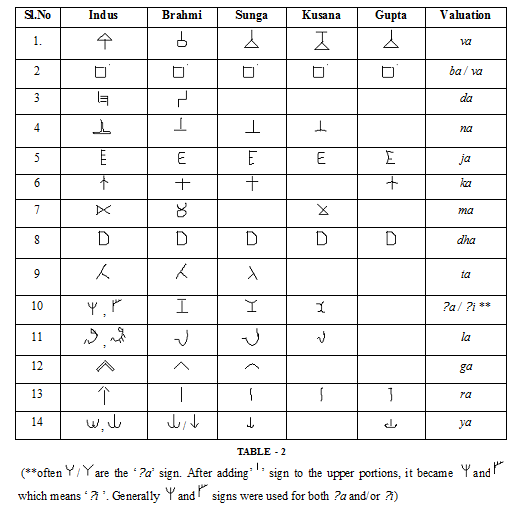 Table 3
From the above three tables, we find that some signs like ba, ja, ga, dha and ta are literally same, not only in the Indian scripts, but also in the Semitic script. These signs have remained similar for more than 2000 years in India. Table 3 clarifies the matter. A further comparative study gives 14 signs from Indus which we can find in later Indian scripts (with some evolutionary modification) at the time of Kushan, Gupta, Sunga and Brahmi era.

With the help of Method-I, the valuations of 14 signs have been derived.
Method 2 - Valuaion of Signs Through Acrology:
Acrology is the study for determining a symbol which is used to represent phonetically the initial sound (syllabic or letter) of the name of an object. As for example, 'A' is the first sound of Greek Alpha. It is the method of getting the letter from a pictogram, through phonogram and logogram. By this process, the first phoneme of the phonogram becomes the sign value of that pictogram.
The valuation of 9 more signs have been determined through Acrology.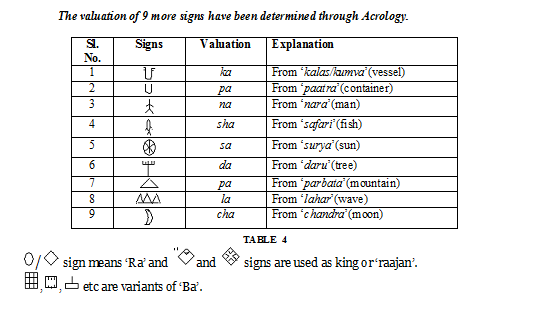 The determination of the valuation of 'ka' through Acrology is given below.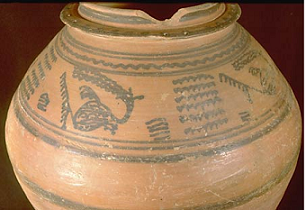 A vessel found in Mohenjodaro.
The upper thick portion to observe.
(Pic. from Harappa site)
Sign

: This is a picture of a vessel. Many historians have earlier tried to identify it as a vessel and the side strokes as its handle. But not a single vessel has been found in Harappa and Mahenjodaro which has handle. So some critics were not ready to accept it as a vessel. I have assumed the strokes at the upper portion to be the thick round border at the neck of the vessel which we find in clay potteries.
All the Indo-Aryan languages have at least a word close to the Early-Aryan word 'kumbha' or 'kalasa' which means vessel. In Telegu it is called 'kundalu', in Tamil it is 'kutam', in Bengali it is 'kalsi'. Moreover in Sa(n)tali the word 'kanda' means 'a pot of certain shape and size'. In Pali also, there is a word 'kuta' which possesses the same meaning.
kumbha or kalasa is an ancient Indian word which is found in almost every province and used in various ways even after thousands of years. Therefore, acrologically, this sign may be taken as 'ka'.
The outward shape of the U or V shaped Indus sign suggests 'pot' as its 'pictorial meaning'. A contextual clue suggests that the 'intended meaning' also is 'vessel' or more exactly 'sacrificial or offering vessel'.
— A. Parpola, Study of the Indus Script, Tokyo, 2005.
Thus, 18 basic values have been extracted in the following Table 5 after exclusion of the 5 common values from Table 3 (14 values) and Table 4 (9 values).

Step 2 : Change of shape of Consonants after adding Vowels with them
In Brahmi, the shape of the consonants was changed after using strokes for vowels. We shall apply the same to the Indus signs.
Brahmi Consonants with Vowels

Now we shall discuss the changes of Indus signs when vowels were added to consonants in the light of Brahmi applications. We should remember that the time period of Indus-Saraswati Inscriptions was 1500 years prior to the Brahmi era. So they were in a crude form at that time. Through the years they gradually took the Brahmi shapes.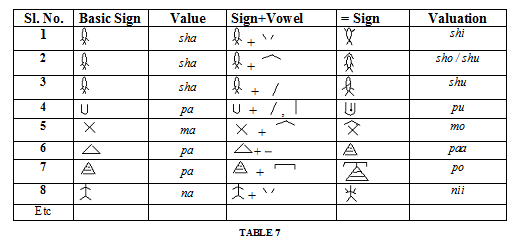 Note:

I. Strokes in the upper portion of a letter used to add 'i or ii'.
II. Strokes in the middle or lower portion indicate 'u'.
III. Upper cover on a letter adds 'o'.
IV. Horizontal strokes in right side add 'aa'.
V. Though concepts are the same, in Indus-Saraswati applications are in crude form, whereas in Brahmi the applications are to some extent refined.
Step 3 : Structure of Compound letters / Conjuncts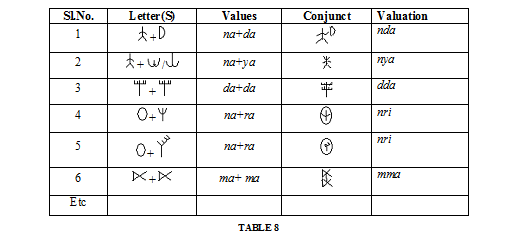 Step 4 : Some Basic Considerations
To read the Indus-Saraswati script we have to remember a few of its salient features.
It has been considered as a member of Indo-Aryan language group.

All the signs are letters and more precisely they are syllables.

Most of the readings are from the right to left.

Though the vowels are pronounced independently, they were never used separately.

Cerebral and palatal 'na'-s were not used distinctly. They often interchanged.

Similarlly, cerebral and palatal 'sa'-s were not used distinctly.

A few phonemes (letters) had different signs/forms. For example, ba, na(cerebral), la & ra had various forms. This feature was not uncommon in ancient scripts. Hittite hieroglyphs had 2 to 3 signs for each syllable. In Egyptian hieroglyph there were 4 signs for 'h' and 2 signs each for 'sa, da, ka, ta'.

As these texts were used for trading to establish identity marks, in most of the cases proper names are found. Often various single lettered titles were used. In no case full sentence was inscribed.

Sometimes names of places are found.

On many occasions sign variants were used.


All the above features require detailed discussion, which has been done in a separate book.
Step 5: Reading the Inscriptions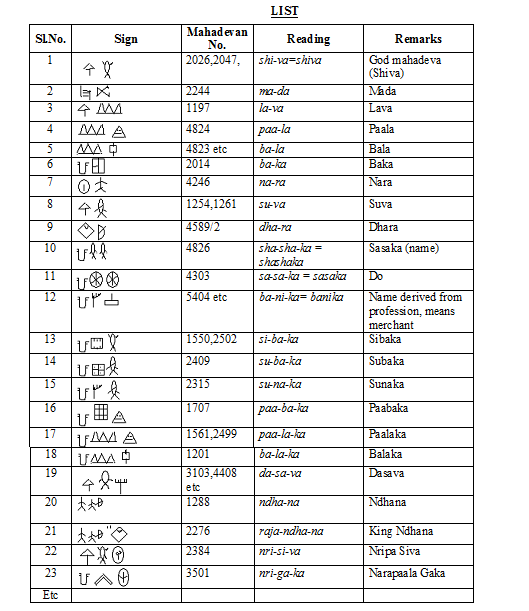 Continued to "Origin and Etymology of the Valuations of Indus-Saraswati Signs"

References:
1. I. Mahadevan – The Indian Script: Texts, Concordance and Tables, 1977
2. A. Parpola – Corpus of texts in the Indus Script, 1979
3. B. B. Chakraborty – Indus Script-The Artistic version of Brahmi, 1981
4. S. R. Rao – Dawn and devolution of the Indus civilization
5. Dr. S. Kalyanraman – Saraswati Hieroglyph & others
6. B. N. Mukherjee – Origin of Brahmi & Kharosti script, 2008
7. Various essays published in various journals.