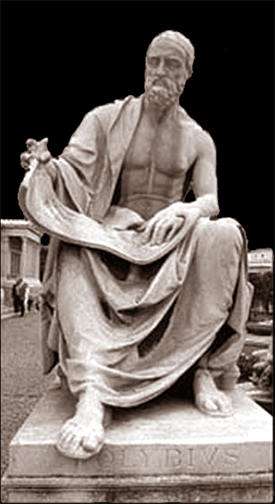 Polybius, ranking second only to Thucydides (See: A History Of International Relations : Power & Hypocrisy), was a Greek historian, who lived from 205 to 123 BCE. He was taken hostage by the Romans, became their great admirer and lavished praise on the Roman republic as the best form of government like that of the Sparta of Lycurgus. He was close to Scipio Africanus, who destroyed Carthage in the second Punic War.
Polybius has a very neat chronology of government evolution. He postulates that in mere animals or after a catastrophe in human beings leading to a loss of all knowledge of arts and social habits, there would be herding together for security and a single individual by virtue of his physical strength and courage would emerge as a leader. Such a one would be a despot. After some time, a concept of justice and then reciprocal duty and obligation would tend to bestow the leadership to one who is not only strong and brave but also just and fair. This may occur spontaneously or because the prior despot had used his strength to exact undue advantages from the weaker populace. Such a perverted despot would have become a tyrant and when replaced by a just and fair leader who rules by virtue rather than force (Ashoka after the slaughter of Kalinga – Henceforth I will only conquer only by Virtue) would be a king and not a despot or tyrant.
As long as the king is a righteous individual and not intoxicated by power and hubris, he (or she) will not make his dress, food or drink at all conspicuous and will live very much like the rest. When the royal power and privilege becomes hereditary, the progeny often lost their humility and goal of public service and began to believe that they were entitled to a better, more ostentatious lifestyle because of their superiority and birth. Soon they indulged in sensual pleasures, however unlawful, without fear of denial. The people were offended and jealousy and resentment increased. The kingship became a tyranny (Saudi Arabia, Jordan, Gulf Sheikhdoms, Morocco). Disintegration began and plotting against it commenced. When the plotters were amongst the best of men and succeeded in overthrowing the tyrant, the rule of the noblefew, which he calls aristocracy began. Once again the children of these nobles were raised in wealth and luxury, but often without a sense of public service and cursed with excessive self-importance. The tendency of the aristocrats to pass on the rule to their children (Qadafi in Libya and Mubarak in Egypt) led to the rule of the few but not of the just. Polybius calls this Oligarchy
Once again the people were angry and unhappy and tried to throw out the oligarchs and replace them by the rule of the people (not one king or few aristocrats) or Democracy. This may work if the initial leaders of a democracy are just and honest. Unfortunately the smart and or the rich load the dice in their favor (See my article - Madison's Hoax & Gresham's Law). When the true Democrats as opposed to the leaders of a republic become overly fond of office, they use the power of incumbency to raise funds by accepting bribes from lobbyists to pass favorable legislation (present day America, Britain and India). In some cases they try to bequeath their legislative or parliamentary seats to their children and eventually form a nexus with criminals and money launderers or corporations who finance their elections (again USA and India). Eventually the criminals become savvy and eliminate the politicians as middle men, The criminals run for elections themselves, as in India or the republic becomes an oligarchy run by corporate power like in America.

It is this simple truth that Francis Fukuyama failed to see in his foolish essay when he predicted that democratic capitalism was the end of history. It is the nature of mankind and government in a milieu of crony capitalism to metamorphose a democratic republic into a corporate oligarchy. My prediction is that it may even go as far as becoming a Fascism. The current Supreme Court in the United States has become a handmaiden of the government as it was in John Adam's time when it passed the Aliens and Sedition Act in distinct contravention to the Constitution (this time see the Friday March11th editorial in the New York Times on "Indefensible Detention")
The same curse of a new generation of so called elected officials, as in kingship and aristocracy degenerating into tyranny and oligarchy respectively, can occur when democracy degenerates into mob rule (this happened in France after the revolution of 1789). The Girondists failed to deliver after the Revolution. To some extent the interference of England and Austria, both monarchies wishing to nip the anti-monarchic French Revolution in the bud, led to the terror and the Jacobins. Eventually Marat was assassinated, Dante sent to the guillotine by Robespierre, who was guillotined a little later. There came the tumultuous assemblies, massacres, banishments, re-divisions of land: until after losing all trace of civilization, once more a master and despot was found in Napoleon Bonaparte. The same thing happened in Iran due to interference by the USA in the coup against Mossadeq, after a time delay commensurate with the lack of political consciousness in Iran and the torture and terror of the Shah's Savak, trained by American CIA. Shahpur Bakhtiar was forced out and assassinated, prime minister Bazergan was made to leave, president Bani Sadr impeached, Minister Ghotzbadeh executed and Ayatollah Khomeini took over as despot or Vilayat-e-Faquih.
Another scenario occurs when there is a 800 pound gorilla like the US itching to interfere to assure an uninterrupted supply of oil at an affordable price. It has its own political agenda and interfered in Iraq to cause regime change and capture cheap oil. For geopolitical reason, it has supported the overthrow of Mubarak in Egypt and Qadafi in Libya, but failed to install its puppets trained at the international army school in Georgia. The US still supports the tyranny of king Abdullah in Saudi Arabia, the other king Abdullah in Jordan and those of the Sheikhs in Bahrain and Gulf Kingdoms as well as the Sultan of Oman. For the US knows that mob rule is inherently unstable and temporary and just as its leaders used the populace to throw out the British and then form a government of the landowners, merchants and bankers to the detriment of the citizens, it has interfered the world over to facilitate suitably favorable regime change (for a parallel in politics and biology, see my article "Coercive Cultures & Selective Breeding"). Thus it is too early to predict the outcomes of the agitations in Tunisia, Egypt, Bahrain, Libya, Saudi Arabia, Oman and Yemen. If the outcomes in Iran, Lebanon, Iraq, Gaza, West Bank, Afghanistan, Somalia, Bosnia, Serbia, Kosovo, Venezuela, Ecuador, Peru, Bolivia, Colombia, Nicaragua, Paraguay, Argentina, Uruguay are any indication of the future, it does not favor success for US intrigue and hypocrisy.