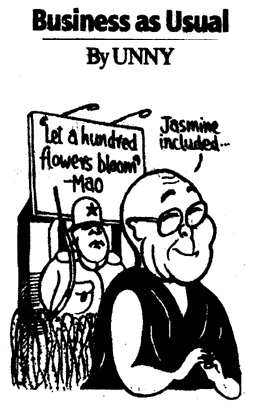 A cartoon in a contemporary daily newspaper recalled Mao Zedong's dictum: "Let a hundred flowers bloom!" The Dalai Lama is shown adding cryptically: "Including jasmine." That cartoon said it all.

Dalai Lama's formal renunciation of power could well act as catalyst nudging China to democratize itself. On Monday Chinese Premier Wen Jiabao discounted chances of a Jasmine uprising in China. But he conceded that there was need for political reforms that might allow people to criticize the government. He dismissed the threat of a Jasmine uprising with the words: "No such political movement is likely in China because people are aware of massive development strides it has taken in the past three decades."
Premier Wen is wrong of course. Economic well being is no substitute for freedom. And he is mistaken in thinking that political reforms allowing dissent are sustainable in an undemocratic society. The Dalai Lama in all probability is more on the mark. His renunciation of political control probably is timed to coincide with developments inside China. He has access to information inside China unavailable to most.
The core values of democracy rest on the beliefs of free speech and decisions taken on the basis of the majority view.
An increasing number of critics inside China are beginning to voice disagreement with Beijing's intransigence over Tibet. The Dalai Lama's unambiguous declaration that he wants Tibet to remain part of China and seeks only sufficient autonomy to safeguard Tibetan culture and identity is rubbished by Beijing. This betrays a pathological commitment to what lies at the heart of dictatorships: the desire to exercise total control. Dictatorships display ruthless power to mask a pathetic sense of insecurity.
Can China become democratic? This scribe believes it can. What China's Communist Party leadership cannot tolerate is multi-party democracy as obtaining in the West. What the West and China's leadership does not appreciate is that democracy can flourish in a single party system too. At the risk of being very presumptuous this scribe would like to outline how China can move towards a genuine democracy without sacrificing the core interests of its leadership.
The core values of democracy rest on the beliefs of free speech and decisions taken on the basis of the majority view. This is how these core beliefs are achievable in a single party democracy which in fact would not be different from the partyless democracy advocated by Mahatma Gandhi and Jayaprakash Narain.
Any citizen seeking a political role would join the Communist Party. He would become a member only after pledging allegiance to the principles enshrined in the country's constitution which would not differ from the party's constitution. Each member of the Communist Party would be free to contest elections. The member would be free to propagate an agenda and seek public support for it. Without formation of any party individual members would be allowed to mobilize followers in support of an agenda.
To qualify for contesting elections each candidate would have to furnish evidence of minimal public support in order to restrict the number of candidates and make elections manageable. The Assembly would elect the President and Premier through democratic contests. Decisions of the Assembly would be taken on the basis of the majority vote. There would be complete freedom to create media outlets. The Judiciary would be independent. Any transgressions by it would be subject to either the Assembly or to the President on the basis of adherence to the written constitution.
All the characteristics of a genuine democracy would obtain except that there would not be a multiplicity of parties. Indeed, the absence of party discipline could conceivably ensure greater freedom of choice to legislators and render issues more important than blind party loyalty. That was one reason why Mahatma Gandhi was against the multi-party system. Whether the system is partyless or single party the characteristics remain the same.
So, what prevents the leaders of China to introduce full fledged democracy in their nation? Thus far Beijing has dealt with the Dalai Lama in Tibet. China's leaders were waiting for his departure from earth in order to impose their will over all Tibetans. Now the Dalai Lama will oversee how younger Tibetans utilize their new responsibilities. The result may be very different from what Beijing was expecting. Time could be running out for China. A great economy, a great civilization and a great people should not impede the full potential progress of their nation by denying democracy to its people.

Cartoon by Unny: Courtesy: Indian Express - March 12, 2011