Continued from:
Evolution Of Wings, Calendars, Counting, War, Politics & Society

In modern wars, the side which achieves air supremacy for itself and air denial to the enemy has total air dominance and thus can carry out devastating bombing of the massed infantry, artillery and even surface navy of the opponent as easily as shooting fish in a barrel.

The US has mastered this strategy to perfection by innovation, technology and heavy financial outlay. It has the best stealth technology which makes its F-22 Raptor fighters and the B-2 bombers with extremely low radar cross sections (signature) and supersonic speed even on cruise. It has developed AESA radars which can pick up enemy planes at a greater distance and sooner, even while shifting bands to evade detection of their own radar by reduced on time state and varying frequencies. In addition it has beyond visual range, accurate missiles with multi-Mach (3to 5 times the speed of sound, 2000 to 4000 miles per hour and faster than the Mach2 or lesser speed of most planes). This allows the US to destroy the enemy air-force with minimum or no plane losses of its own. This is what Israel did to the Syrian air-force in 1982.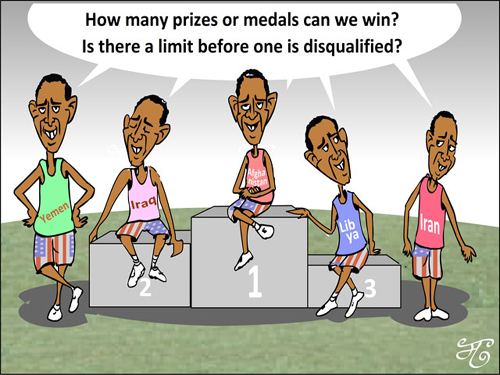 Another strategy used by the US and Israel is to send in high speed planes at high altitudes to force the enemy to switch on its radar, SAM and anti-aircraft batteries which are then attacked by anti-radar and precision guided missiles and destroyed (HARM or Anti-radiation missiles). This tactic SEAD (suppression of enemy air defenses) was used against Iraq and Serbia. Additionally, laser guided bombs are used by bombers in the second phase of the air war to destroy or disable runways to prevent enemy fixed wing aircraft from taking off and bombing hangars to destroy or disable stored enemy aircraft on the ground.

All these allow complete dominance of the air by the US or similar powers. It was used against Iraq for years to enforce the no fly zone and during the 1991 and 2003 Iraq wars. Israel used it against Lebanon on more than one occasion and NATO is using it presently against Libya. The newest strategy is to use unmanned combat aerial vehicles (UCAV) like Predator and Global Hawk. These planes are operated in Afghanistan, Pakistan, Iraq, Yemen while the operator (Electronic pilot) is in Nevada, so even if the plane is shot down, there are no human casualties and these planes are much cheaper than the regular fighters, bombers or interceptors as they don't need very costly protective technology (see "What US Air Power Actually Does" by Tom Engelhardt at on March17th, 2011).
Once total air superiority is achieved, massed infantry and artillery become easy targets as in the 1967 war between Israel and the Arabs, the Pakistani army in Bangladesh for India in the Bangladesh War, Iraqi army in the 1991 and 2003 wars and the Taliban on the Shomali plain in the Afghan War in 2001-2002. To achieve air dominance over a country far from the attacking country's airbases, it needs an aircraft carrier. That is why the US has large nuclear powered aircraft carriers and uses AWACS for detection and J-STARS for counter electronic measures. Some of its HARM (anti-radiation) missiles can be released at a distance over 200 kilometers from the target and cruise missiles or Tomahawks can hit targets accurately from a distance of 1000 kilometers or more.
Libya does not have the technology or weaponry to defend itself against the US or NATO and Qadafi is just an idiot and a thug, but other countries are worried about being next. Just as the US attack on Iraq and Afghanistan made North Korea and Iran go for nuclear weapons recently, Russia (USSR) after Hiroshima, China after the Korean War, Israel after the 1956 war and Eisenhower's ultimatum, Pakistan after the Bangladesh war and India's foolish and overly late 1974 nuclear test, and India's idiot leaders after the Panama and Yugoslavia wars, the lights are burning all night in China, Iran, Pakistan and India military headquarters about how to immunize themselves from regime change by no fly zones.
China as usual is first off the mark by oil and gas pipelines from Kazakhstan, Turkmenistan and Russia to ensure that a significant portion of its energy supplies are too far from US planes and on the territory of nations friendly to the US or too strong to attack or even bully. It is also developing mobile air defenses and accurate ballistic missiles and their radar or GPS guidance, which can attack US carriers a thousand miles from its Pacific coast which is vulnerable from US carrier based aircraft. It is enveloping Taiwan in such an economic and diplomatic bear hug that within a decade Taiwan will beg to become part of China, adding to China's foreign exchange reserves and technology and bring with it some newer US military technology of Taiwan's weaponry (like Aegis system, AESA radar, Patriot PAC SAMs, P3 Orions, Apache and Black-Hawk helicopters, AIM and Hellfire missiles and Hawkeye STARS). It is also rapidly increasing its submarine fleet including nuclear ones and developing its own J-20 stealth aircraft to match the F-22 Raptor. It has already successfully tested its ant-satellite missile in 2007 and its cyber- warfare prowess to neutralize the US satellite, GPS and coordinated net-centric war abilities by coordinating its land, sea and air assets.
Iran is banking on fomenting unrest in Lebanon, Bahrain and its partially purchased equivalent of Russia's S-300 anti-aircraft system licensed by Russia to China and ultimately on the equivalent of Israel's Samson option of bringing the house down by closing the Strait of Hormuz. Pakistan probably is banking on Al Qaeda to come to its rescue with purloined nuclear assets. The Indian military has spent five billion dollars buying Israeli Spyders, Baraks and DRDO Akash SAMs because these are mobile air defenses compared to the older static ones the Sa-300 Pechoras of Russian make, but its trump card is to match its politicians and bureaucrats in corrupt practices like the Adarsh housing scam and more recently the 95 golf courses scam on defense properties (see the Indian CAG Rekha Gupta's report and recent Financial Times article, another feather in the Congress government's shame and dunce cap after 2G, Hasan Ali, Bofors, Thomas appointment etc.). If these don't work the last option could be to send all India's politicians and bureaucrats into space where they will become space debris and disable all of America and China's space assets and at the same time make India a cleaner nation and a less polluted society.
Once again India will claim the high path like that of Gandhi for its idiot sycophant leaders who are so full of only hot air, as they will have non-violently sacrificed themselves for the good of the world by being hoisted into space by their own petard! The unfortunate consequence of the crippling of all the US space assets is that it would compel the US to fight with troops on the ground, but before any such escalation has bad or undesirable consequences, it will instantaneously turn the Republicans and Democrats, Obama, Bush and all the Republican and Tea Party hopefuls immediately from princes or princesses into oily frogs and they would thus have to seek asylum in Saudi Arabia with their campaign chests, and finally let the US become a democratic republic, which will immediately eliminate its addiction to wars and allow our troops to come home right away and not increase casualties and lastly, even balance the budget.

For having done such a brilliant strategic analysis of such a difficult situation, I have to request each of the readers of my article to send a postcard to the Norwegian Nobel Peace Prize Committee nominating me for the prize. If some of you don't think I deserve it then you can write the following limerick instead of my nomination.
There was this committee from Norway
Which hung by its heels from the doorway
It said to the Whitehouse man
Who waged wars sitting on his can
You win the prize one more way!
Continued to: Evolution of Politics & Society