Anna Hazare's movement has started on the wrong foot.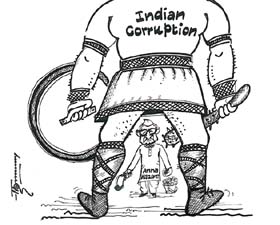 The announced Drafting Committee of the Lokpal Bill betrays lack of principle and lack of political sense. The Committee has a representative of the government as chairman and a representative of civil society, a euphemism for Anna Hazare's team, as the co-chairman. In addition there are four members from each group - the government's ministers and Hazare's movement. No opposition party is represented on the panel. In other words representatives of civil society arbitrarily approved by Hazare get precedence over members of parliament elected by the people.

J&K Chief Minister Omar Abdullah has already raised a very pertinent point.

To whom will the representatives of civil society be accountable?

However exalted a personality Anna Hazare might be, to give him precedence over parliament would be very bad in principle. Anna Hazare's advisers made a tactical error by not insisting upon representation of the opposition in the panel. That would have been seen representing a national consensus. Now the movement is aligned with the government.
The panel will lead to muddied politics.

When the Bill is debated in parliament a miffed opposition most likely will do everything possible to stall it.

This will not serve the purpose of Anna Hazare.
But it might very well serve the purpose of the government.

Shedding crocodile tears over the delay in the passage of the Bill, the government will draw full political advantage from the fact that the opposition will be seen as creating hurdles in the way of its enactment.

Nothing would suit the government more.

The government will appear to be on the same side as Anna Hazare and against corruption. The opposition will be made to appear as an impediment to enacting the Bill and a supporter of the status quo.

It seems that the government has carefully done its homework before proceeding with the announcement of the Draft Panel.

Did Anna Hazare's advisers also do their homework?

Today, thanks to media there is a groundswell of public support for the movement. It would be a mistake to underestimate the opposition's ability to mobilize countervailing support.