Book: "The Sly Company of People Who Care";
Author: Rahul Bhattacharya; Publisher: Picador; Price: Rs.495, Pages: 280.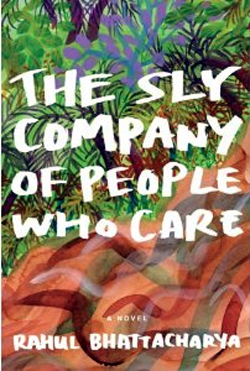 Guyana on the northern coast of South America is an exotic, forgotten land, once termed the poorest country on the continent. Rahul Bhattacharya has written a brilliantly evocative novel about the country through the eyes of a drifter, a young man who goes to Guyana to escape "the deadness of life".
The author draws the unnamed narrator from his own experience as a sports writer who visits Georgetown for a cricket tour and decides to return to explore the country.
It relates a story about migration, displacement, racialism and ethnic rivalries in Guyana. As Uncle Lance, a character, describes it in the book: "We got Blackman, redman, buck, chinee, coolie, dougla all lashin each other."
Guyana's colonial history is a fractured one. It was initially a Dutch and then a British colony. African slaves were brought to work on its plantations, they were replaced by indentured workers after slavery was abolished. The labourers were brought from China, Portugal and mainly from India.
They form an interesting population mix together with the indigenous "Amerindians" where the Indians form the largest minority. But it is a manufactured society kept divided, whose politics has polarised along race. Years of dictatorship and economic stagnation forced thousands to leave and it is often said there are more Guyanese living outside Guyana than in it.
The displacement from the village home in India caused a wound that has not healed even in later generations. An Indian explains the nostalgia for motherland: "We are sad because ever since we left India we have a hole in our hearts. Nothing can fill that hole."
Yet, he adds, "we find that Indians do not consider us to be Indians."
The Indiaman (Indian national) seems strange to the coolieman (Guyanese Indian), for he speaks different from the Indian "flims" that they watch in Guyana.
There are an estimated 325,000 ethnic Indians in Guyana.
The book is about Guyana, its mix of people, its language and its lush countryside. Bhattacharya's prose is vibrantly freewheeling and his liberal use of creole, the local patois with its fair sprinkling of Bhojpuri and Hindi words brings to life the country and its people.
The language is vivid - Mrs. Siddique who doesn't want to go home says "homeside got too much 'me say, they say' (a translation of the Hindi 'tu tu, main main')". Dawn is "dayclean" and it is "rainfallin" rather than raining in Guyana.
It tells of the texture of life and society; the favourite pastimes of "gyaffing" (talking) or liming, and listening to raggae or chutney music. Raggae - the music of slavery, based on resistance and confrontation; chutney - the music of indenture based on preservation of the remembered homeland and its ways.
It is people with colourful, even wild characters like Baby, who take the narrator on a "porknocking" (diamond mining) trip in the rainforest. Mr. Red, Uncle Lance - who is known as a gyaffman or talkman, Ramotar Seven Curry whose passion is to attend every wedding where the Hindu ceremonial food (seven curry) is served, and Roger Khan, the self-made don.
It takes the reader from the coast to the rain forests and the savannah and the small townships that dot the landscape where the protagonist meets and loses the wild haired, feisty Jan, who hates her given name Jankey.

IANS