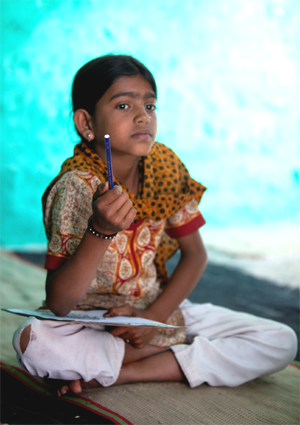 The school's location: Setrawa village, 110 kilometres from Jodhpur in western Rajasthan. The students: Around 70-80 girls, all aged eight years and above. The teachers: Two young Canadians, Amelia Steteman, 23, and Jennifer Carlisoe, 22. To many, this may appear to be a strange classroom but it's a regular feature at the Setrawa school, which is run by the Sambhali Trust.
Here's what a typical day at this small school, set up in 2007, is like: At 11 am sharp, a gaggle of enthusiastic girls from nearby homes walks in. They brush their teeth, take a quick wash and change into clean clothes. For the next hour-and-a-half, they are taught the basics of English and Hindi. After school, they attend a workshop organised especially for them - it could be on anything from dramatics and general knowledge to health and art.
If any of the girls displays the potential for higher education, the Trust takes on the responsibility of getting them admission into a local private school. It also takes care of the school fees along with the expenses for books, stationery and uniforms - approximately Rs 8,000 a year is needed to put one child through school. The only catch: Parents have to sign an affidavit in the presence of village elders that they will send their daughter to school at least until she completes Class X and that they will not marry her off before she turns 18. A small price to pay for a free education? Unfortunately, not in the male-dominated Rajasthani rural society, especially in the western part of the state, where sending girls to school is still frowned upon.
But the Sambhali Trust has managed to bring about a change in this attitude, at least to some extent. "In last four years, we have put 35 girls - 10 from Setrawa - in private schools in Jodhpur. The youngest one is in Prep while the eldest is in Class X," informs Govind Singh Rathore, founder of Sambhali Trust. Besides providing educational opportunities, the Trust also promotes economic independence among women through vocational training and helps them develop social skills.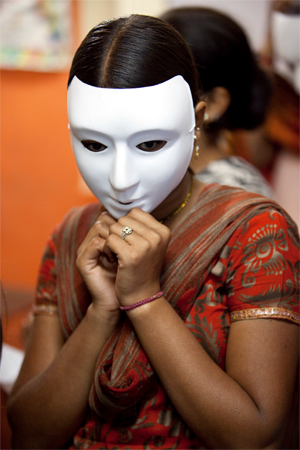 The Setrawa school provides basic education to girls who can't afford traditional schooling and supplements the schooling of those who can. "We also deal with the issues of caste and encourage free interaction between children of different castes while condemning prejudice and discrimination," Rathore says.
Helping the school to successfully fulfill its mission is a passionate group of foreign volunteers. Amelia and Jennifer are part of the group that forms the backbone of Sambhali Trust's work. "Each year, we recruit 25-35 volunteers on long- and short-term basis. The volunteers are asked to do reporting for the projects, write proposals, help with fund-raising, advertise volunteer possibilities and conduct workshops. They are also required to work at the Setrawa centres for at least a month. They live with local families, teach girls at the school, organise community workshops and awareness activities and conduct creative courses in arts and craft," explains Rathore.
South African Kerry Kisbey-Green, 18, who conducted the drama workshop at the Setrawa school last month, gives a glimpse into a volunteer's experience. She says, "Living in Setrawa is challenging. The simple life and facilities are easy to get used to, but I have found the language barrier extremely isolating at times. The family I live with is incredibly kind to me; they really make me feel like I belong here, although our conversations are limited by their limited knowledge of English and my few words of Hindi."
Some of them are also moved looking at the kind of difficulties women and girls face here, especially at the hands of abusive husbands and alcoholic fathers. Talking about it, Djamila Eliane Furthmüller, 23, a student of International Relations at Geneva, Switzerland, says, "I am very touched by the difficult situations and struggles they have to face every day, but I am also amazed to see how well they deal with it and the difference the Trust's work has made to their lives."
The literacy programme of Sambhali Trust started as an offshoot of the three empowerment centres the organisation runs - two in Jodhpur and one in Setrawa - for women and girls, where they are taught vocational skills like textile productions, block printing, screen printing, embroidery and tie and dye. The finished products, such as scarves, handbags, cloth toys and tablecloths, are sold through Sambhali India, a sister company. The company returns 75 per cent of the profit from sales to those who produce them.
Rathore, who has not studied beyond Class X himself, got the inspiration to set up this life-changing Trust from within his home. "I was 14 when my father, an alcoholic, died of heart failure. My mother asked me to drop out of school and run the family guesthouse (in Jodhpur's Raika Bagh locality)," he recalls. "I had a terrible childhood. I witnessed all kinds of violence on women in my house. My grandmother was 12 when she got married to a man thrice her age. My mother was 15 at the time of her marriage. A cousin committed suicide after delivering a girl child, her fourth daughter. I ran the guesthouse for about 10 years and then decided I had to do something for uneducated women, like my mother and grandmother, who suffer silently in our patriarchal society. That's why I founded the Sambhali Trust in January 2007." His mother and wife now run the family guesthouse and contribute some of its profits to the Trust. Rathore also operates tours to help sustain this work.
It all started with the Jodhpur Empowerment Project for Dalit and underprivileged women and girls aged between 15 and 22. A two-year course, running six days a week between 11.30 am and 3 pm, was initiated to help them become independent.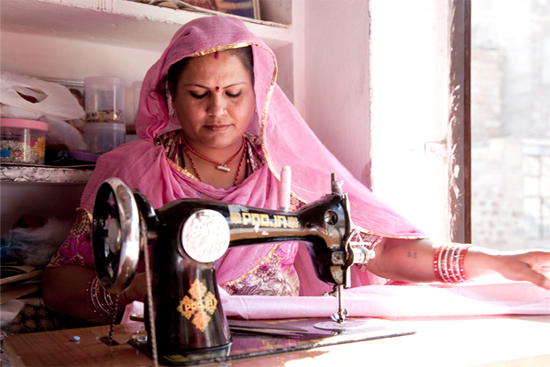 A second project, Payal Sewing Centre, teaches different sewing techniques. Today, 30 women not only learn sewing but are given English lessons in the afternoons. Next came the Setrawa empowerment centre, and the school was started some time later. There's also a mirco-credit scheme, the Sheerni Project.
The Sambhali Trust conducts other interesting events as well, like a photography exhibition that it staged recently in Jodhpur, which showcased the result of a photography workshop that English photojournalist Rowan Lange had conducted for 10 girls at the Jodhpur centre. She had given them cameras and trained them to use it. Meanwhile, work is also on at the Payal Sewing Centre to put up a modern theatre show after German theatre professor Heiderose Lange, 68, and German filmmaker Verena Jahnke conducted a month-long theatre workshop here.
Ultimately, this is about education, not mere learning. By imparting education and life skills, the Trust has helped transform many young girls into bright, confident women who can stand up for themselves, have the capacity to fulfill their dreams and who are also conversant in English. Girls like Sonia Pandit, 19, who has learnt sewing at an empowerment centre in Jodhpur.
She smiles as she says, "I want to become the son of my mother. I earn around Rs 3,000 every month at the sewing centre. With my first salary, I bought myself a gold nose ring and a pair of silver anklets."

By arrangement with WFS