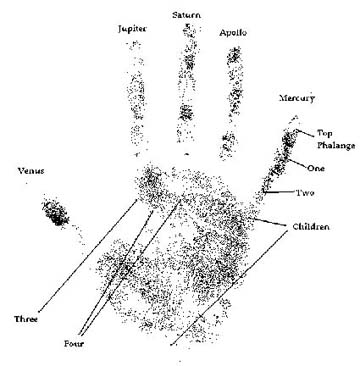 This is the handprint of a young celebrity in a well known British girl's singing group. She came to me because she desperately wants children. Her main concern is whether to leave the group for a solo career, fitted around her planned family.

Now, let's look at that palm print to see if we can solve her dilemma. This palm-a-scope shows difficulties bonding with the father in childhood, a problem that has continued into her adult life. This is typical in a hand with a very low set, and slightly curved mercury finger. ( 2 )

Psychologists tell us that every relationship we ever have is subconsciously based on the first one with our parents. In this case, the paternal relationship, was loose or dysfunctional. This has led our lady friend into later unsatisfactory relationship situations. Palmer psychologists refer to this as C.R.D or childhood relating difficulties, and this inner patterning can carry on throughout our life.
She is a classic C-type personality, and is good at keeping secrets, she also bottles up her feelings, and is afraid of hurting others. She occasionally blows up to release the inner turmoil. This is seen because the little finger is shorter than average, and low set, with a strong curving heart line.

She is sensitive, caring, artistic, and spiritual, and puts others before herself.
Most of her emotional hurts have been because she wanted the best for others. She exhibits a wide range of romantic feelings, which makes her delightful company. Her heart will always rule her head, now an unfashionable trend with many young women. Her deep need for love and appreciation roots back to her father who was unable to express his love. This manifests in our lady friends compensatory need to care for others.

The lifeline, particularly at the transitional age of fourteen, is sluggish. ( 3 )

The many lines show sensitivity and anxiety. The whole hand is one of constant self analysis, and the low setting of the mercury finger tells us of difficulty in speaking out. She suffered from self consciousness and shyness in school at this age, she had a streak of inhibition where she felt awkward and anxious, remember only 7% of communication is verbal, so 93% is in other areas.

A beautiful feminine hand goes with a beautiful feminine girl. At 18 years of age, she had thoughts of a serious romance. ( 4) She desired to share her creativity in fashion and beauty which ultimately will manifest in acting ability. But at present, her singing talent, sense of humor, and feminine appeal have paid dividends.

She has strong self confidence in all areas except emotionally and sexually. (1) and (2) There she is not at peace with herself and it is here that her main "bottling up" shows.

This is a common sign with a strict Christian upbringing, where even when married the need for love and sex has become suppressed for so long, it can remain ingrained for a lifetime, so particularly with women many tragically never get to know themselves in these areas.

I advised her to not marry until she is 24 –25 years of age. There is a time in our lives for sowing and one for reaping. Her emotional harvest is ripe at this age. Not before.

I advised her not to break up her successful girl's group. Now is not the time for her to go alone, the groups proposed tour of India has omens of great success which she must partake in.

I counseled her to discuss her longing for a child, and need for time. Eventually she will progress to acting, but not yet. She would do well in any aspect of show business and at the age of 33, around October, her lifeline says, this is the time to celebrate a great achievement. Her hand speaks of business ability, the urge to write and be artistic, and her great ability to love will find expression in all these areas.

Her romantic profile is one of great beauty, she would and does make great sacrifice for those she cares for. At some time she will have love for, a Leo, an intellectual Gemini, and a Sagittarian with a commitment phobia. This shows in the first or Jupiter finger. The fingers have twelve sections or phalanges in which the small lines come and go. Starting from the tip of the Jupiter finger, I work down the phalanges. For each of the twelve sections I substitute a month or a star sign. This is one of palmistry's big secrets for divination, the marks on the individual phalange will tell the particulars, strangely in medieval times before the Astrologers fell from favor over the heliocentric universe theory, the Christian monks would teach Astrology, Numerology and Palmistry.

The 12 sections were named after the apostles.

Our subject can be fretful and a worrier. I advised her to be aware, but don't worry that she will have minor problems and delays getting pregnant and carrying a baby.

Just make sure it is after the karmic year of age 24-25. Two children show quite plainly. The children are the standing lines from the relationship lines under the mercury finger, ( but taken singly, are not the most reliable of signs)

The bowed top bracelet line has been known since roman times as a sign of difficulty in carrying or falling pregnant and this is slightly marked here.

Each branch coming down from the heart line tells of a disappointment, and she has had her hurts. Time for her to push them into the past but learn from them. I told her to let go of the insecurity in love, home or future…all is well. "Happy palmistry"


T. Stokes is a long established palmist who lives in England. He writes for several magazines and is well known as "Britain's psychic agony uncle". He is available for palm readings by contacting him at palmist@fsmail.net. He also does lectures on this and similar topics, and has performed numerous healings and exorcisms around the UK.