Prematurely born, little Babu weighed just 800 grams at birth. Considering that over three-fourths of neonatal deaths occur among infants who are born with low birth weight - weighing less than 2.5 kilo at birth - and that the state of Bihar, his birthplace, sees about 250 neonates die every day, his chances of survival were bleak. Neither his mother, Kajal Devi, a resident of Vaishali district, nor her family, thought he would make it. In fact, his case was a big challenge for Dr Matin Parvez and the team of nurses at the sick newborn care unit (SNCU) in Vaishali.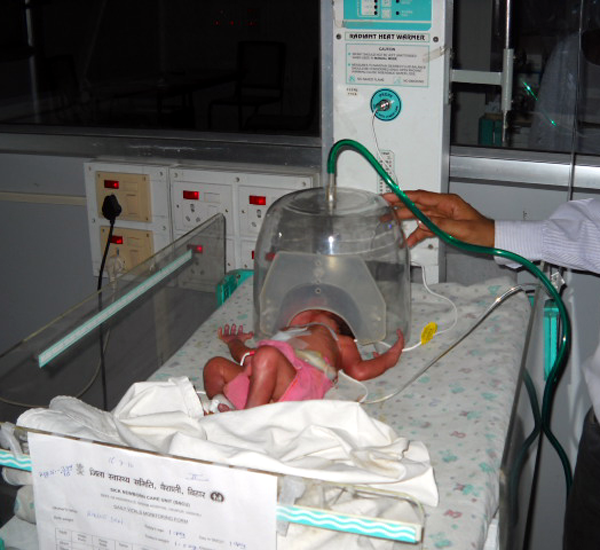 Baby Babu, however, beat all the odds. Severely anaemic, he had to be given blood transfusion twice; his body was too frail for the ventilator so he had to be given ambubag care with oxygen round the clock. In ambubag care a self-reinflating bag is used during resuscitation for artificial ventilation.
Call him a regular little fighter or a miracle child, but Babu was lucky enough to get timely specialised care that saw him through the tough times. "The chance of survival of a child who is less than one kilogram is very poor. He [Babu] was lucky that there is a SNCU in Vaishali and he was able to come here," says Dr Parvez.
What's so special about the SNCU? For starters, it's a facility that is not affected by power cuts because there is back up in the form of a generator. And the biggest advantage, according to Dr Parvez, is that it has an oxygen concentrator that makes oxygen directly from the atmosphere. So, there is no need to wait for the refilling of oxygen cylinders. "This is why we could also keep Babu in the SNCU for one-and-half months till he gained weight and was healthy enough to go home," he adds.
So had it not been for the SNCU at the Maternal and Child Health (MCH) Unit in Hajipur, Vaishali, Babu would have become another statistic in Bihar's high neonatal mortality - or the probability of dying in the first month of life. Around 90,000 children die every year within the first month of their birth in the state.
Because the maternal and child care facilities have been abysmal - contributing to the state's high mortality rate - the SNCU, that is part of the Comprehensive Newborn Care Initiative (CNCI) developed by the Bihar government with technical support from UNICEF and the National Neonatology Forum, has been set up.
And the SNCUs have proved to be a boon for critically sick newborns. The number of children in the age group 0-2 months, admitted in these units has almost doubled from 53,987 in 2009 to 90,236 in 2010. While the number of SNCUs in the state has gone up from four to eight, the number of neonatal deaths declined in the corresponding period.
In Hajipur, where the first SNCU was set up as a pilot project, the number of admissions to the unit rose from 1,200 in 2008 to 2,500 in 2010. There has also been a small drop in the percentage of newborn deaths from 10 per cent in 2009 to nine per cent in 2010.
According to Dr Parvez, in Vaishali this has been possible because of people like Parbati Devi, a 'dai' (midwife). Surprised? Don't be, because Parbati helps the nurses at this SNCU and keeps a hawk's eye on all the newborns admitted. She is always around to ensure every child is breathing properly and, if something is wrong, she calls the nurse or doctor immediately. Parbati's contribution may be invaluable but she is modest about her role, "I feel very bad when I see these babies struggling for life. I don't think I am doing anything special by looking after them. After all, I am a mother too."
So whether it is from Samastipur, Siwan or Chapra (also known as Saran) - districts that neighbour Vaishali - it is little wonder that people flock here from near and far to admit their children. Take Ruby Khatun. The lungs of her son had not developed fully when he was prematurely born last June. And although they are residents of Saran, they rushed him to Hajipur. Suffering from a combination of respiratory problems, recurring apnea with a heartbeat less than 100 meant that he needed resuscitation and had to be given the ambubag care. This specialised equipment and dedicated care saved his life.
According to Patna-based Sanjay Kumar, Executive Director, State Health Society (SHS), the SNCUs have contributed towards a decline in state's infant mortality rate (IMR). Bihar has reduced IMR from 56 per 1,000 births in 2008 to 52 per 1,000 in 2009 (SRS 2009) and is now only two points below the national average of 50 per 1,000 live births.
Moreover, Kumar contends that the CNCI has the potential to save up to 60,000 newborn lives every year as it provides for newborn care at every level. The initiative adopts the integrated management of neonatal and childhood illnesses (IMNCI) approach comprising a newborn and child health package of preventive, promotive and curative interventions.

Now, all newborns in Bihar receive home visits, thanks to IMNCI, in the 24 IMNCI districts. In fact, Bihar is the first state in India to integrate the facility based care package with the IMNCI to manage referred sick children in hospitals. A pool of 76 facilitators has been created and 400 MOs (Medical Officers) trained so far.

A state-of-the-art Neonatal ICU (NICU) at the Patna Medical College Hospital, Patna, has been identified and developed as an online consultation centre for district level cases through telemedicine. At present this unit is connected to Vaishali SCNU for online consultation. There's also a New Born Care Core Committee that meets every three months to give advice to the SHS as well as to the government for enhancing newborn care practices in the state. The recently held meeting of this committee reviewed progress made in 2010, which was celebrated in the state as the Year of the Newborn, and discussed plans for inter-department convergence so that a roadmap for the next two years on comprehensive newborn care could be developed.

There are more than 12,00,000 malnourished children in Bihar and this poses a great challenge in the field of newborn care practices. However, with proper utilisation of the existing infrastructure and available resources, neonatal mortality can be substantially reduced. So while the state has achieved success in improving immunisation and institutional deliveries, it needs to continue to focus on the neonatal phase in a baby's life in order to bring down its infant mortality rate further.

By arrangement with WFS