My Friend Sancho : Amit Varma; Hachette India, pp.218, Rs. 195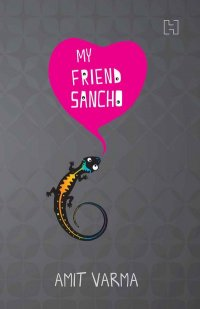 The love and romantic stories are always fascinating and perennial stuff. The old wine in new bottle is the popular axiom. What will be the reactions of a young journalist when he comes across a naïve, considerably pretty young girl also a pathetic victim of a misadventure of Mumbai Police?
Abir Ganguly works for a Mumbai tabloid Afternoon Mail. He is commissioned into service to cover mainly the crime beat. Thombre, the inspector of police is Abir's friend. He invites him for one of his adventure of arrest of some antisocial elements. But unfortunately that turns out to be a shoot out in which a man is killed.
But, the tabloid a few days later asked Abir to write a human angle story of the victim of that incident Muneeza the miserable daughter of the dead man. Abir's encounters with that unfortunate girl develop into a friendship which ultimately culminates, you guess it, into the matter of hormones. Will Muneeza accepts Abir's love when she comes to know that he was a witness to that murder scene with the police officer?
Amit Varma's narration is simple, cranky, queer, comical and at times bizarre. He oscillates between silly and seriousness at times. The enjoyable aspect of the narration is probably its frankness without any artifice and especially the fully erroneous way the police man Thombre narrates his life in his English.
One could identify with the characters but could not sympathize for them. They will be like that and they have to be like that only. In a way, it is a new gen romance.
Do you like to read one more love story without any seriousness in it? Go for this book. You also will enjoy it like the lizard in Abir's flat.