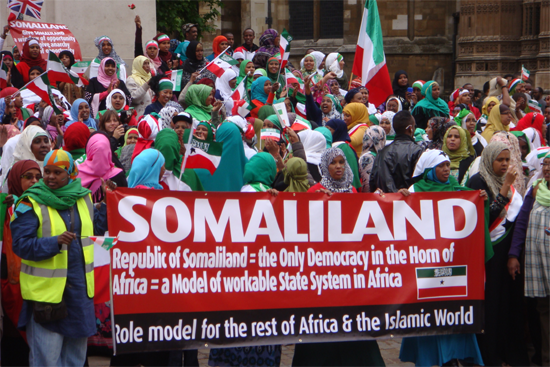 Opposite the Mother of Parliaments between 4-5,000 Somalilanders gathered to mark the twentieth anniversary of self-proclaimed independence. In the shadow of Westminster Abbey and under the seemingly watchful eye of the statue of King George V (grandfather of Queen Elizabeth II) assembled a peaceful and jubilant crowd eager to articulate to the world the just nature of their cause. A mass of red, white and green brought some welcome additional colour to Westminster along with the joyous chatter, chant and song. To bemused passers by the scene must have been a curious one, a crowd exuding positivity so at odds with the media stereotypes invariably peddled in connection with the Horn of Africa.

Here was Somaliland and its friends eager to be seen and heard. Men, women and children had flocked to London from all over the United Kingdom to mark this red letter day, others too had come from further afield, with visitors from Holland and Scandinavia present to demonstrate their solidarity with the cause. Rarely had the Metropolitan Police encountered such a good natured crowd, one officer described the scene as akin to a garden party, whilst the police officer in charge, Superintendant John Morgan made a point of congratulating both the organisers and the thousands present; "Rarely have I met such a friendly, motivated and welcoming people –a great people."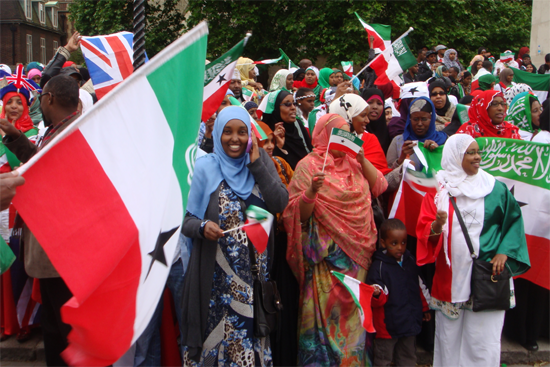 For all the flag waving and ululation, here was an assembly of Somalilanders gathered with a dual purpose; to mark a significant anniversary and to ask the world to move the light on from amber to green in regard of international recognition. Banners and posters declared their message:
"Somaliland fulfils the condition of democracy"

"Recognise Somaliland. We deserve it"

"20th Anniversary yet resilient Somaliland is not being recognised"

"Somaliland Succession from Somalia is Irreversible"
The coming together of this Somaliland family whilst an occasion filled with considerable rejoicing at what had been achieved was equally determined to make clear the desire to push on with or without the blessing of the international community. Salma A Sheik who lives in London was one of many eager to voice her views; "We want to let the world know that we have moved on – on our own, no one can force us to unite or reunite with anyone." She went on to express gratitude to the British Government for its practical help given to her homeland. Sahra Ibrahim Daud of Ham, West London appealed to Queen Elizabeth II to help Somaliland on its onward journey.

Muna Hassan Noor and Kinsi Hayan had both travelled from South Wales (representing Somali Women Cymru) they echoed the sentiments about the British Government and felt that full recognition would be important to their children who had been born in the UK. As they spoke yet more people poured in from nearly every corner of their adopted home; Birmingham, Bristol, Cardiff, Leicester, Liverpool, Manchester, Milton Keynes and Northampton to name but a few. Shamarke Mohamed from Liverpool proudly carried his placard that declared; "Equality and Justice for Somaliland", whilst Hassan Kosar who lives in Wiltshire was convinced that recognition is very near.

"Recognition" was the word that seemed to be on everyone's lips. The motivation of the day was clear. Mohammed 'Diridhaba' Hasan from the Midlands voice his feelings; "...this is about belief and indignation. We want to ask the international community – Why? We have worked so hard and would like to see Great Britain take a lead in helping us gain the recognition that we deserve." Mohamoud A Daar (Representative of Somaliland to the EU) spoke of the achievements that he felt meant that Somaliland deserved recognition; " ...just look at what has been achieved in education, health and in the clearing of 2 million landmines. We have developed a constitution, held peaceful local and presidential elections and have constructed a functioning nation. This is a very significant day. This is becoming an issue that warrants debate not just in the British Parliament but across the world."

For all the warm words about the role of the British Government, some present were saddened by what they see as official procrastination by the Westminster Parliament and the Foreign & Commonwealth Office. One young smart suited professional, Mohamed Ali from West London made clear his views as he glanced across at the Houses of Parliament; "We don't want lip-service from politicians. There is all this talk about "imposing democracy" on other nations. Well Somaliland has democracy and it is time that it is given the recognition it deserves." Many present felt that British policy makers were reluctant to set the pace and as such were missing out on a golden opportunity. A sentiment repeated time and time again by British individuals who were at the celebration rally.

Official representatives of the Government of Somaliland were naturally somewhat more guarded in the comments. Mohamed Haslin, the Minister of Aviation & Transport declared his satisfaction with the events; "I am glad and pleased with this participation in this act of self-determination. It is a message to the international community and testifies to the will of the people." Dr Ismail Mumin Aare, the Minister of Justice felt that recognition was; "One step away.". Whilst Ali Hamud Jibril, Vice Minister of Education appeared visibly moved as he surveyed the assembled throng and declared; "Words cannot express how I feel today.". To the likes of Sultan Adam the day was rich with symbolism he felt that after years of patience Somalilanders were finally beginning to sense change.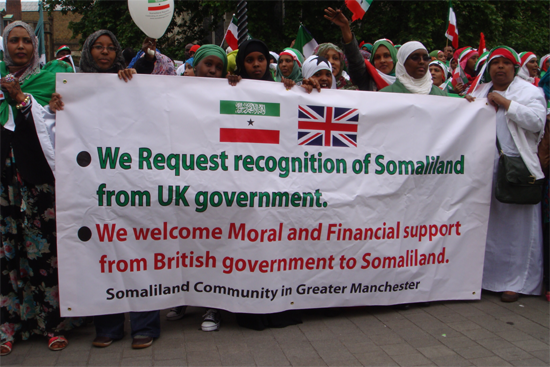 The young have a desire for change and are hungry for it too. Whilst there were generally warm words for President Silanyo, many felt that the Somaliland Government and Ministries had far too many figures who could easily be seen as impediments to change. Time and time again bright, articulate and fiercely patriotic Somalilanders expressed a desire to see more young talent, fresh opinions and greater pragmatism. The age of schemers and has-beens is over. Such was the passion behind these sentiments that President Silanyo would do well to take heed and weed out the ministerial "dead wood" if he really desires to continue to nation building with confidence.

Whilst those present were clear about what they want, they were equally adamant about what they do not want. There is to be no return to Somalia. The leadership in Mogadishu were spoken of with sadness, not malice. All present made clear that they wish their fellow Somalis well, but feel that for the time being at least, as Somalilanders they must make their own way in the world. Essentially the whole day was one of enormous positivity embodied by the young present. Ahmed Ibrahim, a 10 year old from Stratford, East London beamed as he proudly told me that; "We are here to celebrate our country's 20th Anniversary. We have our own country, our own President and Somaliland is happy and peaceful.". His 11 year old cousin, Mohammed Ibrahim, from Ilford, East London spoke with equal pride; "Today has been terrific.". When asked what he would say to the British Prime Minister if he had the chance, he replied; "Thank you for all your help, the community support and for the British Government and the Police for allowing us the time and space here today.". To those cynics who doubt Somalilanders' commitment to their country's future Omar Ali from Camden, North London and Khadar Ibrahim from Bristol left me in little doubt, when asked if they would like to return to Somaliland they replied with an emphatic "YES!". If Somaliland can harness such conviction and enthusiasm, Inshallah it will surely move from amber to green before too long.