Malcolm Gladwell is the author of a best-selling book based on social science that defines a tipping point as "the moment of critical mass, the threshold, the boiling point."
Tipper Gore is the woman now divorced from her husband, former Vice President Al Gore, a prominent social activist, after 40 years. In June 2010, she gave notice just three weeks before allegations of sexual abuse by her husband against a massage therapist in 2006 hit the national news.
With a tip of the hat to Gladwell and Gore I define the "Tipper point" as the moment of critical mass, the threshold, the boiling point where a wife can no longer stand for the sexual philandering, sexual abuse or gross misconduct of her rich and powerful husband. I just wish more women reached this point more quickly. It would do a lot of other women a lot of good and might have altered the recent double feature of sex scandals.
First came Dominique Strauss-Kahn, head of the International Monetary Fund, accused of sexually assaulting a hotel worker in New York. The woman involved didn't follow the code of silence that is widely reported to protect French male elites. Instead she reported her story to police and Strauss-Kahn was forced to trade in his Frette sheets at the Sofitel for a cot at Rikers.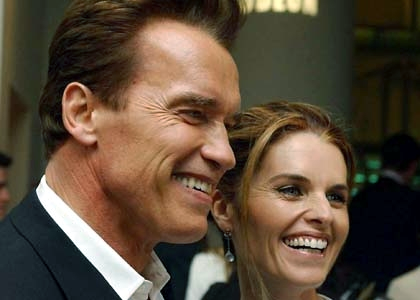 Then - in a "can you top this move" - Arnold Schwarznegger, former governor of California, announced that he fathered a child with a family employee 10 years ago. Apparently he'd provided his wife of 25 years, Maria Shriver, with that information a few months ago. Having a baby with a woman who worked for the family for over 20 years shoved Shriver over the Tipper point, past what had long seemed like a "stand by your man" form of martyrdom. She left him. Too little; too late.
"This is a painful and heartbreaking time," Shriver said in a press statement. "As a mother, my concern is for the children. I ask for compassion, respect and privacy as my children and I try to rebuild our lives and heal."
The problem is that being the wife of a man with immense power - including over numerous women - is actually a role of much public consequence. As we used to say in the 1970s, the person is political. Especially for women intimately involved with influential men.
Eight years ago, during Schwarzenegger's 2003 campaign for governor, women came forward to say he had groped and sexually abused them on the set. Shriver stood behind his staunch denials and went further. She applauded his character and went on the attack against his accusers. Imagine how these women felt. First they went through the degradation of being groped and sexually abused by Schwarzenegger and then, with help from Shriver's deflections, they suffered the humiliation of being pegged a liar. What Shriver did seven years ago in standing up for her husband was wrong. Her behaviour perpetuates a social code that protects predators and undermines women who try and do stand up against abuse.
What if Shriver had stepped up and confronted her husband? There could have been severe consequences. He could have lost the election. She could have been excoriated by her husband's backers. By this time, however, her family's healing could be much further along. And Californians might have had a different governor.
Strauss-Kahn's wife, the New York-born Anne Sinclair, appears to be following Shriver's misguided footsteps. In 2007 when allegations surfaced that Strauss-Kahn sexually assaulted a young French writer, Tristane Banon, Sinclair said nothing. In 2008, when her husband admitted to an affair with a subordinate, she wrote on her blog: "We love each other as much as on the very first day."
Now Sinclair is standing by her husband and protesting his innocence, offering to put up the million dollar bail, which the judge rejected, seeing Strauss-Kahn as a flight risk. Since the United States has no extradition treaty with France, New York courts are apparently avoiding another Roman Polanski-like situation. In 1977 filmmaker Polanski was charged in California with having sex with a 13-year-old and fled to France to avoid sentencing. He refused to return to face the consequences here and now lives free in Paris.
Sinclair has another chance to choose confrontation or complicity.
Banon, a goddaughter to Strauss-Kahn's second wife, stayed silent in 2007 on the advice of her mother. Now - spurred by the courage of a West African immigrant woman who stood up to speak her piece in New York court on Wednesday - Banon is planning to reopen her case and make a complaint. She has been quoted as saying she wants to put a stop to Strauss-Kahn's behaviour like a "rutting chimpanzee." He currently faces charges for attempted rape, sex abuse, a criminal sex act, unlawful imprisonment and forcible touching. He could face up to 25 years in prison.
Once a frontrunner in the upcoming presidential race in France, Strauss-Kahn attributed his difficult time in politics to "Money, women and the fact I am Jewish." He added: "Yes, I like women ... so what?" Likes women? I shudder to think how he'd act if he didn't like them.
I wonder what Sinclair's Tipper point might be? Or for that matter, many other women, including Secretary of State Hillary Clinton, who, after silently supporting her adulterous husband through his numerous public affairs, suffered through the humiliation of him being impeached for lying about an affair with a young intern.
Elizabeth Edwards reached her Tipper point only months before she died. For years her presence at John Edwards' side protected the North Carolina politician and presidential aspirant from rumors that he cheated. Then came news of his "love child" and she was gone.
There are plenty of other wives to wonder about and wish they'd reached their Tipper point sooner. Jenny Sanford of South Carolina did finally leave her adulterous husband Mark Sanford, the governor of South Carolina, who became scandal-embroiled after he left his post under the cover story of hiking the Appalachian Trail when he was really visiting his mistress in South America - on the state's dollar.
Dina McGreevey's husband, Jim McGreevey, resigned as governor of New Jersey after he disclosed an affair with a man. Yes, she stood there by his side. But they too later divorced.
If women stand up sooner it could help women who try to speak up about sex harassment and sex assault.
Consider Mike Savage's recent radio talk show, which spent time on the host's theories that Strauss-Kahn was "framed" and gave air time to callers who trashed rape accusers as "liars." The right-wing Savage has little in common politically speaking with the "caviar Socialist" Strauss-Khan. But when it came to the spectacle of an anonymous woman challenging a powerful man, Savage and his ilk circled the wagons.
Wives who don't stand up for themselves support a culture of impunity for male power and reprisal for women who dare to challenge them.

By arrangement with WFS / Women's eNews