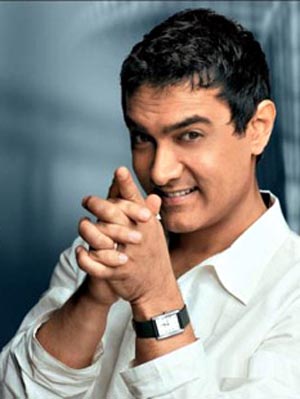 The actor who is portraying a 21 year old college student in a forth coming movie at the age of 44 has come to be recognized as one of the main proponents of Indian cinema in India and abroad. Such is the dynamism of his mind laden with sense of visuals and sounds that movies he has worked in of late in mainstream Hindi cinema have turned out to be best or even markers of excellence. Though a film can never be called a one man effort but the stamp that he leaves behind is redolent of his contribution to its final shape. What does this diminutive actor bring with him that makes any project associated with him in any which way a hit with cine-goers? Does he succeed every time in the perfection that he craves to attain or the class that his work exudes is conspicuously absent in other movies? Or has he transcended the ken of a Hindi film hero?

Thinking of the leading 'Khans' of Hindi cinema an urge tempts me to see quite blasphemously Aamir Khan, possessor of acute cinematic sense as our generation's Raj Kapoor, Shah Rukh Khan, with his starry appeal though not in the same league when it comes to acting but yet as today's Dilip Kumar and Salman Khan, an ultimate debonair charmer as contemporary Dev Anand.

Raj Kapoor, for all his great acting skills which were more sharpened than many of the successful actors of his time and even contemporary ones was a greater director than an actor. He owned a mind that understood the language of populism and aesthetics alike as no one else did in his time. Though he never bettered himself after having had the zenith of creativity and aesthetics with Aawara and Shree 420 he continued to entice viewers with his films with the sole exception of his magnum opus though too ornate but still museum-able Mera Naam Joker.

I believe Bengali filmmaker Bimal Roy was the greatest in Hindi cinema but the dexterity of Raj Kapoor in exhibiting non discrimination amongst his audience from across the country and even abroad was unrivalled. Same holds true of Aamir khan. He is a good actor and can boast of penetrative understanding of show business as an artist as well as a seller.

In 2007 when Aamir Khan got hold of directorial baton of Taare Zameen Par after being disillusioned with the direction of Amol Gupte, the writer of film's excellent script, he must have found himself against the hard buffeting of mettle proving. A good script is half the battle won for a director. A good director may need a good script to make a great film but a bad director only needs himself to make a mess of all the good resources he has at his disposal. This corollary at least drives home the point of Aamir Khan being a good director. His vision of animating on screen Amol Gupte's intellectually stimulated and somewhat maudlin ideas helped Taare Zameen Par become a path breaking film as it stands today in the annals of Hindi cinema.

Besides this the mystery of average directors coming up with good films and good directors enabling themselves to touch the horizons of greatness working with him lurks a lot of inexplicable but clearly written on the wall in it. He may find it difficult to bring another Lagaan for his audience but the body of work that he has exhibited over the years helps us believe that another film surpassing standards set by his home production Oscar nominee film is not impossibility. With passage of years mainstream Hindi cinema is finally coming of age and is extricating itself of all the stereotypes it had been incarcerated in for so long. Not to say that it is happening only now but the area for it to have its limbs stretched and imagination winged is definitely expansive now. An artist like Aamir Khan will only be more efflorescent in this atmosphere.

Much has been written on Aamir Khan's obsession with perfection but perfection is a chimera. Man can only push the envelope which hinges upon a positive obsession with work at hand. Aamir Khan's success hasn't sprung only from his obsession but also from his unique relationship with images that helps him grasp their capability to smitten eyes and minds with an adroitness that is rare. A movie is driven as much from its ostentation quotient as from its content and presentation. Presentation depends upon talent and thinking and then execution. But it is thinking that holds talent and execution together. This is where Aamir khan not the actor but the thinker reigns supreme in the firmament of Hindi cinema. Thinking acts as the pair of oars to help the boat of assiduity cut through waters of obstacles, physical as well as psychological.

Malcolm Gladwell, one of the 100 most influential people according to Timemagazine, is right when he endorses the power of intuitive decision making in his best seller 'Blink' but this works only as long as the beginning is yet to begin. As the famous American director Frank Capra once put it, "a hunch is creativity trying to tell you something", once the decision has been taken powered either by brainstorming or intuition thinking takes over. This cogitation, swaddled around hunch which Capra alludes to, encapsulating all possible aspects of a film stands Aamir Khan in good stead. It helps him transcend the role of just an actor and comprehend the medium of cinema in the entirety of its magic and appeal. To see Aamir only as an actor will be like fixing gaze at one corner of a great painting.

As an actor though Aamir tries to get under the skin of character through method acting but falls somewhat short of the range and pliability the greatest proponent of this art of acting at least in Hindi cinema, Naseeruddin Shah exhibits. Has he learned all the ropes of acting? The answer is unequivocal no. Be it 'Sarfrosh, Lagaan, Dil Chahta Hai, Mangal Pandey or Rangeela or Ghulam Aamir looked and sounded every inch the character he portrays quite unlike most of leading Indian actors yet what Balraj Sahni did in Do Bigha Zameen and Kabuliwala or Dilip Kumar inDevdas or in recent times Naseer in Aamir starrer Sarfrosh eludes him. Last year'sGajini that presented him as a patient of short term memory loss with a violent streak in pursuit of revenge offered him a great character but script emphasized only on one superficial aspect of the disease hence robbing him of a chance to do something more serious with the possibilities that lay there. I would rate his performance in Rang De Basanti unimaginatively closest to what the character demanded.

Actors in Hindi cinema especially stars need to have a style to establish a rapport with their audiences but any actor who is easy to be mimicked should be content with being called an average actor. Though if mimicry is inspired from the character he or she has played than the actor deserves kudos like when late actor Amjad Khan played Gabbar Singh, notorious chief of a gang of bandits, in ultra successfulSholay his style of essaying that character became a household time-pass. The mimicry that he inspired flowed out of Gabbar Singh not of Amjad Khan nor did he ever repeat the intonation of dialogue delivery and expressions that he used inSholay. Same can be said of Naseer's depiction of a Phiroj Shah in that nice filmPestonjee which is even difficult to mimic.

If the remnants of any character that an actor plays seep into his next character set in different ambiance then it signals the failure of that actor to evolve. This distinction makes art of acting easy or difficult. If the entire emphasis is only on right expressions and diction then acting is easy and amateurish and can hoodwink even discerning minds into being called 'great' if is part of a great film. But if the effort is aimed at letting the shades of character overwhelm the personality of actor in such a way as to let the slight veneer of self consciousness guide the entire process of depiction then myriad things come into perspective of portrayal and acting becomes complete albeit exhaustive. To a great actor this exhaustion may cause enervation physically but mentally brings only sense of fulfillment and a feeling of triumphant.

Did we ever get to see Balraj Sahni of Kabuliwala and Do Bigha Zameen outside these films? The answer is an emphatic no. if this answer had been yes, Kabuliwala would have remained highly educated and poor rickshaw puller of Do Bigha Zameen would have had a rich pocket in his rags. Didn't Russian actor and theatre director Stanislavski strive for inner truth in portrayals? I hope Aamir Khan being Aamir Khan, the wait for us won't be long before we sing paeans of his acting skills too. Anyway it is only when his skills are measured against most exacting standards we get to see holes to be filled.

Nonetheless, Aamir Khan has set new standards for contemporary Hindi cinema to be followed. Despite being a superstar he has consistently staved himself off from playing only names and instead allowed characters to walk into his selfhood in his entire career but especially in the current decade. He has evinced in strong measure that it is possible to be a nonconformist and still be successful. At 28 he played a school boy in Jo Jeeta Wohi Sikandar and a passed out yet inside graduate student in Rang De Basanti at 41 and now at 44 we will see him as a 21 year old IIM student in Three Idiots. This is a trajectory one needs a strong pull in the cockles of heart to have realized. 25 years after his adult debut in a feature film called Holidirected by Ketan Mehta, Aamir Khan still remains afresh and new. His playing a 21 year old student after being 25 year old before camera (excluding his brief work as child artist in Yadon Ki Baraat in 1973) stands a testimony to the aroma of youthfulness his mind and body exude and daring his artistic demeanor is capable of.

Aamir Khan's sporadic interventions in the matters relating to social causes likeNarmada Bachao Aandolan and appointment of Chief Central Information Commissioner of Mumbai and his views on subjects like terrorism and politics ought to be welcomed and admired deeming that many of those who do exercise considerable influence on the collective consciousness of this country most often prefer to remain mum. Recently Peepli Live, a film produced by Aamir and directed by debutant Anusha Rizvi made it to the prestigious Sundance film festival slated to be held next year in January in US marching its way through 1000 entries to be among 14 selected. This little artist descendent of late Congress leader Maulana Abul Kalam Azad has his strides long and colossal. Indian cinema and viewers stand beneficent at having been able to witness and savor these grand but art laden footprints.