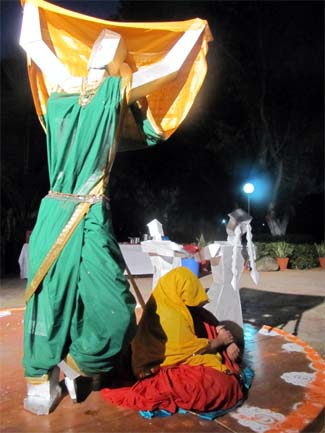 The world of a woman playwright is a lonely one but the drama that women playwrights create and often perform themselves encompasses a world of themes - from relationships, motherhood and child-rearing to war, music, historical accounts of women achievers or everyday stories of everywoman. The recent 8th International Women Playwrights conference, with the theme of 'Liberty and Tolerance', brought together around 300 participants to Mumbai, a third of who came from 20 countries across the globe, including Sweden, Norway, England, USA, Canada, Indonesia, the Philippines, Sri Lanka, Pakistan, China and Australia.

At the week-long event, organized jointly by Mumbai-based Stree Mukti Sanghatana and the Academy of Theatre Arts, University of Mumbai, at least 17 critically-acclaimed plays written or devised by women were staged, including Usha Ganguli's 'Rudaali', based on Maheshweta Devi's novel; 'Miracle in Rwanda' on the true story of Immaculee Ilibagiza; and 'My Mother, the Gharwali, Her Maalak, His Wife', performed by Sangli-based sex workers on their lives. Besides, there were more than 50 play readings, a special showcase of plays from Sweden and the US, and panel discussions on using theatre for social change, on the dilemmas before women directors, the challenges of modern acting and the making of theatre with a difference.

Commenting on the conference theme, Jyoti Mhapsekar of Stree Mukti Sanghatana, who has been part of Women Playwrights International (WPI), said that it was an attempt to highlight the voices and concerns of women on violence. Women do bring a unique perspective to their writings, felt Anna Kay France, a pioneering woman playwright from the US, who had started the first such gathering in Buffalo, USA, in 1988. Said Anna, "Women write about everything - war, children, family, motherhood, they are particularly good at dealing with the mother-daughter relationship, even about men. But they write from a woman's point of view." She added that while she loved Ibsen and adored Shakespeare, she still felt that when she watched a play written by a woman, "that the actors were talking from my head".

Back in the 1980s, while living and working in the US, Anna realized that women playwrights needed to work together. As she elaborated, "There are several women who write - there are novelists, poets, non-fiction writers and they get published. But the nature of theatre is to go into the public arena. Drama is a form women traditionally use very effectively and while several women who write may have sympathetic ties with the women's movement, it is in drama that the voices and concerns of women are enacted publicly."

But given the political turmoil in several parts of the world, for women - artists or otherwise - to get together is still a struggle. Madeeha Gauhar, director of the well-known and courageous theatre group of Pakistan, Ajoka, was unable to bring her troupe to Mumbai as they were denied visas with security issues being cited, given last year's Mumbai attacks. With her country facing terror attacks of its own and educational establishments shutting down temporarily, the troupe has also had to temporarily suspend its performances in Pakistan too. For Ajoka, which performed secretly in private spaces during the Zia ul Haq regime, this situation is not new.

"Terrorism is about violations but it is also about injustice," said Ratna Sarempaet, Indonesia's celebrated actor and playwright, adding that the public articulation of women's voices can be a threat to the powers that be. She spoke of how she was prohibited from performing her well-known play, 'Marsinah Menguggat' (Marsinah accuses) about the death of a female trade union activist. "I didn't bring a gun. They locked me in the theatre and stopped the performances - that's the power of the play," she said, adding that writing is the power of the woman playwright and she must use it to speak up.

Sarempaet also articulated the increasing isolation she felt in a changing Indonesia, where despite a woman being the President the status of women was deteriorating amidst growing poverty. Her film, 'Jamila and the President', a comment on corruption and trafficking, adapted for the screen from her play, has been selected as Indonesia's entry for the forthcoming Oscars. Moving towards films, as a medium was only a means to reach out to a wider audience, she said, although theatre continues to be her first commitment. She is currently working on a play on the 1999-2002 ethnic conflict in Maluku.

Other playwrights have also transited into cinema. Linda Parris-Bailey, executive director of the acclaimed Carpetbag Theatre company based in Tennessee, USA, said that her ensemble theatre company has been working with the digital medium lately but there is nothing the experience of bringing people together in a room like theatre does. Carpetbag has taken up the issues of sexism, racism, ageism and homophobia, and they work closely with the marginalized communities to retell their stories. Linda's well-known play 'Dark Cowgirls and Prairie Queens' uses storytelling and song to describes the lives of seven Black women of the American West.

An interesting aspect of the work of women playwrights is that a substantial number of them are also performance artists or actors who either eschewed acting for writing or continued to write and perform their own work. Perhaps one of the reasons for this was the fact that too few plays were written for women and, when they were written, performing them or staging them in mainstream theatre was and continues to be a uphill task. Examples abound, including those performed at the conference - Rabajita Gogoi from the Northeast (who conceived and directed the play 'Technicolour Dreamz 2', a musical play about the search for identity and the dilemmas faced by youth, performed by Dreamz Unlimited of Nagaland and Jirsong Theatre of Assam) or Mumbai-based Jyoti Dogra (who performed 'The Doorway' about closed and open spaces) or Margaret Skantze of Sweden, who wrote and performed 'Black Madonna', a monologue about challenging the traditional image of Mary, the mother of Jesus, as a subdued and obedient person.

Another trend, said Sandra Shotlander, veteran playwright from Australia, was that an increasing number of women were writing and performing monologues, adding that she would like to see more dialogue in theatre. The Indian theatre groups seemed to be an exception, she observed, as several actors performed stories from mythology or told their own life tales. Sandra's 1983 play, 'Framework', on the search for a sexual identity, managed to break into mainstream theatre and is still relevant today, despite the decline of the women's movement. "It was performed a few years ago in Melbourne and I'm happy that a new generation has taken it over," she said.

That the themes women write and perform strike a universal chord that cuts across not just generational, but also cultural and linguistic barriers, was beautifully put by Sushama Deshpande, actor and director, famous for her Marathi play and performance of the life of Savitribai Phule, 'Vhay, mee Savitribai aahe'.

"I remember the performance of a Korean play on the Japanese occupation performed in the Philippines. A Japanese woman in the audience bowed down to seek forgiveness for the war crimes committed by her countrymen. When women get together, these things happen," she said simply.