'31 Somnath Street' by Sandhya Sridhar, Pageturn Publisher Private Limited, pp 158, Rs.89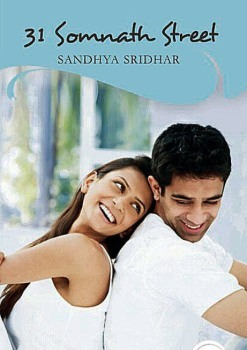 Days are changed; one doesn't have to imagine that 'full blooded romance' is meant only for the heroes and heroines of western and northern region, I mean Mumbai and Delhi. Pageturn Publishers Limited, a Chennai based virgin publishing house decided firmly to bring out high pitched romantic novels those are handy in size, simple in content and language but high voltaic in romance.
'31 Somnath Street' is one recent addition in this genre and one can consider it as a sample of the other romances which are likely to follow suit. It is a bit of a bland love tale of an adopted handsome and a dusky damsel set in a typical south Indian Brahmin joint family milieu.
Ranjini nurtures a terrible and secret crush for Srikant who is an adopted son in the big family of brothers and sisters; but she is hesitant to express her love for him. But on occasions she expressed it to him directly it was spurned by him. Ranjini turns desperate and moves away from the family showing her job as an excuse. She is forced to return to Somnath Street joint family after her broken one sided love for Samir, her colleague. By that time Srikant is married and has a daughter and his wife who is a social butterfly left him high and dry. Whether the love of Ranjini and Srikant who also secretly loves her succeeds or not forms the story.
There are umpteen characters introduced and vanish as fast as they come. Janaki Patti is the matriarch of the big family and makes all decisions. Typical Tamil middle and upper middle class scenarios are recreated or rather represented in the 150 odd pages of the novel.
The tempo? Fast, slow and dead slow in some places.
Well, do you relish the typical south Indian dish 'Thayir Sadam' (curd rice) with some spicy 'Oorugai'(pickle)?
Buy Sandhya Sridhar's '39 Somnath Street' and give a try to read it at one stroke if you have patience.