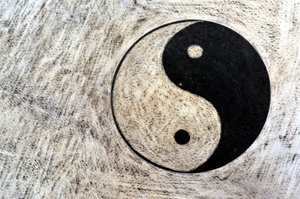 The traditional wisdom and knowledge have some special calming effect in them. People turn to ancient, age-old pearls of wisdom again and again. These nuggets remain forever new.

Man has always tried to understand the complex phenomenon called life and has always tried to work out conceptual ways to deal with life. How to best live life? What can be said to be the best model to handle pleasure and pain in life? These are eternal questions.

The wisdom of the Tao is not hidden from anyone. It says valuable things and it says it in style. The impact factor of the Tao is immense. It catches attention and drives the lesson home. Immediately you realize that these are valid points and rest of the worldly cacophony is secondary.
Heaven which by it is bright and pure;
Earth rendered thereby firm and sure;
Spirits with powers by it supplied;
Valleys kept full throughout their void
All creatures which through it do live
Princes and kings who from it get
The model which to all they give.
All these are the results of the One (Tao).
If heaven were not thus pure, it soon would rend;
If earth were not thus sure, 'twould break and bend;
Without these powers, the spirits soon would fail;
If not so filled, the drought would parch each vale;
Without that life, creatures would pass away;
Princes and kings, without that moral sway,
However grand and high, would all decay.
The above lines underline the running consciousness throughout the world. 'Chetana' or awareness pervades all that exists. The next point is even more curiously drawn. The Tao moves in opposing binaries. Life is a balance of contradictory forces.
The movement of the Tao
By contraries proceeds;
And weakness marks the course
Of Tao's mighty deeds.
The Tao, when brightest seen, seems light to lack;
Who progress in it makes, seems drawing back;
Its even way is like a rugged track.
Its highest virtue from the vale doth rise;
Its greatest beauty seems to offend the eyes;
And he has most whose lot the least supplies.
Its firmest virtue seems but poor and low;
Its solid truth seems change to undergo;
Its largest square doth yet no corner show
A vessel great, it is the slowest made;
Loud is its sound, but never word it said;
A semblance great, the shadow of a shade.
In beautiful words, we are reminded of the difference between reality and appearance. Next comes the beauty of life. The poet says whether one wants to keep life or one wants to go with wealth. By inference, we can see that values have been equated with life. To live with values is to live; everything else is death.
Or fame or life,
Which do you hold more dear?
Or life or wealth,
To which would you adhere?
Keep life and lose those other things;
Keep them and lose your life: which brings
Sorrow and pain more near?
Thus we may see,
Who cleaves to fame
Rejects what is more great;
Who loves large stores
Gives up the richer state.
Who is content
Needs fear no shame.
Who knows to stop
Incurs no blame.
From danger free
Long live shall he.
We must know where to stop. That is the key. Every human being should know her/his limits; and must know the joy of satisfaction.
What (Tao's) skilful planter plants
Can never be uptorn;
What his skilful arms enfold,
From him can ne'er be borne.
Sons shall bring in lengthening line,
Sacrifices to his shrine.
Tao when nursed within one's self,
His vigour will make true;
And where the family it rules
What riches will accrue!
The neighbourhood where it prevails
In thriving will abound;
And when 'tis seen throughout the state,
Good fortune will be found.
Employ it the kingdom o'er,
And men thrive all around.
To him by whom this harmony is known,
(The secret of) the unchanging (Tao) is shown,
And in the knowledge wisdom finds its throne.
All life-increasing arts to evil turn;
Where the mind makes the vital breath to burn,
(False) is the strength, and o'er it we should mourn.
There is happiness where Tao resides. The families, the neighbourhood, the societies that experience Tao within will be happy forever.

Note: The above is a compilation by the "Zenith" team edited by the author.