'Life is What You Make it' by Preeti Shenoy, Srishti Publishers & Distributors, pp209, Rs. 100
'Life is What You Make it' makes a compulsive reading; if you believe in destiny, you should read this book; if you don't believe in destiny also it is a must read. Preeti Shenoy narrates the story of Ankita Sharma, a bright and smart teenager full of life and ambition with telling effect. Set in the back drop of Kochi, Mumbai and Bangalore in the early eighties, the story never leaves Ankita as it turns out to be first person narrative.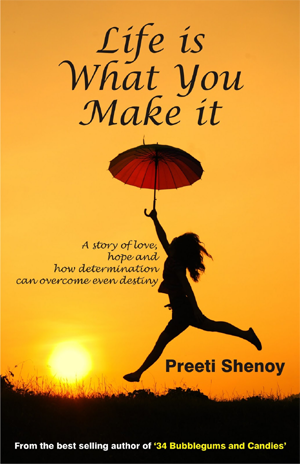 'All goes well' for Ankita still she meets Abhi in an inter-collegiate cultural meet. Abhi proposes her in a highly romantic and probably too passionately and Ankita in spite of having her boy friend Vaibhav falls to the charms of Abhi. Once again all goes well in favor of Ankita. Abhi's head over heels love for her makes Ankita proud and they both aspire for a career in MBA. When Ankita gets admission in a better business school in Mumbai while Abhi has to settle for one in Kochi, he pleads her to be with him.
Ankita being a career minded girl rejects his request and in a way his love also. Once again not all goes well for her but a bit too high. But, a series of events after she reaches the top in her academic pursuit turn her life upside down. Her parents who come to know about her friendship with Abhi and Vaibhav are outraged .
Everything changes for Ankita. She starts the descent slowly but proceeds rapidly as days pass on. What was considered as a bout of depression turns out to be a major mental disorder driving her to two suicide attempts. She finally lands in a mental asylum at Bangalore for bipolar disorder.
Whether Ankita Sharma achieved what she wanted? Was she able to come out of the mental disorder to face the world and her future?
Ankita's fight with destiny is projected by Preeti Shenoy in the most powerful manner with great insight and empathy. It cannot be construed as a story but looks more like a real life incident. Shenoy's easy language and poignant descriptions take the author with the turns of the incidents.
Phrases like 'Don't belittle love', 'Life is a celebration', and 'Life is too precious to not do the things one wanted to' make one ponder over the value of love and life.
Very few books of fiction make one think and infuse positive thoughts nowadays. 'Life is What You Make it' is one which kindles the positive energy in us. Thanks Preeti Shenoy!