Accompany spouse, who was searching for a related bygone, offered us an amazing score in Bangladesh. As Indian Bengalis, nonetheless familiar with Taslima's book; without rigid notions we attained our objective.
Scapegoat Religion is painful as ever. There is nothing that can hold man together but a faith.
Thus it is relevant to quote from Alfred North Whitehead; "In its solitariness the spirit asks, what, in the way of value, is the attainment of life? And it can find no such value till it has merged its individual claim with that of the objective universe. Religion is world-loyalty." Unquote - And all religions base this fact.
From a dusty industrial Dhaka we journey to Srimongol Tea Estate… our nights booked at Tea Estate Research Centre Bungalow. An emotional feat for my camera was to capture the situations.
We astonish a group of villagers in Tilpara by our visit. They insist us absolute strangers for them to have tea at their residence. Dark inch, so we refuse their hospitality. To which an elderly man tuck Taka 500/- in my husbands palm. Say that something like this never occurred in their village history.
Erstwhile residents return. We should drink tea on way back to make them feel blessed and happy. My spouse obliges the old man. The money though he gives to the driver of our van as a token. However, he in turn treats us with tea and biscuits from wayside tea stall. Often I forget that it is a foreign country.
I remember enquiring a fellow club woman member in Berlin, Mrs Taneja who hails from a Lahore that was in India about her experiences. She had visited her place of birth, now in Pakistan. Noticed her dried tears set on a reserved face. Her story is for another time another day.
In lingo Bengali finds a number of dialects and Sylhet has one such special to many it surely sounded tough. Matching example is Deutsch spoken by people from Schweiz. That my husband spoke fluent Sylhet dialect, it saved us from apprehensive misunderstandings.
Our paths to discovery yield not only the dilapidated daktar-babu's one-time cottage in Tilpara hospital, now under renovation but also the college in which my ma-in-law studied even after her marriage.
The trip also provides an additional bonanza by way of attractive tourist spots, a feast for my camera as we go by Jantiapur, Jaflong …picking Government tourist bungalow, Shah Hazrat, Sri Chaityannia …
Deltas of the world are hotbeds of civilisations. Though sluggish, excavations in Bengal bear witness; to an ancient that was teeming with accomplishments, regardless of how some schools of thought and lecture, repudiate.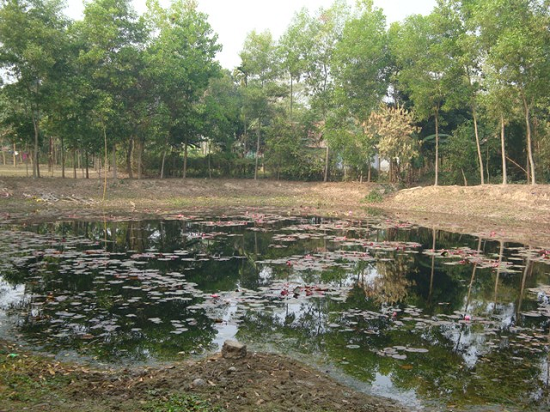 Kingpins' war and civilians die at random reborn to bloom as lotus in the ponds.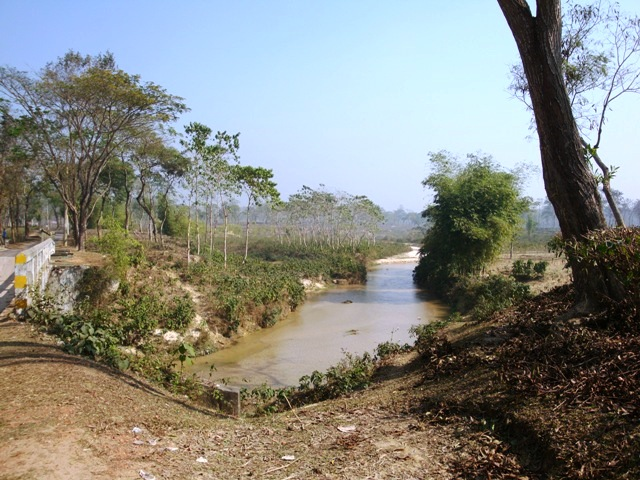 Rivers flow burdened with muddy secrets of time.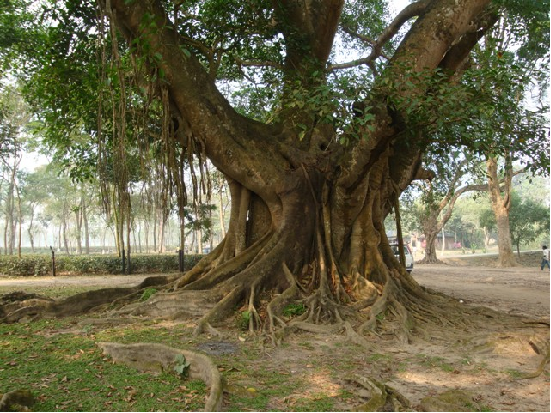 Roots, Ancestry, Family Tree, search, research find joy and grief mesh, interlock life.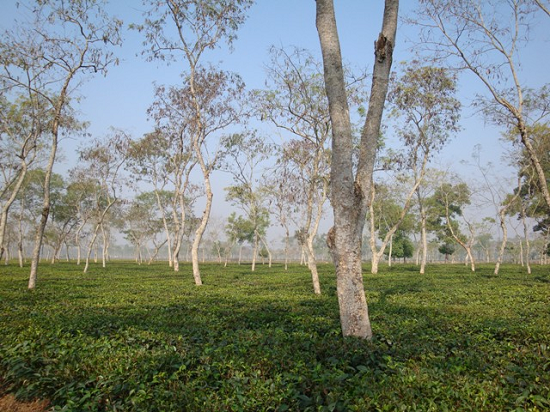 Tea garden in Srimongol Sylhet, Bangladesh is 9th largest tea producers of the world.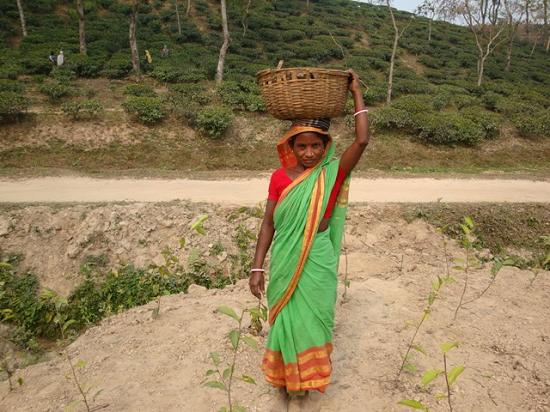 Bangladeshi woman worker's covered head supports her hamper for existence.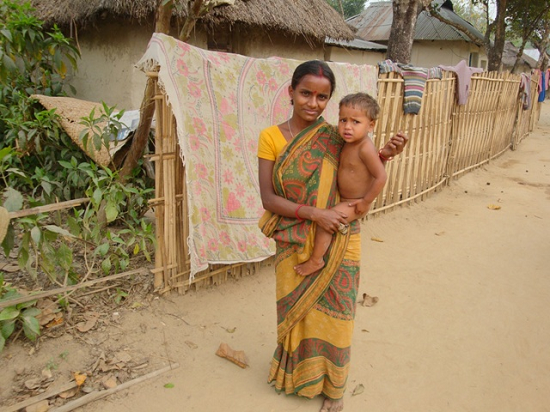 Bangladeshi Mother's arm and waist provides a secure hold for her baby.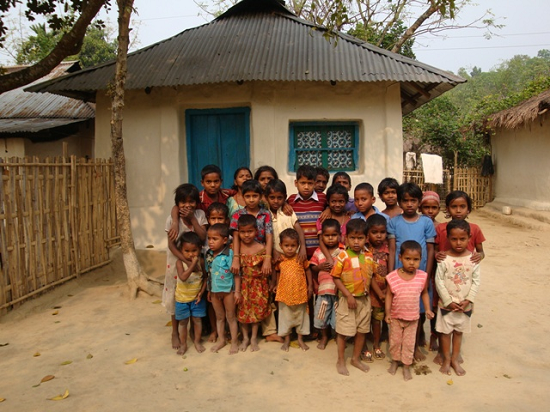 Petite hamlet of tea garden workers, their children came running to give me takes.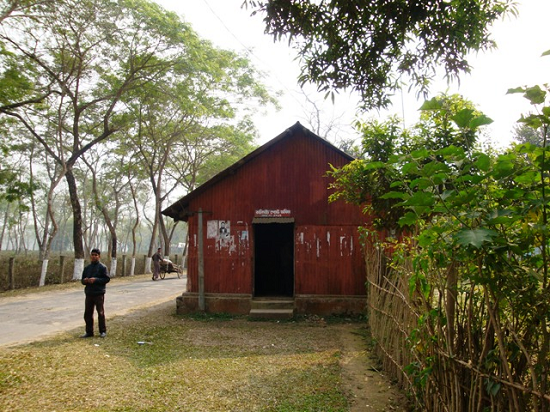 Trifling but far-reaching, this antique post office still operates at Srimongol tea estate.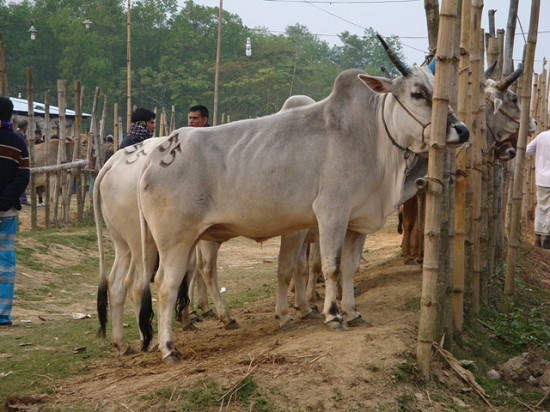 Bystander, was it us or market bulls? We sped in search of the hospital in Tilpara Sylhet.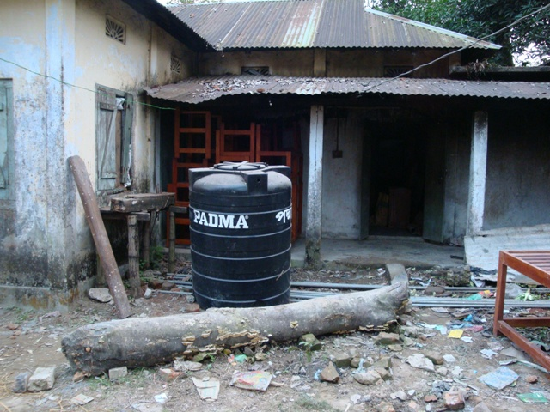 Trace Daktar-Babu my father in law's Tilpara hospital's worn out chalet, waiting deletion.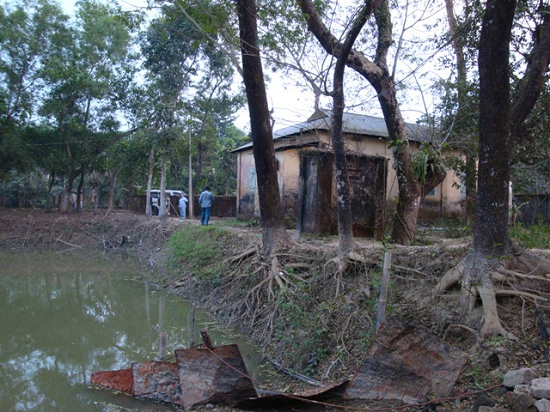 Tilpara area floods make fishes swim to the doors but leave shabby contours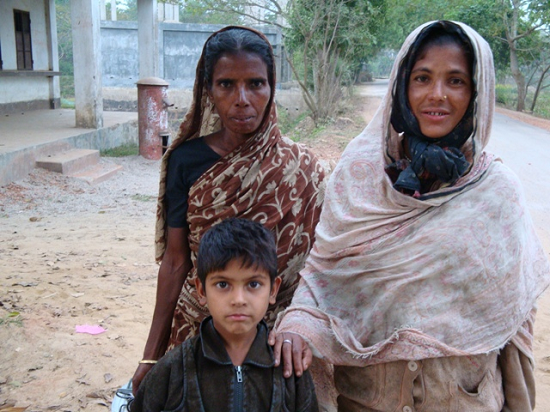 Three Tilpara natives zip uncanny tie in me, who are they, our kin or simply imagination?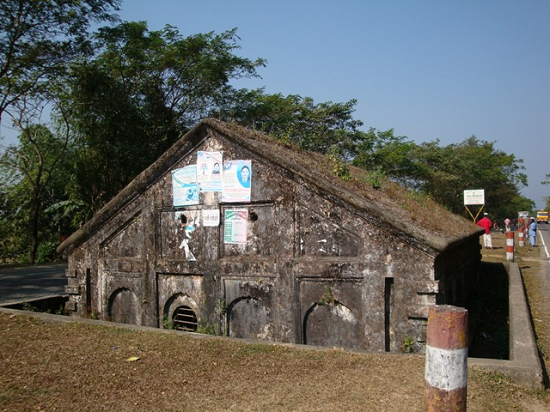 A temple ruin at a road bifurcation in Jaintiapur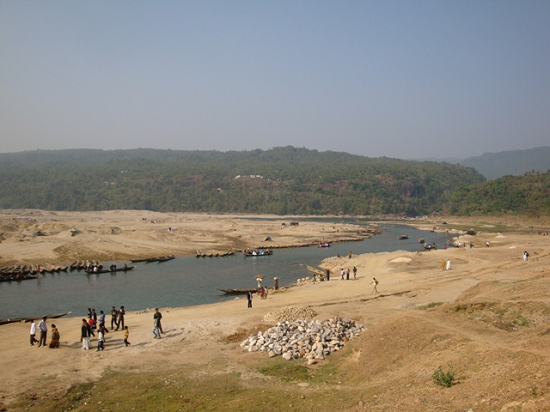 Jaflong has waterfall, here rocks are broken down by hand loaded, transported, for trade.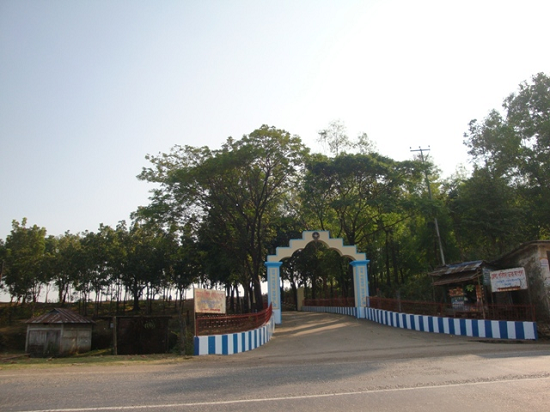 Near tourist spot Jaflong, an entry to Bungalow belonging to Bangladesh Government.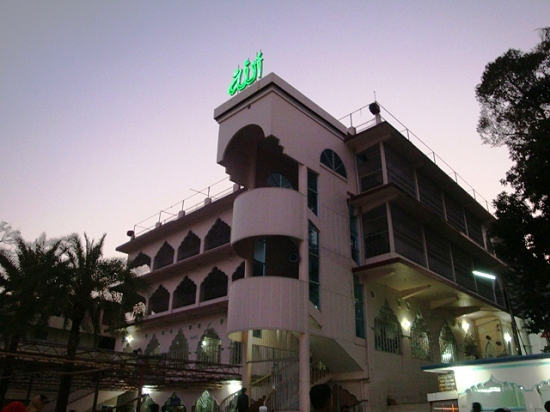 Mosque at Dargah of Shah Hazrat sage, brought Islam to Bangladesh around 14th century.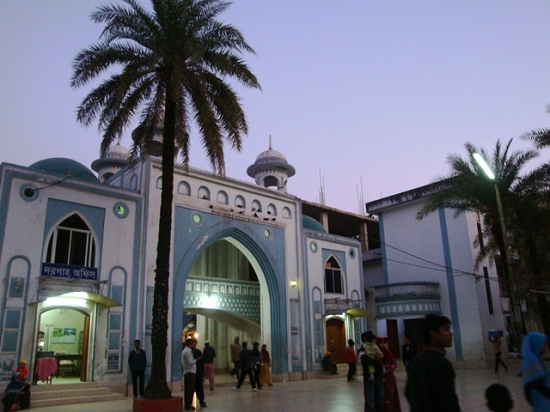 Inside the beautiful Dargah, by now dusk beckons us to our hotel in Zindabazar, Sylhet.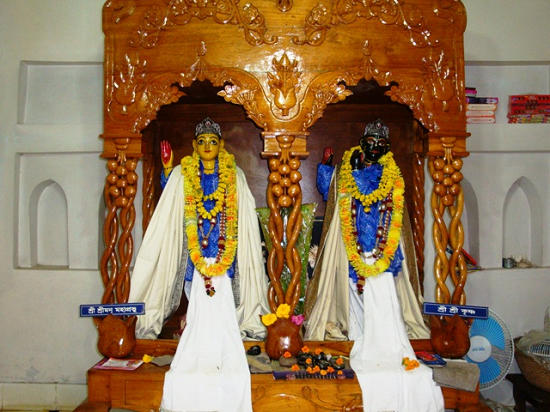 Next day visit Vaishnav sage Sri Chaitanniya's ancient relic about 43km from Zindabazar.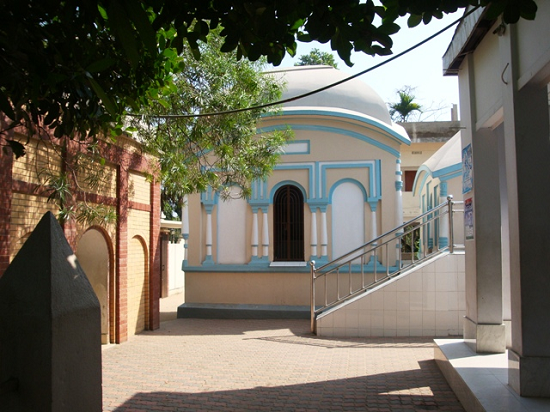 Photograph a part of the temple that house deties of Sri Krishna and Sri Chaitanniya.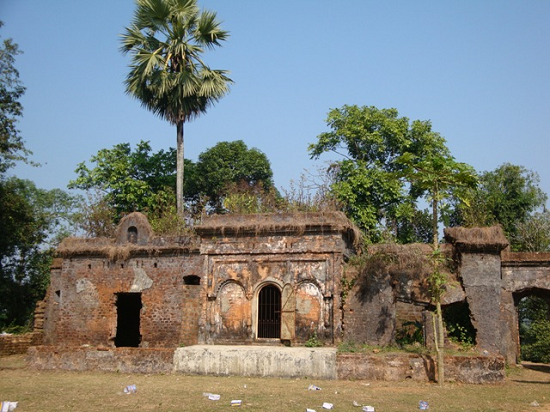 Ruins, of Sri Sri Chaitanniya's ancestral house glimpse a past.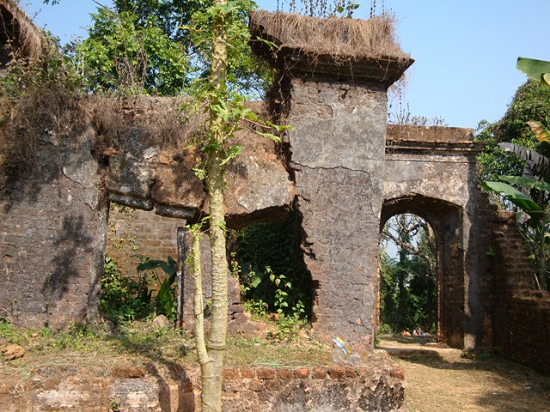 What remains is the Spirit in the wind blowing through ancient ruins.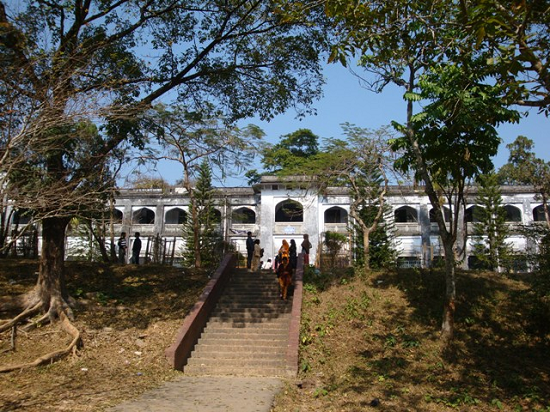 M C College in Sylhet is the place where my ma-in-law studied.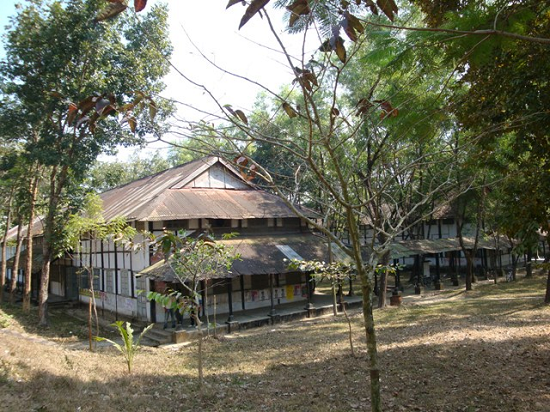 My ma-in-law studied Bengali, and this place house the Bengali Department, even today.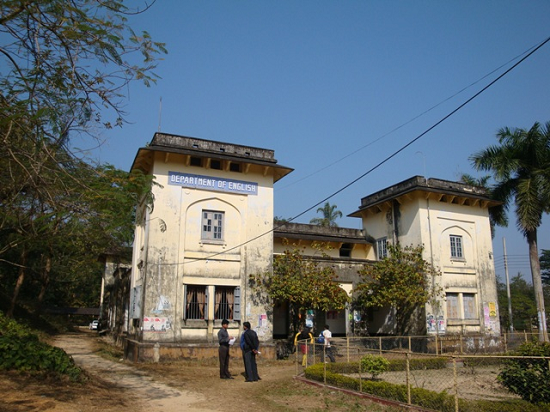 The English Department of M C College finds place in the spread-out University ground.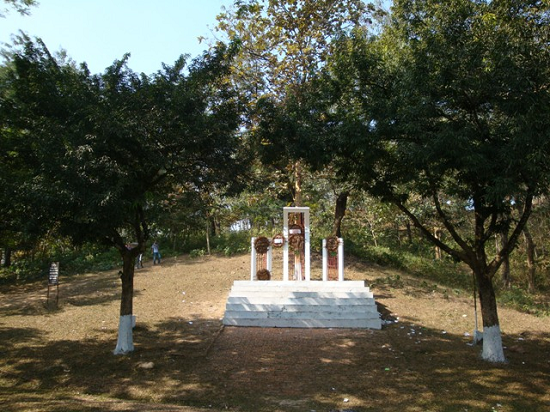 Memorial to martyrs of 21st February 'Bhasha Andolan' within University glows in the sun.
All photographs are by Jayati Gupta