'34 Bubblegums and Candies' by Preeti Shenoy; Shrishti Publishers & Distributors, pp 146, Rs. 100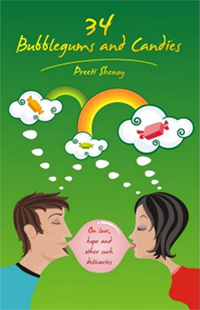 The most fascinating aspect of Preeti Shenoy's writing is her brevity of her expressions in this book on the various subjects she had chosen. But, at the same time she has not diluted the emotions expressed; on the contrary it creates lasting impression.
The first read 'My Special Friend' itself gives the reader a jolt in the end; it carries the poignancy of a short story ending. Many of the others also follow this. Preeti says in her Preface that she had just collated 34 real life incidents those bring out the essence and flavor of journey called life. Some, one can chew for long and relish and some melt in the mouth instantly leaving one surprised and satisfied.
The episodes clearly justify her statement. Most of the incidents Shenoy has narrated could have been yours and mine; but the difference is the writer in her has been able to share it with others with a touch of emotion, advice, inference, happiness or sorrow.
Preeti Shenoy uses simple language to convey her feelings that would provide the reader an easy read and comprehension. Some carry names which may not be familiar to us. But doesn't matter, they are only props but the message comes clear.
Many occasions we find books advertised for self improvement and running to pages explaining how one can perfect their personality, communication skills and reach success. But many times I found them theoretical. Surprisingly, Preeti intentionally or unintentionally covered and conveyed many aspects of self development through her writings in this book.
Want to learn simple ways on how to 'Live, Love and Laugh'? Chew and savor these '34 Bubblegums and Candies'. By the end you will know.